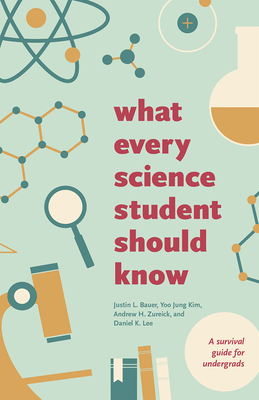 What Every Science Student Should Know (Chicago Guides to Academic Life)
Publication Date:
May 6th, 2016
Publisher:
University of Chicago Press
The MIT Press Bookstore
1 on hand, as of Nov 30 10:32am
(GS)
On Our Shelves Now
Description
"I am often amazed at how much more capability and enthusiasm for science there is among elementary school youngsters than among college students. . . . We must understand and circumvent this dangerous discouragement. No one can predict where the future leaders of science will come from."—Carl Sagan
In 2012, the White House put out a call to increase the number of STEM graduates by one million. Since then, hundreds of thousands of science students have started down the path toward a STEM career. Yet, of these budding scientists, more than half of all college students planning to study science or medicine leave the field during their academic careers.
What Every Science Student Should Know is the perfect personal mentor for any aspiring scientist. Like an experienced lab partner or frank advisor, the book points out the pitfalls while providing encouragement. Chapters cover the entire college experience, including choosing a major, mastering study skills, doing scientific research, finding a job, and, most important, how to foster and keep a love of science.
This guide is a distillation of the authors' own experiences as recent science graduates, bolstered by years of research and interviews with successful scientists and other science students. The authorial team includes former editors-in-chief of the prestigious Dartmouth Undergraduate Journal of Science. All have weathered the ups and downs of undergrad life—and all are still pursuing STEM careers. Forthright and empowering, What Every Science Student Should Know is brimming with insider advice on how to excel as both a student and a scientist.
Praise for What Every Science Student Should Know (Chicago Guides to Academic Life)
"What Every Science Student Should Know provides an evidence-based road map for thriving in some the most challenging but rewarding college majors. Every student thinking of studying a STEM subject should read this book."
— Cal Newport, author of Deep Work
"In a world where science-based majors are in ever higher demand but shrinking in numbers, this book is a treasure trove of invaluable insights and advice on how to succeed in college-level science courses. It is hands-on wisdom extracted from the trenches and from careful research that I wish I had access to when I was a student, and that I hope my future students will be smart enough to learn from."
— Marcelo Gleiser, author of The Island of Knowledge: The Limits of Science and the Search for Meaning
"Remarkably candid and with refreshing honesty, the book presents a gold mine of insider tips for college science students. With advice on topics ranging from laboratory experiments, to common struggles, through how to embark on scientific research, this is a must-read for any aspiring scientist."
— Sara Seager, Massachusetts Institute of Technology, editor of Exoplanets
"A great book to give to a junior or senior in high school and that student would do well to keep the book handy when it is time to actually declare a major, find a research lab, and apply to grad school or for a job."
— Christine Andrews, The University of Chicago
"What Every Science Student Should Know is primarily a guidebook, with concrete tips and pointers. But . . . in between the lines, this book passes on assumptions about what matters in being a scientist and how to do science well. It encourages deep conceptual understanding and intellectual creativity, it emphasizes that scientists work in teams and that science is a social endeavor, and it transmits a respect of the social and moral value of scientific and technical knowledge."
— Metascience