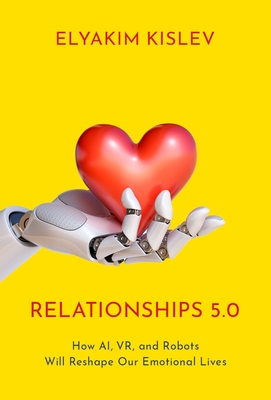 Relationships 5.0: How Ai, Vr, and Robots Will Reshape Our Emotional Lives
Publication Date:
April 15th, 2022
Publisher:
Oxford University Press, USA
The MIT Press Bookstore
1 on hand, as of Dec 8 10:45am
(STS)
On Our Shelves Now
Description
A trailblazing inquiry into human love and relationships in the age of super-smart technology

Technology is our new life partner. No longer confined to the sidelines, new interactive technologies like AI therapists, avatar friends, and robot assistants are ready to transform technology's role from basic tools of convenience to intimate elements of our social and emotional lives. This turn towards human-like technology signals the beginning of a new epoch in human history, a change already facing both excitement and resistance.
Blending science, sociology, history, and psychology, Relationships 5.0 asks how recent technological developments cause us to think differently about our family lives, love affairs, and emotional needs. It argues that we are currently living through a technological paradigm shift similar in magnitude to the preceding agricultural, industrial, and informational revolutions in human history. Thanks to the convergence of the cognitive revolution (AI), the sensorial revolution (VR and AR), and the physical revolution (robots), technology can now fulfill emotional, intellectual, and physical needs that have until now been met by other humans.
While many are still wary of human-technology companionship, Relationships 5.0 reveals that these novel interactions aren't as risky as we'd once thought, but can instead make our social and emotional lives richer and more diverse. Still, we must ask: What will the age of Relationships 5.0 look like? How should we prepare for such an age? Who might already be ready to embrace these changes, and why?
Guiding readers away from fear and toward a new reality, Relationships 5.0 exposes the fundamental questions behind such essentials as companionship, trust, and love--and offers fascinating and revealing ideas about what the coming years will look like.
About the Author
Elyakim Kislev holds a Ph.D. in sociology from Columbia University and three master's degrees in counseling, sociology, and public policy. His previous book, Happy Singlehood: The Rising Acceptance and Celebration of Solo Living (2019), has been translated into numerous languages and was featured on CNN, BBC World News, and The Washington Post, among many others. Kislev is currently a faculty member in the School of Public Policy at the Hebrew University and is a regular contributor to Psychology Today, where his articles have garnered hundreds of thousands of reads and are cited frequently.