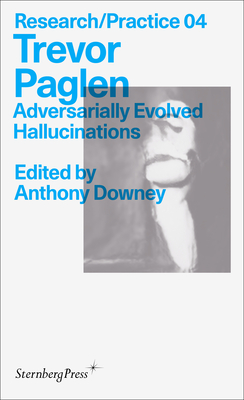 Trevor Paglen: Adversarially Evolved Hallucinations (Sternberg Press / Research/Practice #4)
Publication Date:
May 28th, 2024
Publisher:
Sternberg Press
Description
How machine and computer vision produces contemporary images.
How do machines look at images? To ask such a question is to observe the degree to which images today are increasingly produced by machines for machines. Symbolically, these images are void of an aesthetic context. They are not propagandistic (they do not try to convince us), nor are they instructive (they are not interested in directing our attention). They exist as abstract binary code rather than pictograms and are not, crucially, content-based. Made by machines for machines, they make things happen in our world. However, void of anthropological or aesthetic intention, the functionality of such images anticipates the obsolescence of "perception" as a human-defined activity and, in turn, the ascendancy of "machine vision." We cannot see how they make things happens in our world, in short. All of which leaves us with a question: in the absence of being able to perceive such images, how do we think about their impact on societies more broadly? Taking Trevor Paglen's series "Adversarially Evolved Hallucinations" as a starting point for an analysis of these and other questions, this volume explores the role of algorithms and Artificial Intelligence (AI) in these processes. More specifically, it examines Paglen's research methods and the extent to which they encourage the viewer to think from within such apparatuses rather than merely reflect upon them. Can, we will ask, the black-box-like technologies that produce such images be negotiated with or, indeed, modulated by methods of envisioning/engaging with their operative logic? How can we, if at all, hold the post-digital, machine-produced image to account?
About the Author
Trevor Paglen is an artist and geographer who explores and documents invisible infrastructures, ranging from secret corporate and government sites to networks known through technologies of non-human, machine vision. Paglen's work spans through image-making, sculpture, investigative journalism, writing, engineering and numerous other disciplines. Paglen's work has had one-person exhibitions at Vienna Secession, Eli & Edythe Broad Art Museum, Van Abbe Museum, Frankfurter Kunstverein, and Protocinema Istanbul, and he has participated in group exhibitions the Metropolitan Museum of Art, the San Francisco Museum of Modern Art, the Tate Modern and numerous other venues.
Anthony Downey is Professor of Visual Culture in the Middle East and North Africa within the Faculty of Arts, Design, and Media at Birmingham City University. He sits on the editorial boards of Third Text, Digital War, Memory, Mind & Media, and is the series editor for Research/Practice (Sternberg Press).