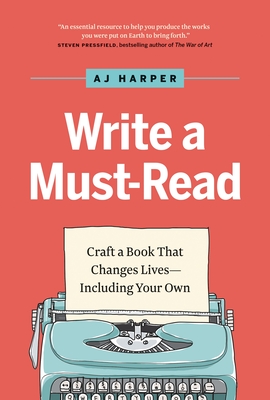 Write a Must-Read: Craft a Book That Changes Lives—Including Your Own
Publication Date:
May 24th, 2022
The MIT Press Bookstore
1 on hand, as of Dec 7 10:28am
(REF)
On Our Shelves Now
Description
A book is not about something. A book is for someone.
You want to write a nonfiction book that matters. A book readers love and rave about. A book they underline, dog-ear, and highlight. A must-read.
How do you do that, when you've never written a book like that before? When you aren't sure what content to include in a nonfiction book, or how to organize it? And when you're not sure if your idea is worth pursuing in the first place?
At the heart of the answers to all these questions is a craft created by AJ Harper, ghostwriter and editor for some of the foremost thought leaders of our time. The foundation of that craft is a simple, yet powerful philosophy: Reader First. When you learn how to put your reader first at every stage of book development, writing, and editing, you can create the connection and trust required to transform their lives.
In these pages, Harper reveals the proven methods and frameworks she has used for nearly two decades to write and edit perennial bestsellers. It's not the easy way, or the fast way; it's the effective way. The payoff for doing this important work: a must-read book, and a massive readership who serve as ambassadors for your message and your brand.
Praise for Write a Must-Read: Craft a Book That Changes Lives—Including Your Own
Praise for Write a Must-Read

"When you are ready to embark on the Artist's Journey and write the book you were called to write, read this book. AJ Harper's Write a Must Read is itself a must-read, an essential resource to help you produce the works you were put on Earth to bring forth."
—Steven Pressfield, bestselling author of The War of Art
"If you want to write a book everyone talks about, this is the book that will show you the way. Write a Must-Read is honest, empowering, and actionable."
—Mike Michalowicz, Wall Street Journal bestselling author of nine books, including Profit First, Clockwork and Get Different
"If you want to write a nonfiction book, Write a Must-Read must be the first book on your reading list. It will also be the only book you'll need. AJ is the rare writer who can translate the complex craft of writing into gripping, easy-to-digest narrative. If you want people to buy your book, read it, finish it, act on it, and then tell everyone they know to buy it, then buy this book now. It's simply the best book on how to write a book people want to read."
—Michael Port, New York Times bestselling author of nine books, including Book Yourself Solid, Steal the Show, and The Referable Speaker

"There are plenty of editors who can help you write a good book. There are plenty of writers who write books you envy. And then there is AJ Harper, who not only understands the entire craft of writing, but has developed a process that delivers consistently great books for her author clients. If you want to write a book that changes lives, read Write a Must-Read first."
—Pamela Slim, award-winning author of Escape from Cubicle Nation, Body of Work and The Widest Net

"Even after having worked with AJ on two books, reading Write a Must-Read encouraged me to do more of the most important thing: Get to know my reader even better. Reader First isn't just a philosophy. It's a step-by-step process to write the must-read book your readers are waiting for you to write."
—Jeffrey Shaw, author, LINGO and The Self-Employed Life