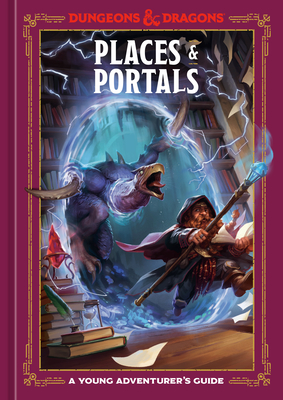 Places & Portals (Dungeons & Dragons): A Young Adventurer's Guide (Dungeons & Dragons Young Adventurer's Guides)
Publication Date:
September 19th, 2023
Publisher:
Ten Speed Press
Usually Ships in 1 to 5 Days
Description
Explore the geography, inhabitants, and legends of Dungeons & Dragons landscapes, from the challenges of the Forgotten Realms to spaces and places beyond, with this illustrated guide to adventurous travel.
In this illustrated guide for new players, you'll be transported to the wondrous and magical realms of Dungeons & Dragons and given a one-of-a-kind course on all the places and portals adventurers can explore. Featuring fascinating lore and easy-to-follow explanations, young fans' imaginations will ignite as they discover the unique quests, challenges, and magic that await in each destination.
With original, action-packed illustrations and advice on wilderness survival, creating overland maps, and the basics needed for any journey, this book provides the perfect introduction to young fans looking to traverse the worlds of D&D—and encourages them to create their own!
Adventure exists in incredible locations, and Places & Portals will help you explore it all!
Praise for Places & Portals (Dungeons & Dragons): A Young Adventurer's Guide (Dungeons & Dragons Young Adventurer's Guides)
"A book series that aims to get kids excited about the D&D's lore and potential stories . . . the books familiarize readers with some of the tenants of D&D's lore and tropes while encouraging them to get excited about what they can create in this space."—Fatherly
 
"Giving a kid one of the Young Adventurer's Guide books can really help them start to wrap their head around the scope, flavor, and detail included in Dungeons & Dragons."—GeekDad
 
"An enjoyable and informative addition to the Young Adventurer's Guide series. If you're a Dungeon Master planning epic adventures . . . this book could prove a valuable companion."—Game Vortex
 
"Perfect for players new to the game, and tailor-made for a younger audience . . . The art is beautiful, fantastic, and evocative."—Geekstronomy
 
"The imaginative play and socialization D&D provides is great for all ages, and Places & Portals makes it especially easy for kids to get in on the fun . . . It offers a primer on some of D&D's most notable settings and monsters, as well as possible encounters, encouraging the reader to think about the best ways to approach various challenges."—Polygon