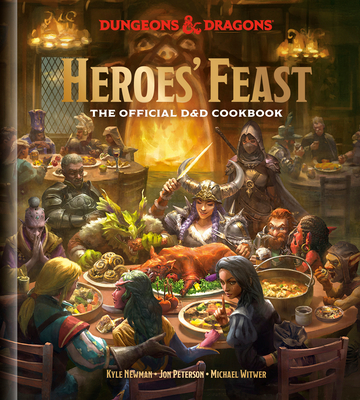 Heroes' Feast (Dungeons & Dragons): The Official D&D Cookbook
Publication Date:
October 27th, 2020
Publisher:
Ten Speed Press
Usually Ships in 1 to 5 Days
Description
NEW YORK TIMES BESTSELLER • 80 recipes inspired by the magical world of Dungeons & Dragons
"Ready a tall tankard of mead and brace yourself for a culinary journey to match any quest!"—Tom Morello, Rage Against the Machine 
From the D&D experts behind Dungeons & Dragons Art & Arcana comes a cookbook that invites fantasy lovers to celebrate the unique culinary creations and traditions of their favorite fictional cultures. With this book, you can prepare dishes delicate enough to dine like elves and their drow cousins or hearty enough to feast like a dwarven clan or an orcish horde. All eighty dishes—developed by a professional chef—are delicious, easy to prepare, and composed of wholesome ingredients readily found in our world.

Heroes' Feast includes recipes for snacking, such as Elven Bread, Iron Rations, savory Hand Pies, and Orc Bacon, as well as hearty vegetarian, meaty, and fish mains, such as Amphail Braised Beef, Hommlet Golden Brown Roasted Turkey, Drow Mushroom Steaks, and Pan-Fried Knucklehead Trout—all which pair perfectly with a side of Otik's famous fried spiced potatoes. There are also featured desserts and cocktails—such as Heartlands Rose Apple and Blackberry Pie, Trolltide Candied Apples, Evermead, Potion of Restoration, and Goodberry Blend—and everything in between, to satisfy a craving for any adventure.
Praise for Heroes' Feast (Dungeons & Dragons): The Official D&D Cookbook
"Kyle is a wealth of knowledge and fun. I am so glad to adventure beside him each week and for he and his friends to share their recipes."—Vince Vaughn
"Everyone knows how dangerous it is to adventure on an empty stomach. So put away the chips, and crack open Heroes' Feast. Make your next game night a truly immersive experience with everything from Sword Coast Seafood Bouillabaisse to Drow Mushroom Steaks to that old dwarven favorite, Corned Beef and Cabbage. This gorgeous book will lead to many stunning meals for your friends and family."—D.B. Weiss, co-creator of Game of Thrones
 
"For whatever reason, one of the oldest and fondest D&D memories I have burned into my mind is the recipe for Otik's Skillet-Fried Spiced Potatoes in Leaves from the Inn of the Last Home. It makes me so happy that Kyle, Jon, Michael, and company are carrying the torch for the next generation with this cookbook. P.S. Try the Halfling Chili . . ."—Joe Manganiello, actor, producer, author, and D&D collaborator
"Whether you're a human craving a belly-warming Traveler's Stew or an elf in need of Qualinesti Stew, this book is a lot of fun and the food is easy and delicious. Tons of quick, simple recipes for your local tabletop crew, your family, or both. If you cook, get this book. If you don't cook, get this book and give it to someone who will cook for you."—Freddie Prinze Jr.
"All are welcome to join this world of create-your-own-adventure-style cooking, baking, and mixology to compliment even the most intense game nights. No matter what realm you reside in, the recipes will have you feeling well prepared and equipped for your own culinary quest. Everyone is a winner with this book."—Katherine McNamara, actor and baker
"Casting, attacking, dodging, delving . . . a hero works up an appetite. Kyle, Jon, and Michael's cookbook isn't just a novelty; this is really good stuff to add that extra dimension to your campaign. Remember, a well-fed DM is bound to take it easier on you!"—Craig Mazin, writer/producer, Chernobyl
"The joy of sharing a great meal with friends is only second to spending time around a gaming table. To mix the two is about as good as life gets. When you trip and fall into the beauty of this book, you'll long for any excuse to gather, eat, and vanquish evil!"—Matthew Lillard, actor
"If you live and breathe Dungeons & Dragons, you can now eat it too! Perfect for every quest that starts at a tavern! This cookbook is filled with mouthwatering recipes to suit every stomach. I'll be using these recipes to up my game."—Maude Garrett, entertainment host
"Whether you want to butter up your bard with braised beef or woo your wood elf with a garden salad, there is truly a recipe to please any member of your party. Here's to your game nights getting a lot more delicious."—Krystina Arielle Tigner, actor and host