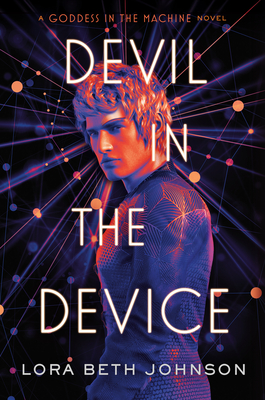 Devil in the Device
Publication Date:
August 24th, 2021
The MIT Press Bookstore
1 on hand, as of Dec 5 4:07pm
(JR:YA)
On Our Shelves Now
Description
Devil in the Device brims with brilliant world-building and richly-imagined characters—a great encapsulation of everything that makes science fiction so much fun!"  —Andrea Tang, author of Rebelwing and Renegade Flight

Zhade's power might be going to his head.
 
Newly on the throne, he's still getting used to wearing Maret's face, but he can't deny that the influence it affords him has its perks. So when the magic of Eerensed starts to turn deadly, Zhade must master the Crown if he's going to save his people, and Tsurina's destructive plans for Eerensed aren't going to make that easy. Worse, he's starting to see her point.
 
Andra is underground.
 
Assumed dead by the people of Eerensed, she must stay hidden in the city's depths if she's going to live long enough to build the rocket that will finally save the colonists from this dying planet. But when Andra hears voices urging her to destroy everything, she starts to dig deeper into her subconcious. What she discovers leads her to question whether she's destined to be a savior after all.
 
Battling the dangerous forces buried within their minds, Andra and Zhade will have to find a way to work together before two power-hungry leaders and a deadly swarm of rogue technology destroy humanity for good.

Lora Beth Johnson delivers a stunning conclusion to the Goddess in the Machine duology with this brilliant novel. Part political conspiracy, part technological thriller, its deeply emotional core deftly explores what it means to be human, and how to hold on when everything seems lost.
 
Praise for Devil in the Device
"This volume deals out one surprise after another before delivering a bang-up ending." —SLJ
"A thoughtful, highly rewarding read."  —Kirkus Reviews
"With a plus-sized heroine of my dreams, Devil in The Device delivers on the promises of Goddess in the Machine, and expands the already brilliant galaxy-sized world building. Highly recommend."
—Sheena Boekweg, author of The Sisterhood of Secret Ambitions
 
"Devil in the Device brims with brilliant world-building and richly-imagined characters a—great encapsulation of everything that makes science fiction so much fun!" —Andrea Tang, author of Rebelwing and Renegade Flight
 
"With original and super smart world-building, fully-realized, unforgettable, root-worthy characters, Devil in the Device is an intense and thrilling conclusion to Goddess in the Machine." —Alechia Dow, author of The Sound of Stars