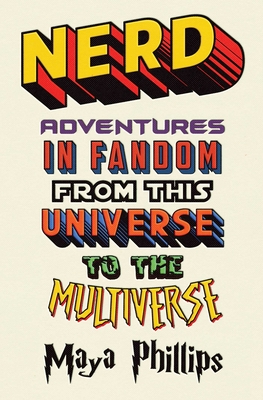 Nerd: Adventures in Fandom from This Universe to the Multiverse
Publication Date:
October 11th, 2022
The MIT Press Bookstore
1 on hand, as of Sep 21 10:34am
(SS)
On Our Shelves Now
Description
In the vein of You're Never Weird on the Internet (Almost) and Black Nerd Problems, this witty, incisive essay collection from New York Times critic at large Maya Phillips explores race, religion, sexuality, and more through the lens of her favorite pop culture fandoms.
From the moment Maya Phillips saw the opening scroll of Star Wars, Episode V: The Empire Strikes Back, her life changed forever. Her formative years were spent loving not just the Star Wars saga, but superhero cartoons, anime, Buffy the Vampire Slayer, Harry Potter, Tolkien, and Doctor Who—to name just a few.
As a critic at large at The New York Times, Phillips has written extensively on theater, poetry, and the latest blockbusters—with her love of some of the most popular and nerdy fandoms informing her career. Now, she analyzes the mark these beloved intellectual properties leave on young and adult minds, and what they teach us about race, gender expression, religion, and more.
Spanning from the nineties through to today, Nerd is a collection of cultural criticism essays through the lens of fandom for everyone from the casual Marvel movie watcher to the hardcore Star Wars expanded universe connoisseur. "In the same way that the fandoms Phillips addresses often provide community and a sense of connection, the experience of reading Nerd feels like making a new friend" (Karen Han, cultural critic and screenwriter).
Praise for Nerd: Adventures in Fandom from This Universe to the Multiverse
"Maya Phillips has done the impossible: She has rescued fandom from the toxic grip of trolling dude-bros and reclaimed it for the rest of us, reminding readers why we become fans in the first place. A personal Pilgrim's Progress of one nerd's journey from Hoth to Mordor, Wakanda to Sunnydale, the Island of Long to a mystical land named 'Manhattan' (via a fluid prose that inspires its own swooning acolytes), Phillips's superhero origin story shows us an alternate universe in which fantasy lit, comic books, and anime do not stunt one's personal growth and adult perspectives—they enable them. It's worth its weight in mecha suits."
— David Fear, senior editor at Rolling Stone magazine
"From its very first pages, NERD is a delight. Equal parts autobiography and history of the way these genres and fandoms—and fandom itself—has grown, this collection of essays provides an impressive look at the larger cultural context in which these movies, TV shows, and comics exist. In the same way that the fandoms Phillips addresses often provide community and a sense of connection, the experience of reading NERD feels like making a new friend."
— Karen Han, culture critic, screenwriter, and author of Bong Joon Ho: Dissident Cinema
"Like the heroes' journeys that inspired her, Maya's odyssey into fandom will resonate with anyone who ever camped out in the graphic novels section. Maya is a kindred spirit and Nerd a handy guide for fans of everything, everywhere."
— Daniel Kibblesmith, author and Emmy-nominated TV writer
"With humor and exacting criticism, Phillips serves up food for thought—a whole meal, really—for anyone who's ever struggled to see themselves as the hero."
— BookPage ("2022 Preview: Most Anticipated Nonfiction")
"These sparkling essays demolish the boundaries between high and low art."
— Publishers Weekly
"Hardcore fans will enjoy the analysis while new viewers will find a wealth of ideas."
— Library Journal