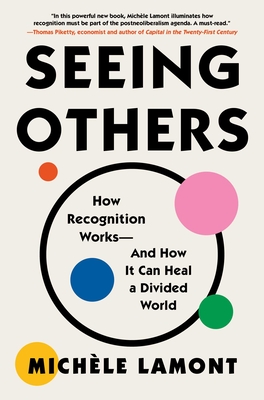 Seeing Others: How Recognition Works—and How It Can Heal a Divided World
Publication Date:
September 12th, 2023
Publisher:
Atria/One Signal Publishers
The MIT Press Bookstore
1 on hand, as of Dec 8 10:45am
(SS)
On Our Shelves Now
Description
Acclaimed Harvard sociologist makes the case for reexamining what we value to prioritize recognition—the quest for respect—in an age that has been defined by growing inequality and the obsolescence of the American dream.
In this capstone work, Michèle Lamont unpacks the power of recognition—rendering others as visible and valued—by drawing on nearly forty years of research and new interviews with young adults, and with cultural icons and change agents who intentionally practice recognition—from Nikole Hannah Jones and Cornel West to Michael Schur and Roxane Gay. She shows how new narratives are essential for everyone to feel respect and assert their dignity.
Decades of neoliberalism have negatively impacted our sense of self-worth, up and down the income ladder, just as the American dream has become out of reach for most people. By prioritizing material and professional success, we have judged ourselves and others in terms of self-reliance, competition, and diplomas. The foregrounding of these attributes of the upper-middle class in our values system feeds into the marginalization of workers, people of color, LGBTQIA+ individuals, and minority groups. The solution, Lamont argues, is to shift our focus towards what we have in common while actively working to recognize the diverse ways one can live a life. Building on Lamont's lifetime of expertise and revelatory connections between broad-ranging issues, Seeing Others delivers realistic sources of hope: By reducing stigma, we put change within reach.
Just as Robert Putnam's Bowling Alone did for a previous generation, Seeing Others strikes at the heart of our modern struggles and illuminates an inclusive path forward with new ways for understanding our world.
Praise for Seeing Others: How Recognition Works—and How It Can Heal a Divided World
"A thoughtful recipe for building social justice."
—Kirkus
"Michèle Lamont is one of the most prominent analysts of culture and identity in the world today.  In this new book she brings her expertise as scholar to a new role as public intellectual.  She shows that asking how we see others and how they see themselves has important implications for inequality and for practical efforts to address that growing scourge of contemporary society."
— Robert D. Putnam, Harvard Kennedy School of Government, and author of The Upswing: How America Came Together a Century Ago and How We Can Do It Again
"Michèle Lamont's book Seeing Others is so important for this time we're living through -- as our country grapples with changing ideas of "who matters" and how we can move to a more equitable and understanding nation. Her extensive research encompasses the intersectionality that is the key to making a better world for us all. A must read." 
— Joey Soloway, creator of Transparent 
"Centering dignity in too often undignified times, Michèle Lamont has given us a powerful new lens for seeing each other, as a way toward seeing a better, fairer, and more just future for all. She achieves this brilliantly through an astonishing array of interviews with change agents across our social spectrum who understand the challenges of our moment and the potential for reframing them through narratives of radical inclusion. Meaningful healing, these pages reveal in compelling detail, must come through the universal recognition that everyone struggles, everyone dreams, everyone matters, and everyone wants to be seen. It is difficult to imagine a more timely and original work of social analysis, or one more welcome in these troubled times."   
— Henry Louis Gates, Jr., Alphonse Fletcher University Professor, Harvard University  
"Equality is not only about income, wealth and the power to decide about your own life. It is also and mostly about recognition and dignity, mutual respect and empathy, deliberation and participation. In this powerful new book, Michèle Lamont illuminates how recognition must be part of the post-neoliberalism agenda. A must-read!"   
— Thomas Piketty, economist and author of Capital in the Twenty-First Century  
"Harvard sociologist Michèle Lamont has written a landmark book that unpacks how 'recognition chains' work in politics, culture, and in our day-to-day interactions with others. Seeing Others will change the way you see the world, and yourself."   
— Arlie Russell Hochschild, author of the New York Times bestseller and National Book Award Finalist Strangers In Their Own Land