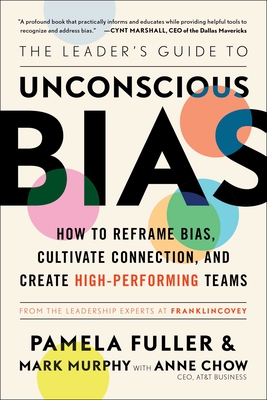 The Leader's Guide to Unconscious Bias: How To Reframe Bias, Cultivate Connection, and Create High-Performing Teams
Publication Date:
April 25th, 2023
Publisher:
Simon & Schuster
The MIT Press Bookstore
1 on hand, as of Dec 7 10:28am
(BUSIN)
On Our Shelves Now
Description
A "profound" (Cynt Marshall, CEO of the Dallas Mavericks), timely, must-have guide to understanding and overcoming bias in the workplace from the experts at FranklinCovey.
Unconscious bias affects everyone. It can look like the disappointment of an HR professional when a candidate for a new position asks about maternity leave. It can look like preferring the application of an Ivy League graduate over one from a state school. It can look like assuming a man is more entitled to speak in a meeting than his female junior colleague.
Ideal for every manager who wants to understand and move past their own preconceived ideas, The Leader's Guide to Unconscious Bias is a "must-read" (Sylvia Acevedo, CEO, rocket scientist, STEM leader, and author) that explains that bias is the result of mental shortcuts, our likes and dislikes, and is a natural part of the human condition. And what we assume about each other and how we interact with one another has vast effects on our organizational success—especially in the workplace. This book teaches you how to overcome unconscious bias and provides more than thirty unique tools, such as a prep worksheet and a list of ways to reframe your unconscious thoughts.
According to the experts at FranklinCovey, your workplace can achieve its highest performance rate once you start to overcome your biases and allow your employees to be whole people. By recognizing bias, emphasizing empathy and curiosity, and making true understanding a priority in the workplace, we can unlock the potential of every person we encounter.
Praise for The Leader's Guide to Unconscious Bias: How To Reframe Bias, Cultivate Connection, and Create High-Performing Teams
"People matter! Every person has bias. Thus, bias matters. We must recognize that bias is a fact of life and that it must be addressed—within ourselves as well as with others. Authors Fuller, Murphy, and Chow have written a profound book that practically informs and educates while providing helpful tools to recognize and address bias. They show how to adjust our paradigms, setting us up for success—personally, professionally, and as a society."
—Cynt Marshall, CEO of the Dallas Mavericks
"Never has a book been more timely than The Leader's Guide to Unconscious Bias is today. Leaders, executives, team members—we need this book to lift the human experience. Read it, put it into practice, and share it with others. Thank you to these three authors for giving us a clear path forward and the tools to help us address our bias."
—Greg Moore, partner at Deke Digital and former cochair of the Pulitzer Prize Board
"Seldom has a book been more needed for the success of our organizations and society! Leaders who choose to discover their unconscious bias will be positioned to significantly increase the trust within their teams and in their leadership. This valuable book lays out a tangible and useful process for any leader to both understand and take action on their bias." 
—Stephen M. R. Covey, New York Times bestselling author of The Speed of Trust and Smart Trust
"If you care deeply about what is going on in the world right now and how it applies to your work team and organization, this book is required reading. Making a better workplace starts with your own actions and accountability. The Leader's Guide to Unconscious Bias is a must-read to learn how to take action and improve the workplace for everyone."
—Slyvia Acevedo, CEO, rocket scientist, STEM leader, and author
"The world is asking for leaders with growth mindsets, who are willing to do the hard work of building more inclusive teams and organizations. This book will help you answer the call."
—Stedman Graham, bestselling author, entrepreneur, and leadership coach
"A useful toolkit for organizations looking to face institutional- and individual-level unconscious bias....Fuller's tone is encouraging without letting readers off the hook, and she provides a plethora of tools for nurturing diversity and inclusion....As those familiar with the FranklinCovey brand are likely to expect, this is a clearheaded, no-nonsense approach to addressing bias in all the places it may be found."
—Publishers Weekly
"Each chapter contains data, observations, and anecdotes, and ends with helpful exercises for readers to reflect on the way bias has shaped their perceptions, values, and beliefs....This timely book is full of opportunities for leaders and employees to rethink how to address and mitigate bias mistreatments in the workplace."
—Booklist, starred review
"The authors speak from experience and provide solid advice for improving how we work (and live) together. Will appeal to a broad readership, particularly managers looking to add to their leadership toolbox, but also anyone who wants to check in on and work through their own unconscious bias."
—Library Journal
"Central to Fuller, Murphy and Chow's fundamental thesis is the inescapable notion that overcoming our inherent biases will allow us (and our organizations) to perform at a much higher level…[The book] is exceptionally applications-oriented, with case studies, activities and various inventories/assessments that give the reader heightened insight into their attitudes and behaviors – and how to modify both for personal enrichment and organizational efficacy…Highly recommended."
—The Bowling Green Daily News
"A thoroughly important book for leaders and readers of all stages in business. Unconscious bias is something we all have to contend with and...and the first step is awareness. This book will be important for years to come and will be a resource that many people will come to value, read, refer back to, and assign to others in their organizations. Superb, thorough work!"
—Book Pal, 2020 Outstanding Works of Literature (OWL) Award