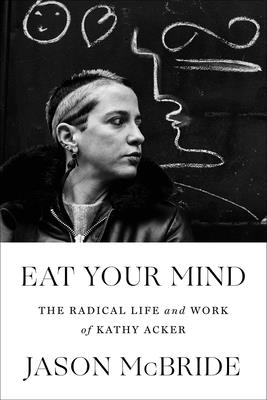 Eat Your Mind: The Radical Life and Work of Kathy Acker
Publication Date:
November 29th, 2022
Publisher:
Simon & Schuster
The MIT Press Bookstore
1 on hand, as of Dec 8 10:45am
(ESSAY)
On Our Shelves Now
Description
"It's shocking to learn that this is McBride's first book...Eat Your Mind does everything a good biography should and more" —Los Angeles Times
The first full-scale authorized biography of the pioneering experimental novelist Kathy Acker, one of the most original and controversial figures in 20th-century American literature.
Kathy Acker (1947–1997) was a rare and almost inconceivable thing: a celebrity experimental writer. Twenty-five years after her death, she remains one of the most original, shocking, and controversial artists of her era. The author of visionary, transgressive novels like Blood and Guts in High School; Empire of the Senses; and Pussy, King of Pirates, Acker wrote obsessively about the treachery of love, the limitations of language, and the possibility of revolution.
She was notorious for her methods—collaging together texts stolen from other writers with her own diaries, sexual fantasies, and blunt political critique—as well as her appearance. With her punkish hairstyles, tattoos, and couture outfits, she looked like no other writer before or after. Her work was exceptionally prescient, taking up complicated conversations about gender, sex, capitalism, and colonialism that continue today.
Acker's life was as unruly and radical as her writing. Raised in a privileged but oppressive Upper East Side Jewish family, she turned her back on that world as soon as she could, seeking a life of romantic and intellectual adventure that led her to, and through, many of the most thrilling avant-garde and countercultural moments in America: the births of conceptual art and experimental music; the poetry wars of the 60s and 70s; the mainstreaming of hardcore porn; No Wave cinema and New Narrative writing; Riot grrrls, biker chicks, cyberpunks. As this definitive, "sympathetic, studious" (Edmund White, winner of the National Book Foundation Medal for Distinguished Contribution to American Letters) biography shows, Acker was not just a singular writer, she was also a titanic cultural force who tied together disparate movements in literature, art, music, theatre, and film.
A feat of literary biography, Eat Your Mind draws on exclusive interviews with hundreds of Acker's intimates as well as her private journals, correspondence, and early drafts of her work, acclaimed journalist and critic Jason McBride, offers a thrilling account and a long-overdue reassessment of a misunderstood genius and revolutionary artist.
Praise for Eat Your Mind: The Radical Life and Work of Kathy Acker
"[A] wholly unique, insightful look at Acker, whose work remains highly relevant today."—Book Riot
"In this brisk, lively book, we learn that Acker was skeptical of autobiography yet drew repeatedly from her own life; felt liberated by the literary canon but also trapped by it; desperately needed people yet often pushed them away. McBride, who has thoroughly researched his subject's life, doesn't aim to resolve these contradictions, explaining that Acker 'didn't seek to be solved.'"—The New Yorker
"[S]mart and sympathetic"—The New York Times
"Critic McBride investigates novelist Kathy Acker's fiery personality and artistic inspiration in this comprehensive biography…[H]e manages to bring together her diaries, novels, poems, plays, and letters with reminiscences from her friends, lovers, and collaborators for a full portrait of her life…The result is an excellent addition to American literary history."—Publishers Weekly (starred review)
"Journalist McBride makes his book debut with a perceptive, thoroughly researched biography of the experimental writer Kathy Acker…Informed by Acker's published works, private papers, and many interviews, McBride presents a persuasive case for her enduring significance as 'an icon of unorthodoxy.' A brisk, engaging literary biography." —Kirkus Review
"[T]he real genius of Jason McBride's Eat Your Mind: The Radical Life and Work of Kathy Acker is his ability to use her life as a prism to sketch a cultural history, rather than a literary analysis, and provide adequate attention to underappreciated movements and artists who are arbiters of the current and future trends of literature. . ."—Forever Magazine
"Kathy Acker was a brilliant bundle of fascinating contradictions, and one of the brightest stars in a period when New York was the world center of creativity. Jason McBride has written a sympathetic, studious biography. He deserves every award for the depth of his research and the verve of his writing."—Edmund White, winner of the National Book Foundation Medal for Distinguished Contribution to American Letters
"At times hilarious, at other times a tear-jerker, Eat Your Mind elucidates Kathy Acker's complex genius in all its outrageous, tender, brutal glory. Jason McBride has written a page-turner worthy of hyperbole. A tour de force!"—Dodie Bellamy, author of Bee Reaved
"A great and timely biography of Kathy Acker. Unafraid to celebrate the complex intellectual histories that form both outer skin and inner guts of Acker's work, her interweaving of ideology and aesthetics, her passionate conviction that the avant-garde was something to be lived as much as written, McBride has produced a study genuinely faithful to his brilliant, difficult subject."—Tom McCarthy, author of Remainder
"Writers' lives are seldom of much biographical interest, but Kathy Acker's had enough incident for a shelf of novels. She was as singular, passionate, and complex in her life as she was in her work, and Jason McBride accounts for it all with admirable thoroughness and equanimity, in lucid and dispassionate prose."—Lucy Sante, author of Low Life
"An elegant, engaging account of one of the twentieth century's most important writer-bandits, which traces the twists and turns of her life with great empathy and sensitivity. Eat Your Mind is a feast, full of delicious anecdotes and tasty scraps of previously unpublished material, and a master class in writing the biography of a subject who is always trying to slip the net of narrative."—Lauren Elkin, author Flâneuse
"This book is going to be a barn-burner, the literary biography of the year."—Jeet Heer, The Nation