Discounted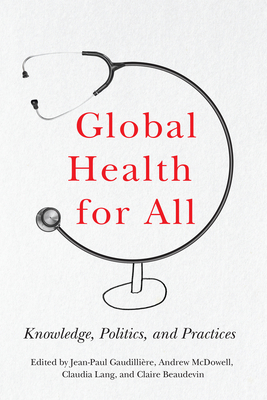 Global Health for All: Knowledge, Politics, and Practices
Previous price:

$39.95
Current price:

$36.95
Publication Date:
April 15th, 2022
Publisher:
Rutgers University Press
The MIT Press Bookstore
2 on hand, as of Nov 29 10:27am
(BIOMD)
On Our Shelves Now
Description
Global Health for All trains a critical lens on global health to share the stories that global health's practices and logics tell about 20th and 21st century configurations of science and power. An ethnography on multiple scales, the book focuses on global health's key epistemic and therapeutic practices like localization, measurement, triage, markets, technology, care, and regulation. Its roving approach traverses policy centers, sites of intervention, and innumerable spaces in between to consider what happens when globalized logics, circulations, and actors work to imagine, modify, and manage health. By resting in these in-between places, Global Health for All simultaneously examines global health as a coherent system and as a dynamic, unpredictable collection of modular parts.
Praise for Global Health for All: Knowledge, Politics, and Practices
"This fantastic book paints an ambitious and sophisticated historical and ethnographic tableau of the global health field and the globalization of health during the last forty years or so. Articulated around a series of innovative themes, from political/economic triage to persistent hospitals to provincializing the WHO, the book is a must-read for anyone curious about the transformation of international health and biomedicine at the turn of the twentieth century."
— David Reubi
"Global Health for All challenges classic understandings of periodization of structures of international health versus a burgeoning global health movement to rethink the very foundations of what has emerged as practices aspiring toward 'health universalism' in the twenty-first century. The range of fascinating case studies, the scope of ideas, and the provocation for rethinking and new research is simply stunning. It is a book to be pondered, contested, and taught."
— Byron Good
"This is a deeply thoughtful and brilliantly argued book that cuts across stale debates to offer a new framework for conceptualizing health in a globalized world. Its compelling analysis is both important and urgent—as COVID-19 becomes a pivotal moment for rethinking approaches to health, it is crucial that new knowledge and interventions be guided by conceptual and methodological imperatives such as those offered in Global Health for All."
— Manjari Mahajan
"This fantastic book paints an ambitious and sophisticated historical and ethnographic tableau of the global health field and the globalization of health during the last forty years or so. Articulated around a series of innovative themes, from political/economic triage to persistent hospitals to provincializing the WHO, the book is a must-read for anyone curious about the transformation of international health and biomedicine at the turn of the twentieth century."
— David Reubi
"Global Health for All challenges classic understandings of periodization of structures of international health versus a burgeoning global health movement to rethink the very foundations of what has emerged as practices aspiring toward 'health universalism' in the twenty-first century. The range of fascinating case studies, the scope of ideas, and the provocation for rethinking and new research is simply stunning. It is a book to be pondered, contested, and taught."
— Byron Good
"This is a deeply thoughtful and brilliantly argued book that cuts across stale debates to offer a new framework for conceptualizing health in a globalized world. Its compelling analysis is both important and urgent—as COVID-19 becomes a pivotal moment for rethinking approaches to health, it is crucial that new knowledge and interventions be guided by conceptual and methodological imperatives such as those offered in Global Health for All."
— Manjari Mahajan