Discounted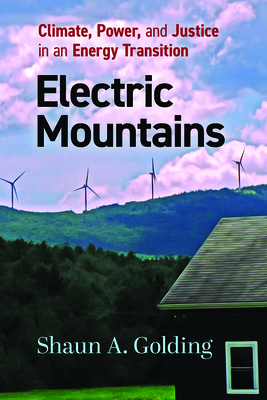 Electric Mountains: Climate, Power, and Justice in an Energy Transition (Nature, Society, and Culture)
Previous price:

$37.95
Current price:

$34.95
Publication Date:
July 16th, 2021
Publisher:
Rutgers University Press
Special Order - Subject to Availability
Description
Climate change has shifted from future menace to current event. As eco-conscious electricity consumers, we want to do our part in weening from fossil fuels, but what are we actually a part of?
Committed environmentalists in one of North America's most progressive regions desperately wanted energy policies that address the climate crisis. For many of them, wind turbines on Northern New England's iconic ridgelines symbolize the energy transition that they have long hoped to see. For others, however, ridgeline wind takes on a very different meaning. When weighing its costs and benefits locally and globally, some wind opponents now see the graceful structures as symbols of corrupted energy politics.
This book derives from several years of research to make sense of how wind turbines have so starkly split a community of environmentalists, as well as several communities. In doing so, it casts a critical light on the roadmap for energy transition that Northern New England's ridgeline wind projects demarcate. It outlines how ridgeline wind conforms to antiquated social structures propping up corporate energy interests, to the detriment of the swift de-carbonizing and equitable transformation that climate predictions warrant. It suggests, therefore, that the energy transition of which most of us are a part, is probably not the transition we would have designed ourselves, if we had been asked.
 
Praise for Electric Mountains: Climate, Power, and Justice in an Energy Transition (Nature, Society, and Culture)
"Well-written, incredibly informative, and sharply argued, Electric Mountains will be an important contribution to critical environmental scholarship on energy transitions."
— Jesse Goldstein
"Electric Mountains is a timely and well researched book. Grounding an array of sociological thought about the environment and environmental behavior in rich ethnographic narrative, the book is both insightful and artfully written. Electric Mountains is a must read by anyone seeking to understand the social complexities surrounding wind energy."
— Brent Z. Kaup
"The Real Problem With Michael Moore's New Film: Planet of the Humans," by Shaun Golding
https://www.commondreams.org/views/2020/05/05/real-problem-michael-moores-new-film-planet-humans
— Common Dreams
"The world's quickening energy transition is heralded by iconic changes to our landscapes and exciting new modes of transit, heating, and cooling. And yet society's shift away from climate-harming energy is far from the urgent transformation warranted by climate change predictions. Electric Mountains explores the dissonance between electricity transition and energy transformation through the story of a region's renewable energy policies and the popular backlash against them. Contextualizing narratives commonly dismissed as NIMBYism, Electric Mountains engages with the themes of rurality, risk, justice, and Ecological Modernization in predominantly white and ecologically progressive Northern New England. It encourages students and practitioners of Environmental Sociology to discern nuance across different regional political economies of energy and to recognize the imprints of energy hegemons, as well as our own biases and privileges, in our energy realities and energy transition roadmaps."
— ASA Environmental Newsletter