Discounted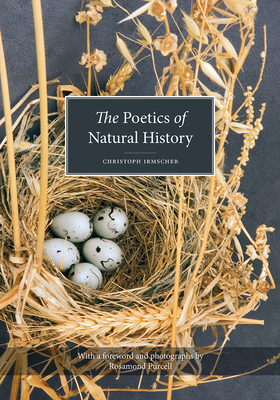 The Poetics of Natural History
Previous price:

$43.95
Current price:

$39.95
Publication Date:
September 8th, 2019
Publisher:
Rutgers University Press Classics
The MIT Press Bookstore
1 on hand, as of Sep 21 10:34am
(NATUR)
On Our Shelves Now
Description
Winner of the 2000 American Studies Network Prize and the Literature and Language Award from the Association of American Publishers, Inc.
Early American naturalists assembled dazzling collections of native flora and fauna, from John Bartram's botanical garden in Philadelphia and the artful display of animals in Charles Willson Peale's museum to P. T. Barnum's American Museum, infamously characterized by Henry James as "halls of humbug." Yet physical collections were only one of the myriad ways that these naturalists captured, catalogued, and commemorated America's rich biodiversity. They also turned to writing and art, from John Edward Holbrook's forays into the fascinating world of herpetology to John James Audubon's masterful portraits of American birds.
 
In this groundbreaking, now classic book, Christoph Irmscher argues that early American natural historians developed a distinctly poetic sensibility that allowed them to imagine themselves as part of, and not apart from, their environment. He also demonstrates what happens to such inclusiveness in the hands of Harvard scientist-turned Amazonian explorer Louis Agassiz, whose racist pseudoscience appalled his student William James. 
 
This expanded, full-color edition of The Poetics of Natural History features a preface and art from award-winning artist Rosamond Purcell and invites the reader to be fully immersed in an era when the boundaries between literature, art, and science became fluid.
Praise for The Poetics of Natural History
"Christoph Irmsche's The Poetics of Natural History now joins such books as Pamela Regi's Describing Early America (1992) and Margaret Welch's The Book of Nature (1998) as a major contribution to our understanding of American natural history and its cultural value. Irmscher's book, which covers the period from the rise of American botanical studies in the 1730s through the establishment of the Darwinian paradigm in the late 1860s, is distinguished by its scholarly breadth, extensive use of manuscript sources, and insightful interpretations of natural history illustrations and collections as well as written text. The Poetics of Natural History gracefully combines study of autodidacts such as John Bartram, professional naturalists such as Louis Agassiz, and popularizers of natural history such as P. T. Barnum. . . .The Poetics of Natural History is . . . an impressive accomplishment and a welcome addition to the growing body of solid critical studies of the cultural and literary significance of American natural history."
 
— American Literature
"A veritable dialectical tour de force of Linnean taxonomy, cultural history, literature, and self-conscious awareness of the artist creating the art work. . . . From discussing discrete pieces of nature (taxonomy) to lyrical narrative and meaning derived from the analysis of both, The Poetics of Natural History stands as a thorough study that confirms its own thesis as revealed in the title. Scholarly, witty, and articulate, it adds a seminal work to the genre."
 
— South Atlantic Review
"The Poetics of Natural History is a learned, leisurely, capacious book, elegantly written and beautifully produced with many black-and-white illustrations. Crammed with interesting, sometimes out-of-the-way information, it brings huge quantities of material into enlightening juxtapositions when a chapter on snakes encompasses antebellum herpetology, Edgar Allan Poe, and Oliver Wendell Holmes. The book is divided into two sections: the first discusses actual collections amassed by natural historians; the second deals with natural historians' representations in words and images. . . . It is a joy to work through [Irmscher's] thoughtful, close readings and provocative juxtapositions. Those interested in natural history, in natural history writing, or in antebellum American scientific culture will find The Poetics of Natural History a first-rate collection in its own right."
 
— New England Review
"The six chapters, essays really, discuss American natural history as a form of storytelling. . . . The claims of natural history merit their own larger study; Irmscher's strengths lie with the tellers and their tales. For him, poetics are exercises of imagination, and his almost seamless text incorporates thousands of quotations from the uneven narratives of American natural history."
 
— Journal of the History of Biology
"Focusing his attention on nature's nation between, roughly the Revolution and the end of the Civil War, Irmscher's central concern is with the image of the naturalist who creates a collection and then puts himself into it."
 
— American Studies
"This remarkable study revives a brilliant, exciting body of American writing pre-Darwinian natural history and makes it central to any understanding of American history and culture. The Poetics of Natural History is scholarly, tough, but at the same time a wonderful read, making the case for the art of natural-history writing, while recognizing that behind that art was intense, disturbing, often violent experience. This book will make a difference."
 
— George Levine
"The Poetics of Natural History is a learned and inventive study of natural history discourse in the 18th-and 19th-century United States, and will be of great interest to students of literary and cultural history, as well as historians of science and art."
 
— Lawrence Buell
"American natural history owes much to gifted amateurs who, in the late 18th and early 19th centuries, traveled widely, collected willy-nilly, and then, back at home, devoted years to sorting through their collections and cataloging their contents--an enterprise that introduced scientific rigor into what had been a kind of hobby. So writes literary scholar Christoph Irmscher, who, in exploring the aesthetic aspects of American natural history, considers the careers of several early naturalists, including Charles Willson Peale, John Bartram, John James Audubon, Louis Agassiz, and, in an unlikely turn, the showman P.T. Barnum, who turned a penchant for collecting oddments of nature into an itinerant freak show. All of these, Irmscher writes, delighted in 'transforming relatively random assemblages of natural collectibles into works of art,' works that would in many instances form the foundations for what are today important collections. Among the many pleasant surprises in Irmscher's narrative is an account of an 1865 trip organized by Agassiz to the Amazon River. One of the participants was the young William James, who would later become a famed psychologist and who wrote admiringly of Agassiz's relentless energy in pursuit of scientific specimens while admitting, 'If there is anything I hate it is collecting.' Irmscher's elegant book will be of interest to historians of 19th-century science, and to general readers with a fondness for the work of the brilliant, often eccentric, amateurs of the past."
— Gregory McNamee
"As deep as it is dazzling, this beautiful book sets in fresh context a view of the world almost lost to us."
— Andrea Barrett
"Christoph Irmscher's remarkable intelligence and engaging style make The Poetics of Natural History a foundational work in the environmental humanities. No book has done more to illuminate the vital relationship between natural history and literary culture in America."
— Michael P. Branch
"The first edition of Irmscher's magisterial study is a benchmark in critical interpretation of natural history. With this extraordinary new edition, enhanced by Rosamund Purcell's photographs, it becomes a classic."
— Alan Braddock
" Arguably a classic in its field, this new edition of The Poetics of Natural History is unreservedly recommended as a core addition to community, college, and university library collections and supplemental studies lists."
— Midwest Book Review
"Herpetologists and other naturalists interested in the history of their subject will want this book for the wealth of information it contains on perspectives of collecting and natural history in pre-Darwinian America...The book presents a most interesting history and literary analysis."
— Bibliotheca Herpetologica
"This new edition of Irmscher's classic text is an excellent example of the value of attention to small details, as well as the tapestry into which they are woven. The combination of stage-setting and specific detail gives an incredible sense of the richness of the world Irmscher presents."
— Megan Baumhammer