Discounted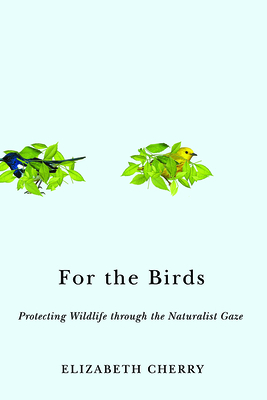 For the Birds: Protecting Wildlife through the Naturalist Gaze (Nature, Society, and Culture)
Previous price:

$34.95
Current price:

$31.95
Publication Date:
September 13th, 2019
Publisher:
Rutgers University Press
Special Order - Subject to Availability
Description
2020 Award for Distinguished Book from the Animals & Society Section of the American Sociological Association
One in five people in the United States is a birdwatcher, yet the popular understanding of birders reduces them to comical stereotypes, obsessives who only have eyes for their favorite rare species. In real life, however, birders are paying equally close attention to the world around them, observing the devastating effects of climate change and mass extinction, while discovering small pockets of biodiversity in unexpected places.
 
For the Birds offers readers a glimpse behind the binoculars and reveals birders to be important allies in the larger environmental conservation movement. With a wealth of data from in-depth interviews and over three years of observing birders in the field, environmental sociologist Elizabeth Cherry argues that birders learn to watch wildlife in ways that make an invaluable contribution to contemporary conservation efforts. She investigates how birders develop a "naturalist gaze" that enables them to understand the shared ecosystem that intertwines humans and wild animals, an appreciation that motivates them to participate in citizen science projects and wildlife conservation.
 
Praise for For the Birds: Protecting Wildlife through the Naturalist Gaze (Nature, Society, and Culture)
"Without qualification, For the Birds will make a substantial and significant contribution to sociology.  Cherry's writing style and conversational tone take us through the training of a neophyte birder into a level of expertise all the while keeping the book extremely readable, lively and accessible."
 
— Lisa Jean Moore
"With its eagle-eyed sights on birders in their natural habitat, Elizabeth Cherry's beautiful ethnography reveals the reverence and concern that citizen scientists feel for these charismatic creatures. Like the naturalist gaze itself, For the Birds is equal parts instructive and pleasurable."  
— David Grazian
For the Birds by Elizabeth Cherry included in Publishers Weekly's Fall 2019 Adult Announcements 
— Publishers Weekly
"Recommended." 
— Choice
"With a wealth of data from in-depth interviews and over three years of observing birders in the field, environmental sociologist Elizabeth Cherry argues that birders learn to watch wildlife in ways that make an invaluable contribution to contemporary conservation efforts. She investigates how birders develop a 'naturalist gaze' that enables them to understand the shared ecosystem that intertwines humans and wild animals, an appreciation that motivates them to participate in citizen science projects and wildlife conservation."
— ASA Environmental Sociology newsletter
"A major contribution."
— Social Forces
"For the Birds provides both an interesting and accessible study of the birding community. Cherry provides deep and colorful description of birders and allows the community to speak directly to the reader by using interview quotes throughout the book. We have much to learn from birders about making the common uncommon and looking at our own backyards through a pair of binoculars."
— American Journal of Sociology