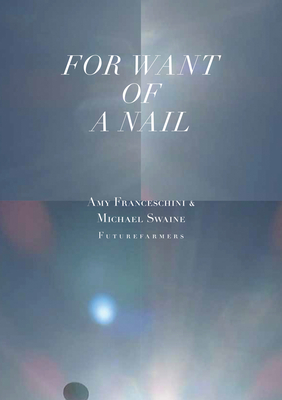 For Want of a Nail
Publication Date:
March 19th, 2019
Publisher:
no place press
Special Order - Subject to Availability
Description
Three nails for J. Robert Oppenheimer, more than half a century after the Manhattan Project.
For Want of a Nail takes as its starting point a series of curious memoranda sent from J. Robert Oppenheimer's office in October 1943 and archived in the Los Alamos Historical Museum, in which the eminent scientist repeatedly requests a nail in the wall upon which he could hang his hat. The persistence and specificity of the request for this nail inspired the international art collective Futurefarmers to create, by hand (and after more than a half-century delay), three nails for the theoretical physicist: one forged from a meteorite, one cast using 1943 steel pennies, and a third made by re-fusing Trinitite, a material formed by residue from the Trinity nuclear bomb test.
Growing out of a site-specific contribution to an exhibition in Santa Fe, New Mexico, this book engages the region's complex nuclear history as it relates to land use, resource extraction, and the far-reaching decisions that were made within the Manhattan Project. Throughout this multidisciplinary project, Futurefarmers constructs a narrative that runs parallel, and in some cases counter to, the conventional accounts of the Manhattan Project and Oppenheimer, its chief architect. Through video stills, production shots, essays, and interviews—presented in a book with uncut, unopened pages that the reader may cut to access more images—For Want of a Nail not only opens new ways to think about the region's particular atomic history, but also prompts more general reflections on how knowledge and narrative are embedded and communicated in material objects, both ephemeral and ancient.
Contributors
Peter Galison, Patrick Kiley, Lucy Lippard, Megan Prelinger and Rick Prelinger, Anne Walsh
About the Author
Futurefarmers (for this project Amy Franceschini and Michael Swaine), founded in 1994 in San Francisco, is an international group of artists, activists, farmers, and architects who work collaboratively to reimagine the environment and one's place in it.
Peter Galison is Pellegrino University Professor of the History of Science and of Physics at Harvard University. He is the author of Einstein's Clocks, Poincaré's Maps: Empires of Time, How Experiments End, and Image and Logic: A Material Culture of Microphysics, among other books, and coeditor (with Emily Thompson) of The Architecture of Science (MIT Press, 1999).
Anne Walsh produces works in video, performance, audio, photography, and text. Her work has been shown at galleries and museums including Artists Space, CCS Bard Galleries, Whitney Museum of American Art, Royal College of Art, and The J. Paul Getty Museum. She is Associate Professor of Art Practice at University of California, Berkeley.
Praise for For Want of a Nail
A banal request by physicist Robert Oppenheimer for a nail to hang his hat on and a small table for his telephone marks the starting point of Amy Franceschini and Michael Swaine's (Futurefarmers) original tale of the Manhattan Project.... he narration develops on several levels, drawing us in and prompting us to reflect on the many implications of nuclear, past and future.—Domus—