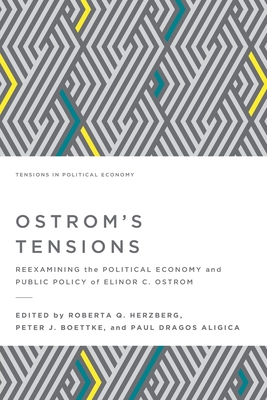 Ostrom's Tensions: Reexamining the Political Economy and Public Policy of Elinor C. Ostrom (Tensions in Political Economy #2)
This product is not returnable.
Publication Date:
October 1st, 2019
Publisher:
Mercatus Center at George Mason University
Usually Ships in 1 to 5 Days
Description
Elinor C. Ostrom won the Nobel Prize in Economics in 2009, with recognition for her path-breaking work on institutions organized to address common-pool resource settings. She and her collaborator and spouse, Vincent Ostrom, contested the scholarship of mainstream political economy, public administration, and public policy in their quest to understand how individuals resolve a variety of social dilemmas. Ostrom's work challenged the belief that a system of governance based on expert public officials could perform better and should a priori be preferred to a system based on citizens' self-governance. Like any great and productive scholar, her body of work includes tensions, flaws, and inconsistencies that must be confronted by scholars looking to engage, critique, and advance her distinctive project in political economy.
Starting from the recognition that Ostrom's work remains open for contestation and improvement, Ostrom's Tensions: Reexamining the Political Economy and Public Policy of Elinor C. Ostrom presents a critical assessment of Ostrom's research and ideas. The contributions to this edited volume, which include original chapters by several of Ostrom's colleagues and students, identify sources of tension within her writing. The research program Ostrom developed continues as an open-ended project advancing adaptable models and polycentric governance solutions rather than static models and one-size-fits-all policies. Taken as a whole, this volume identifies important questions and areas for future research by the next generation of political economists.