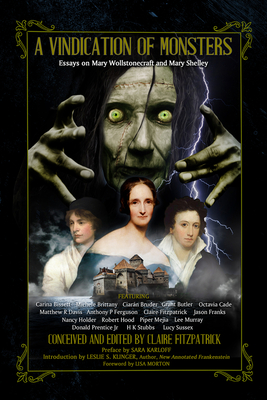 A Vindication of Monsters: Essays on Mary Wollstonecraft and Mary Shelley
Lucy Sussex
,
Nancy Holder
,
Sara Karloff
,
Lisa Morton
,
Carina Bissett
,
Michele Brittany
,
Donald Prentice Jr
,
Ciarán Bruder
,
Piper Mejia
,
Anthony P. Ferguson
,
Claire Fitzpatrick
,
Leslie S. Klinger
,
Lee Murray
,
Jason Franks
,
Robert Hood
,
H K. Stubbs
,
Matthew R. Davis
,
Grant Butlier
,
Octavia Cade
Publication Date:
October 15th, 2023
Publisher:
IFWG Publishing International
Usually Ships in 1 to 5 Days
Description
In 1797 an extraordinary visionary died, leaving behind a grieving husband, a two-year-old daughter, and a newborn. The woman was Mary Wollstonecraft, her daughter Fanny Imlay, and her baby Mary Godwin, who, through many trials and tribulations, grew up to become the remarkable Mary Shelley, creator of one of the most important books in literature: Frankenstein; Or, The Modern Prometheus. While many books have examined both women's lives, their remarkable similarities, their passions, joys, and their grief, A Vindication of Monsters: Essays on Mary Shelley and Mary Wollstonecraft, delves deeper into the stories behind both women, their connections to historical events, society, their philosophies, and their political contributions to their time. These essays and memoirs explore Mary Wollstonecraft, Mary Shelley, and Shelley's circle of friends, including her husband, the capricious poet Percy Shelley; the libertine Romantic Lord Byron; the first modern vampire author John Polidori; and other contemporary creatives who continue to be inspired by both women today.
About the Author
Lucy Sussex is a New Zealand-born writer living in Australia. Her mother Marian was an artist, her father Ronald taught French. Her award-winning work ranges widely, from academic and critical writing, true crime to horror, with children's, adult and teenage audiences. It has also been translated into various languages. Nancy Holder is a New York Times best-selling author of approximately a hundred book-length projects and hundreds of short stories, essays, and articles. She received the Faust Grand Master Lifetime Achievement Award from the International Association of Media Tie-In Writers in 2020. In 2020, she won the Bram Stoker Award for Graphic Novel for Mary Shelley Presents Tales of the Supernatural, and has received five additional Stoker Awards for Novel, Young Adult Novel, and Short Story. She received the Lifetime Achievement Award from the Horror Writers Association in 2022. Sara Karloff was born on her father's 51st birthday, November 23, 1938. Boris Karloff was filming Son of Frankenstein at the time, and Sara jokes that she was "his most expensive birthday present ever." In 1993, following the death of her step-mother, Evelyn Karloff, Sara formed Karloff Enterprises and took responsibility for the persona and licensing rights relating to her famous father. The company's goal is to maintain a standard of excellence and appropriateness when the name or likeness of her father is used. Lisa Morton is a screenwriter, author of non-fiction books, and prose writer whose work was described by the American Library Association's Readers' Advisory Guide to Horror as "consistently dark, unsettling, and frightening." She is a six-time winner of the Bram Stoker Award®, the author of four novels and over 150 short stories, and a world-class Halloween and paranormal expert. Her recent releases include the Calling the Spirits: A History of Seances; forthcoming in 2023 from Applause Books is The Art of the Zombie Movie. Carina Bissett is a writer and poet working primarily in the fields of dark fiction and fabulism. Her work has been published in multiple journals and anthologies including Into the Forest: Tales of the Baba Yaga, Upon a Twice Time, Bitter Distillations: An Anthology of Poisonous Tales, and Arterial Bloom. Her poetry has been nominated for the Pushcart Prize and the Sundress Publications Best of the Net and can be found in the HWA Poetry Showcase, Fantasy Magazine, and NonBinary Review. She is also the co-editor of the award-winning anthology Shadow Atlas: Dark Landscapes of the Americas. Michele Brittany is the editor of Horror Literature from Gothic to Post-Modern: Critical Essays (2020), Horror in Space: Critical Essays on a Film Subgenre (2017) and James Bond and Popular Culture: Essays on the Influence of the Fictional Superspy (2014). She's also a podcaster at H.P. Lovecast. Donald Prentice Jr is a PhD student at the University of Canterbury where he is researching articulations of beauty in contemporary horror films. I am an Irish writer, screenwriter, raconteur, and fan of the Oxford comma. I now live in Dublin after years spent in UAE, Australia, and New Zealand. I've published writing on major figures in the horror world before and hope to do it again. Piper Mejia is an advocate for New Zealand writers and literature. Her short fiction has appeared in a range of publications including; Room enough for Two in Te Korero Ahi Ka (2018) and a collection of her short stories will be published by Breach in 2019. In addition to writing, Piper is a founding member of Young NZ Writers – a non-profit dedicated to providing opportunities for young NZ writers. As a child, Piper stayed up late laughing at horror films. As an adult, she spends a lot of time being disappointed by plot holes and yet somehow she has never lost her love for Sci Fi and Horror.