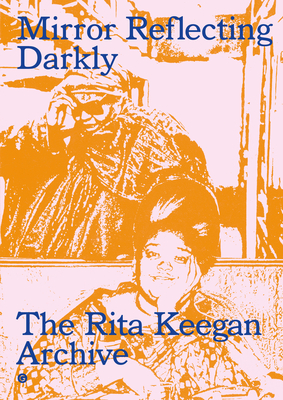 Mirror Reflecting Darkly: The Rita Keegan Archive
Publication Date:
October 26th, 2021
Publisher:
Goldsmiths Press
Special Order - Subject to Availability
Description
Documenting the artistic practice of Rita Keegan: from exhibitions at major venues to everyday life as a working Black female artist.
From the Bronx to Soho to Brixton, Mirror Reflecting Darkly is an exploration of the artist Rita Keegan's archive collection. Part autobiography and part critical history, it reproduces a cross-section of Keegan's archive, mapping an artistic practice that ranges from her exhibitions at such major museums and galleries as the ICA and the Tate to her curatorship of the Women of Colour Index, a groundbreaking 1987 initiative that documented Black and Asian women artists. It includes records of Keegan's journey through different creative environments of London in the 1980s and 1990s, offering rare ephemera drawn from her involvement in the Black British Art movement, covering her years as a fixture of Soho clubland, and documenting the intimate traces of her everyday life as a working Black female artist.
Accompanying the selections from the archive are essays and personal reflections from a range of writers, academics, and artists--including Keegan herself--which expand upon the themes from the material: networks of creative kinship, the story of British Black Arts, self-archiving, and archiving as activism.
 
Contributors
 
Barby Asante, Ego Ahaiwe Sowinski, Mora J. Beauchamp-Byrd, Janice Cheddie, Lauren Craig, Lucy Davies, Althea Greenan, Joy Gregory, Hiroko Hagiwara, Matthew Harle, Rita Keegan, Shaheen Merali, Naomi Pearce
 
About the Author
Rita Keegan is an artist, lecturer, and archivist from the Bronx who has lived and worked in London since 1980. Her work explores memory, history, dress, and adornment, often through the use of her extensive family archive—a photographic record of a black middle class Canadian family from 1890s to the present. She cofounded the Brixton Art Gallery in 1982, established the Women of Colour Index (WOCI) in 1987, and was Director of the African and Asian Visual Arts Archive (AAVAA) until 1994. For many years, she was a lecturer in multimedia arts at Goldsmiths.
Matthew Harle is a writer and archivist from London. His most recent books include Can I Come In and Talk About These and Other Ideas (2020) and a sourcebook on Penda's Fen, entitled Of Mud & Flame (2019). Matthew works as an Archive Curator at the Barbican Centre; regularly programmes archive film and video exhibitions across London and is currently writing a polybiographical study of a 1931 public directory of Berlin Jews.
 
Ego Ahaiwe Sowinski is an archivist and mixed media artist currently pursuing a PhD at Chelsea College of Arts (UAL / Tate Britain). Her doctoral research places much needed critical attention on Jamaican born sculptor Ronald Moody. She holds an MA in Archives and Record Management, International (UCL). She is a member of the Afrofeminist Transatlantic Collaboration which maps and archives the cultural resistance of Black feminist artists in the UK and the Twins Cities and archivist for the Rita Keegan Archive Project. Her practice aims to develop collective, collaborative, archival strategies in relation to physical/intangible space, the public and the personal in relation to the African Diaspora.