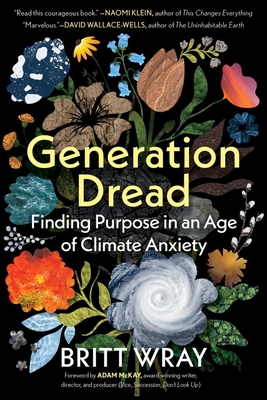 Generation Dread: Finding Purpose in an Age of Climate Anxiety
Publication Date:
October 3rd, 2023
Publisher:
The Experiment
The MIT Press Bookstore
1 on hand, as of Nov 30 10:32am
(PSYCH)
On Our Shelves Now
Description
"Generation Dread is a vital and deeply compelling read."—Adam McKay, award-winning writer, director, and producer (Vice, Succession, Don't Look Up)
"Read this courageous book."—Naomi Klein, author of This Changes Everything
"Wray shows finally that meaningful living is possible even in the face of that which threatens to extinguish life itself."—Dr. Gabor Maté, author of When the Body Says No
 
When we're faced with record-breaking temperatures, worsening wildfires, more severe storms, and other devastating effects of climate change, feelings of anxiety and despair are normal. In Generation Dread, Britt Wray reminds us that our distress is, at its heart, a sign of our connection to and love for the world. The first step toward becoming a steward of the planet is connecting with our climate emotions—seeing them as a sign of our humanity and empathy and learning how to live with them. Britt Wray, a scientist and expert on the psychological impacts of the climate crisis, brilliantly weaves together research, insight from climate-aware therapists, and personal experience, to illuminate how we can connect with others, find purpose, and thrive in a warming, climate-unsettled world.
Praise for Generation Dread: Finding Purpose in an Age of Climate Anxiety
A CBC best Canadian nonfiction book of 2022
An Indigo top ten best self-help book of 2022
Finalist for the Governor General's literary award
"Dr. Britt Wray doesn't ever look away from the hard emotional truths of the climate crisis. But it's also exactly from this scary place that she is able to help us manifest something we all desperately need nowadays: strength. Generation Dread is a vital and deeply compelling read."—Adam McKay, award-winning writer, director, and producer (Vice, Succession, Don't Look Up)
"In this intriguing and engaging work, Britt Wray explores the internal ecology of climate anxiety with insight and sensitivity. She shows finally that meaningful living is possible even in the face of that which threatens to extinguish life itself, and that addressing global climate change begins with attending to the climate within."—Dr. Gabor Maté, author of When the Body Says No
"A rare look at the internal work required to meaningfully confront the existential threats climate change poses to our institutions, our futures, and our selves. If you are ready to feel through eco-anxiety, grieve what's lost, and imagine what comes next, read this courageous book."—Naomi Klein, author of On Fire and This Changes Everything
"The climate future can look bleak, and alarming, but those aren't the only ways to relate to it—or the only ways we will live through and experience it. Generation Dread is a marvelous exploration of many of the divergent, sometimes contradictory, sometimes paradoxical, but always human ways in which we navigate the effects of climate change, with ideas for how we might do so more productively and healthily in the future."—David Wallace-Wells, author of The Uninhabitable Earth
"Incisive, impactful, and in the end, hopeful, Generation Dread holds loss and solutions in tension, asking people to work together in the face of climate change and bring forth better, fairer alternatives."—Foreword Reviews, starred review
"What a gift. Generation Dread meets the unsettled soul with kinship and insight. In these brimming pages, Britt Wray guides us through the interior and interpersonal landscape of the climate crisis, helping us find a grounded, collective path forward in our tangled time."—Dr. Katharine K. Wilkinson, climate strategist and co-editor of All We Can Save
"If, like me, you walk around in grief and fear about the unravelling of Earth's ecosystems, if avoidance and silence often feel like the only way to cope, then you will meet yourself in the pages of Generation Dread. With utmost empathy and wisdom, Britt Wray explores how we can stay engaged with hard truths and act responsibly in their light. This book was just what I needed and I read it twice."—Joan Thomas, Governor General's Award-winning author of Five Wives
"An extraordinary exploration of the emotional and psychological toll environmental chaos is already exacting. It's also a road map out from under that burden, made all the more compelling by the way it tracks [Wray's] own journey. . . .  If Generation Dread has one overriding theme, it's that community saves, and that trust and mutual care are its foundations."—Maclean's
"In her new book Generation Dread . . . [Wray charts] a path forward for those who feel uneasy or even stuck when it comes to eco-anxiety. Wray's approach is holistic, weaving together various strands of thought from psychology and public health to help readers cultivate the resilience and emotional intelligence they'll need to fight for the planet—and to survive the calamities that might come."—Mashable
"Grateful to Britt Wray for devoting her work to shining a bright light on climate dread. . . . I have said before and I'll say it again; I believe climate anxiety and climate grief is the unseen shadow at the heart of all of our crises of society and mental health, and until that's faced, we can't understand fully what is happening in us and around us. In this context, Britt Wray's book is indispensable."—Tamara Lindeman, Brooklyn Vegan