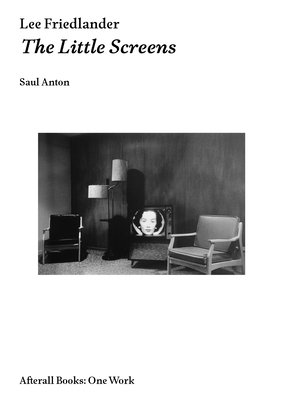 Lee Friedlander: The Little Screens (Afterall Books / One Work)
Publication Date:
August 28th, 2015
Publisher:
Afterall Books
Special Order - Subject to Availability
Description
An illustrated examination of an early photo-essay by Lee Friedlander that shows television screens broadcasting eerily glowing images into unoccupied rooms.
Lee Friedlander's The Little Screens first appeared as a 1963 photo-essay in Harper's Bazaar, with commentary by Walker Evans. Six untitled photographs show television screens broadcasting eerily glowing images of faces and figures into unoccupied rooms in homes and motels across America. As distinctive a portrait of an era as Robert Frank's The Americans, The Little Screens grew in number and was not brought together in its entirety until a 2001 exhibition at the Fraenkel Gallery in San Francisco.
Friedlander (b. 1934) is known for his use of surfaces and reflections––from storefront windows to landscapes viewed through car windshields—to present a pointed view of American life. The photographs that make up The Little Screens represent an early example of this photographic strategy, offering the narrative of a peripatetic photographer moving through the landscape of 1960s America that was in thrall to a new medium.
In this astute study, Saul Anton argues that The Little Screens marked the historical intersection of modern art and photography at the moment when television came into its own as the dominant medium of mass culture. Friedlander's images, Anton shows, reflect the competing logics of the museum and print and electronic media, and anticipate the issues that have emerged with the transition to a world of ubiquitous "little screens."