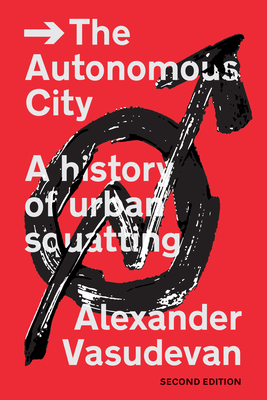 The Autonomous City: A History of Urban Squatting
Publication Date:
January 3rd, 2023
The MIT Press Bookstore
1 on hand, as of Nov 30 10:32am
(SS)
On Our Shelves Now
Description
A radical history of squatting and the struggle for the right to remake the city
The Autonomous City is the first popular history of squatting as practised in Europe and North America. Alex Vasudevan retraces the struggle for housing in Amsterdam, Berlin, Copenhagen, Detroit, Hamburg, London, Madrid, Milan, New York, and Vancouver. He looks at the organisation of alternative forms of housing—from Copenhagen's Freetown Christiana to the squats of the Lower East Side—as well as the official response, including the recent criminalisation of squatting, the brutal eviction of squatters and their widespread vilification.
Pictured as a way to reimagine and reclaim the city, squatting offers an alternative to housing insecurity, oppressive property speculation and the negative effects of urban regeneration. We must, more than ever, reanimate and remake the urban environment as a site of radical social transformation.
Praise for The Autonomous City: A History of Urban Squatting
"An encyclopaediac and vital history of a topic which is often overlooked but is invariably at the heart of radical city politics."
—Anna Minton, author of Ground Control
"Sweeping research on the surprisingly radical history of occupying abandoned buildings and living in them."
—Lauren Oyler, New Republic
"Sheds new light on the transformative role of urban squatting in cities across Europe and North America since the Second World War. Departing from the persistent mythologies and best-known examples of urban squatting Vasudevan reveals understudied examples of activists taking over ordinary as well as iconic, vacant buildings."
—Helen Jarvis, Times Literary Supplement
"Carefully researched and discursive study."
—Will Self, New Statesman
"Poses difficult and timely questions … a scrupulously detailed, thought-provoking study … a resource for all urban dwellers."
—Los Angeles Review of Books
"Delving into the history of squatting and radical housing activism, Vasudevan's book traces the ways housing insecurity and affordability crises intertwine with movements to claim and reclaim homes and apartments."
—Patrick Sisson, Curbed
"A significant contribution to the written history of squatting movements and struggles to transform the city. It is wide-ranging and well-researched, which should appeal to a wide readership including architects, urban planners, scholars of social movements and anyone with a casual interest in squatting and urban politics."
—RIBA Journal
"Part academic treatise and part action-packed history … This is an essential book for anyone interested in the meaning of housing in modern society. It is also a sort of a guidebook for those tired of waiting for the economic and political systems of their respective nations to resolve the crisis that exists in almost every urban zone and who are willing to take matters into their own collective hands."
—Ron Jacobs, Counterpunch
"This admirable, jargon-free book provides rich, interesting stories about urban squatter movements and makes a significant contribution to political and urban studies and to the field of public policy."
—Choice


"Deserves its place on the bookshelf alongside all others which embrace the vision of a more autonomous urban future."
—Anarchist Studies