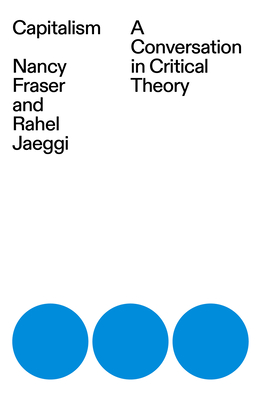 Capitalism: A Conversation in Critical Theory
Publication Date:
July 4th, 2023
The MIT Press Bookstore
2 on hand, as of Nov 30 10:32am
(POLSI)
On Our Shelves Now
Description
A scintillating conversation on capitalism and crisis from two of our most incisive political philosophers
Capitalism, by the twenty-first century, has brought us an era of escalating, overlapping crisis–ecological, political, social–which we may not survive.
In this brilliant, wide-ranging conversation, political philosophers Nancy Fraser and Rahel Jaeggi identify capitalism as the source of the devastation and examine its in-built tendency to crisis. In an exchange that ranges across history, critical theory, ecology, feminism and political theory, Fraser and Jaeggi find that capitalism's tendency to separate what is connected–human from non-human nature, commodity production and social reproduction–is at the heart of its crisis tendency.
These "boundary struggles," Fraser and Jaeggi conclude, constitute capitalism's most destructive power but are also the sites where a fighting left movement might be able to halt the destruction and build the non-capitalist future we so desperately need.
A crucial text for students of political theory, economic theory, and social change, Capitalism offers an invigorated critique of twenty-first century capitalism and an incisive study of our current conjuncture.
Praise for Capitalism: A Conversation in Critical Theory
"As the world is caught up in a whirlwind of multiple crises – social, ecological, political, civilizational – we desperately need to get our hands on and shut down the source. In this book, two of the most acute minds in critical theory point their fingers towards capitalism. This is the sort of sober and passionate thinking we need in a world careening out of control."
—Andreas Malm
"An eloquent, well-reasoned, and thorough account of the key institution of our time – capitalism. For them, capitalism is not only a mode of production but also an institutional order or form of life. Those who have followed Fraser's discussion of recognition or justice, or read Jaeggi on the actuality of alienation, will cherish this brilliant contribution to understanding the world in which we live."
—Robin Blackburn
"In their search for a more expansive definition of capitalism, Fraser and Jaeggi maneuver through different prisms: historically, morally, ethically and functionally. In doing this, they point out the weakness of each and the necessity of combining the views each of these prisms in order to come up with an expansive, inclusive and more honest understanding."
—Ron Jacobs, Counterpunch