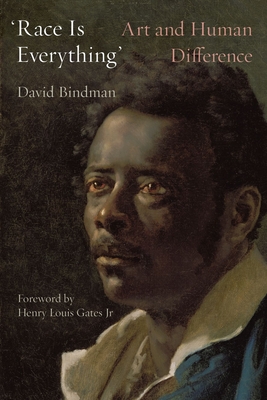 'Race Is Everything': Art and Human Difference
Publication Date:
June 26th, 2023
Publisher:
Reaktion Books
The MIT Press Bookstore
1 on hand, as of Nov 30 10:32am
(ART)
On Our Shelves Now
Description
A timely and revealing look at the intertwined histories of science, art, and racism.
 
'Race Is Everything' explores the spurious but influential ideas of so-called racial science in the nineteenth and the first half of the twentieth centuries, and how art was affected by it. David Bindman looks at race in general, but with particular concentration on attitudes toward and representations of people of African and Jewish descent. He argues that behind all racial ideas of the period lies the belief that outward appearance—and especially skull shape, as studied in the pseudoscience of phrenology—can be correlated with inner character and intelligence, and that these could be used to create a seemingly scientific hierarchy of races. The book considers many aspects of these beliefs, including the skull as a racial marker; ancient Egypt as a precedent for Southern slavery; Darwin, race, and aesthetics; the purported "Mediterranean race"; the visual aspects of eugenics; and the racial politics of Emil Nolde.
Praise for 'Race Is Everything': Art and Human Difference
"Few scholars have done more than Bindman to untangle the complex, interconnected histories of art and race. Fewer still have attempted to do so across such a dramatic sweep of time and space. Throughout this important study, he deftly shows how the visual culture of the nineteenth century both depended on and promoted racial ideologies, which were so often based in contemporary conceptions of science. Indeed, Bindman writes, 'the science on which such racial hierarchies were based was essentially visual.' Without visual representation, racial science would have struggled to survive. But with visual representation, it was, by the end of the century, more prolific and inescapable than ever, being broadcast in advertisements and other images that became a central part of the way people lived and learned. Bindman brilliantly explains the historical antecedents of this process, as well as its disastrous results."
— Henry Louis Gates, Jr., from the foreword
"In this wonderful book Bindman brilliantly explores the ways in which visual art has represented the very idea of racial hierarchy. Linking 'scientific' ideas with the works and lives of artists in the nineteenth and twentieth centuries, this lucid, lavishly illustrated text ranges from high art to popular racist imagery, and highlights resisters such as Frederick Douglass and W. E. B. Du Bois."
— Steven Lukes, professor emeritus of sociology, New York University
"In this remarkable book, Bindman shows how concepts of packaged human differences labeled as races have deformed every aspect of the human experience and human society. Can a book about race be a page turner? Yes, absolutely, and this is it!"
— Nina Jablonski, Evan Pugh University Professor of Anthropology at Penn State, and author of "Living Color: The Biological and Social Meaning of Skin Color"
"Bindman's 'Race Is Everything' more than fulfills the promise of its title. How we see race is determined by our ideologies of difference, which are often so habituated that we believe we see our world and its inhabitants in an unmitigated manner. By looking at the visual codes in modern Western art representing difference—from the African to the Jew and beyond—Bindman provides us with means of deciphering our visual codes while detailing how such codes evolved and persist. A brilliant (and beautiful) work of cultural criticism."
— Sander Gilman, author of "Stand Up Straight! A History of Posture"
"Race has been typically treated as at most a troubling theme, topic, or issue in art's history, rather than a central, abiding—and toxic—structuring principle of the making, use, and understanding of art. Bindman puts race center stage, proving not only that for the last three centuries of European and American art race was 'everything,' but that such art, through the misuse of its visualizing powers, has been centrally responsible for this disastrous obsession. Eloquent, deeply learned, and fiercely passionate, this book should be required reading for anyone concerned with the history of art."
— Joseph Leo Koerner, Victor S. Thomas Professor of the History of Art and Architecture, Harvard University