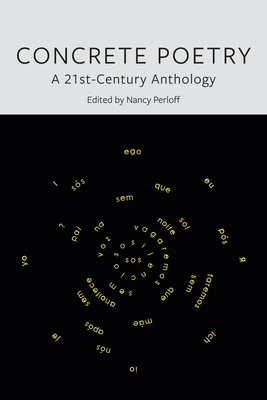 Concrete Poetry: A 21st-Century Anthology
Publication Date:
January 13th, 2022
Publisher:
Reaktion Books
Special Order - Subject to Availability
Description
Now in paperback, a significant new collection of concrete poetry that redefines what this unique literary movement means today.
 
Concrete Poetry: A 21st-Century Anthology is the first overview of concrete poetry in many years. Selective yet wide-ranging, this anthology re-evaluates the movement, singling out its most distinctive and influential works. Nancy Perloff, the curator of an important Concrete Poetry exhibition at the Getty Research Institute, includes examples from the little-known Japanese concretists and the Wiener Gruppe—groups that, together with the Brazilian poet Augusto de Campos and the Scottish poet Ian Hamilton Finlay, have engaged with the most subtle possibilities of language itself—while also incorporating key poems by Eugen Gomringer, Dieter Roth, Henri Chopin, and others and including contemporary contributions by Cia Rinne and Susan Howe.
 
Perloff's anthology presents individual poems, reproduced in their original languages, together with lively commentaries that explicate and contextualize the work, allowing readers to discover the intricacy of poems that some have dismissed as simple, even trivial, texts. This substantial new collection redefines what the concrete poetry movement means today.
Praise for Concrete Poetry: A 21st-Century Anthology
"What is undoubtedly valuable about the book is the way that it carefully arranges, in a beautifully printed hardback, a selection of concrete poetry's keystones. The first half of Perloff's selection triangulates Brazil, Austria and Scotland through the work of three key figures: Augusto de Campos, Gerhard Rühm, and Ian Hamilton Finlay. For the anglophone reader, she glosses the foreign words involved, prising apart the heavy punning that sparked the concrete imagination."
— Jeremy Noel-Tod
"This is an exciting and engaging summary of an important and still misunderstood field, the value of which lies in the intelligence and sensitivity of Perloff's close readings."
— Burlington Contemporary
"An eclectic, global anthology of concrete poetry selected and annotated by Perloff, curator of modern and contemporary collections at the Getty Research Institute." 
— The Bookseller
"Most of the poems in Concrete Poetry fill a full page (and sometimes two). Under each is Perloff's critical gloss, never more than a few sentences long, and often brilliant . . . These glosses by Perloff set a new higher standard for the critical reading of avant-garde poetry, whether concrete or visual. The two pioneering critics of avant-garde poetry, Dick Higgins and Bob Grumman, would have loved them, as do I."
— Rain Taxi Review of Books
"Perloff's new anthology presents a wide sampling of what is known as concrete poetry. Through the book's rich introduction to the nearly 200 color and black-and-white illustrations and the commentary below each, readers learn much about this postmodernist poetic genre. . . . Recommended."
— Choice
"Perloff's Concrete Poetry: A 21st-Century Anthology offers a present-day perspective on the concrete poetry movement of the 1950s through to the 1970s. The curator takes us back to that defining period, which most scholars identify as the heyday of concretism, with the aim of establishing a sort of 'canon' of the most interesting and enduring contributors to the movement. Here is a body of work . . . which deserves a wider audience and greater critical attention."
— Fortnightly Review
"Beautifully produced. . . . Whether you leap in and buy it or consult a library copy I think it's well worth your time. A book for poets, readers, and art lovers. Your own formally composed verses, on the still white page, ought to be ruffled, alarmed, and if not fully converted, at least have the 'look' of them excitingly challenged."
— High Window Review
"Perloff's lively style and tone in this book help to give new life to old forms, conveying something of the sense of adventure felt among those of us still young enough to remember being part of this postwar cultural movement. Written in a highly accessible way, with a fine choice of accompanying poems, it's a book to generate new interest as well as to inform existing initiates."
— Hansjörg Mayer, poet, typographer, and publisher
"This new anthology is to be welcomed. It features a wide range of international poets who contributed to the movement, and displays prime examples of their poetic output in its original setting. Perloff offers personal commentaries on the individual poems, and provides a historical introduction which also conveys her belief in the enduring legacy of the movement."
— Stephen Bann CBE, emeritus professor of history of art, University of Bristol, editor of "Concrete Poetry: An International Anthology"
"This wonderfully rich anthology reveals the experimentation and internationalism of concrete poetry and its continuing significance. Perloff's fresh selection, including the work of poets from Austria and Japan, offers scholarly insight alongside helpful notes to each poem."
— Andrew Nairne OBE, director, Kettle's Yard, University of Cambridge
"This groundbreaking book finally legitimizes one of the most important—yet most neglected—strains of contemporary poetic practice. By rigorously framing concrete poetry within a critical discourse, Perloff forcefully positions concrete poetry as essential to understanding our digital world. More than a mere history or a survey, Concrete Poetry's landmark achievement signifies an essential reshuffling of the historical deck."
— Kenneth Goldsmith, University of Pennsylvania, founding editor of UbuWeb
"Instead of simply reprising 'Concrete Poetry's Greatest Hits,' Perloff's anthology covers a wide range of formal approaches and aesthetics, and we are introduced to work from throughout Europe and North America, as well as important poetry from Japan, and especially, Brazil, where the poets associated the Noigandres group, among other innovations, made poetry by 'pursuing an analogy between musical instruments and components of language.'"
— California Review of Books