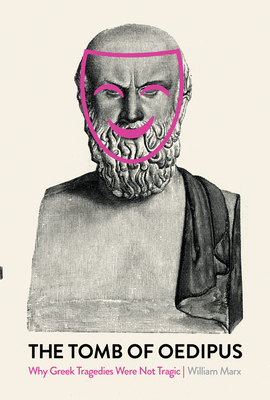 The Tomb of Oedipus: Why Greek Tragedies Were not Tragic
Publication Date:
October 11th, 2022
The MIT Press Bookstore
1 on hand, as of Dec 8 10:45am
(ESSAY)
On Our Shelves Now
Description
Nearly Everything We Think We Know about Greek Tragedy Is Wrong
If Greek tragedies are meant to be so tragic, why do they so often end so well? Here starts the story of a long and incredible misunderstanding. Out of the hundreds of tragedies that were performed, only 32 were preserved in full. Who chose them and why? Why are the lost ones never taken into account?
 
This extremely unusual scholarly book tells us an Umberto Eco-like story about the lost tragedies. By arguing that they would have given a radically different picture, William Marx makes us think in completely new ways about one of the major achievements of Western culture. In this very readable, stimulating, lively, and even sometimes funny book, he explores parallels with Japanese theatre, resolves the enigma of catharsis, sheds a new light on psychoanalysis. In so doing, he tells also the story of the misreadings of our modernity, which disconnected art from the body, the place, and gods.
 
Two centuries ago philosophers transformed Greek tragedies into an ideal archetype, now they want to read them as self-help handbooks, but all are equally wrong: Greek tragedy is definitely not what you think, and we may never understand it, but this makes it matter all the more to us.
Praise for The Tomb of Oedipus: Why Greek Tragedies Were not Tragic
"This is an immensely enjoyable book on Athenian tragedy, written in lyrical prose and elegiac mode."
—Johanna Hanink, Classical Review
"William Marx doesn't take anything for granted. Here, his thoughts take us to the most established concept in literature, 'Greek tragedy,' and then undermines it. His tools: the integration of in-depth historical analysis, detailed understanding of the antique plays, studying the traces of lost plays, and a rethinking of what always seemed obvious but is in fact anachronistic. He questions the very concept of the tragic, revises other basic concepts such as catharsis, and offers a fresh reading of those texts that re-become vital for the history of literature and our contemporary world."
—Mieke Bal
"This is an original and eye opening book. Its fundamental idea is quite simple. Only 32 Greek tragedies from the 5th century BCE have been preserved, which corresponds to less than 5% of the tragedies that had been put on stage. Can we consider this sample to be representative? The selection has been the product of a judgments about what constituted a good, a typical tragedy, a tragedy that should be read by children at school; but these were judgments from Roman imperial times, that are possibly and likely very different from the taste of the original Athenian audience. Has the tragedy of the 5th century really been tragic in the sense that Roman school teachers seem to imply? Marx's attempt to answer this question is intellectually sophisticated, wonderfully readable—and full of surprising insights."
—Luca Giuliani
"William Marx is one of the most original scholars of our time. The Tomb of Oedipus is a revolutionary rethinking of our relationship to the ancient world: its myths, its literature, its outlook. With this slim book, Oedipus's curse has been lifted at long last."
—Alberto Manguel, Director of Espaço Atlântida, The Centre for Research into the History of Reading, Lisbon
"Marx, a comparative literature professor at the Collège de France, refreshes ancient literature and the concept of tragedy in this intelligent work of criticism … Elliott's translation is smooth and elegant, matching the sophistication of Marx's thought as he reinvigorates Greek tragedy."
—Publishers Weekly