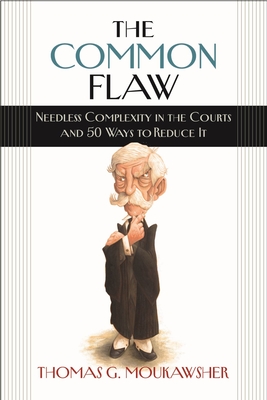 The Common Flaw: Needless Complexity in the Courts and 50 Ways to Reduce It (Brandeis Series in Law and Society)
Publication Date:
September 25th, 2023
Publisher:
Brandeis University Press
The MIT Press Bookstore
1 on hand, as of Nov 30 10:32am
(POLSI)
On Our Shelves Now
Description
A sitting judge makes the compelling argument that we should simplify lawsuits to create a more humane and accessible legal system.
 
Americans are losing faith in their courts. After long delays, judges often get rid of cases for technical reasons, or force litigants to settle rather than issue a decision. When they do decide cases, we can't understand why.
 
The Common Flaw seeks to rid the American lawsuit of this needless complexity. The book proposes fifty changes from the filing of a complaint in court to the drafting of appellate decisions to replace the legal system's formalism with a kind of humanism. Thomas G. Moukawsher calls for courts that decide cases promptly based more on the facts than the law, that prioritize the parties involved over lawyers, that consider the consequences for the people and the public, and that use words we can all understand. Sure to spark an important conversation about court reform, The Common Flaw makes the case for a more effective and credible legal system with warmth and humor, incorporating cartoons alongside insightful reflection.
Praise for The Common Flaw: Needless Complexity in the Courts and 50 Ways to Reduce It (Brandeis Series in Law and Society)
"While you may not agree with every one of the fifty ways Moukawsher proposes to reduce needless complexity, you should come away from his book invigorated by a judge who is not beholden to the 'way we have always done it.'"
— Los Angeles Review of Books
"Over the course of 51 chapters spanning 240 pages, punctuated by 51 pithy cartoons, Moukawsher soundly nails his 50 theses to the law's front door calling for reform."
— Vermont Bar Journal
"The book is clearly written and argued, and each chapter includes a legal cartoon, which legal reformers will likely enjoy. There are also plenty of practical tips." 
— Library Journal