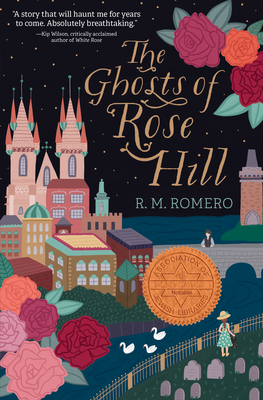 The Ghosts of Rose Hill
Publication Date:
May 10th, 2022
Publisher:
Peachtree Teen
Usually Ships in 1 to 5 Days
This is a stunning read!The Ghosts of Rose Hillis the moving story of a teenage girl sent to live with her aunt in Prague, and the magic, romance, and dangers encountered there. Romero has composed a heartbreaking tale in elegant verse.
May/June 2022 Kids Indie Next List
Description
A brilliantly original tale for fans of The Bear and the Nightingale and The Hazel Wood about embracing your power, facing your monsters, and loving deeply enough to transcend a century.

Inspired by the author's experiences restoring Jewish cemeteries in Eastern Europe.

"A must-read for lost souls everywhere." —Kirkus Reviews, Starred Review

Magic will burn you up.

Sent to stay with her aunt in Prague and witness the humble life of an artist, Ilana Lopez—a biracial Jewish girl—finds herself torn between her dream of becoming a violinist and her immigrant parents' desire for her to pursue a more stable career.
 
When she discovers a forgotten Jewish cemetery behind her aunt's cottage, she meets the ghost of a kindhearted boy named Benjamin, who died over a century ago. As Ilana restores Benjamin's grave, he introduces her to the enchanted side of Prague, where ghosts walk the streets and their kisses have warmth.
 
But Benjamin isn't the only one interested in Ilana. Rudolph Wassermann, a man with no shadow, has become fascinated with her and the music she plays. He offers to share his magic, so Ilana can be with Benjamin and pursue her passion for violin. But after Ilana discovers the truth about Wassermann and how Benjamin became bound to the city, she resolves to save the boy she loves, even if it means losing him—forever.
A love letter to Latin American and Jewish diasporas, based on the author's experiences working to maintain Jewish cemeteries in Eastern Europe. The Ghosts of Rose Hill is a tender and empowering read that you will devour in one sitting. Steeped in history and the experiences of immigrant families, especially Jewish families, each carefully-chosen word of this magical verse novel casts a spell.

A Sydney Taylor Notable Book
A School Library Journal Best Book of the Year
A Kirkus Best YA Book of the Year
A BuzzFeed Best YA Book of the Year
An Indie Next Pick!
Praise for The Ghosts of Rose Hill
"A story of deep hurts delivered with a very gentle, kindly touch."—NPR
★ "A magical realist romance told in verse explores the many transitions of life: from homelands to new homes, from childhood to adulthood, from life to death and back again. . . . combines modern adolescent concerns, magical realism, and religious themes in pristine verse. An ode to the Diaspora and to the many folktales and myths populating Ilana's mixed heritage, Romero's luscious work dives into dark, painful caverns and emerges in sprays of enthralling hope. A must-read for lost souls everywhere."—Kirkus Reviews, Starred Review
★ "An intoxicating blend of the contemporary and otherworldly, Romero's (The Dollmaker of Krakow) layered novel in verse interlaces romance and ghost story with an exploration of cultural identity, folklore, and history. . . . In lyrical, immersive language that's both contemporary and ageless, Romero brings vivid life to the teenagers' powerful romance."—Publishers Weekly, Starred Review
★ Romero's novel is beautifully written in heartbreaking verse. The blending themes of Jewish heritage, fairy tales, romance, monsters, and ghosts results in a rewarding read. Romero's writing seeps into the deepest part of the reader, providing much to think about in regards to love and death, passion and heartbreak. . . . A modern folktale, a love letter to the diaspora, and a unique novel-in-verse, this work is recommended for all teen collections."—School Library Journal, Starred Review
★ "A lush and fantastical modern folktale in verse. . . . Romero delivers an original and anguished blend of music, magic and Judaic traditions. . . . While the setting is richly descriptive of Prague's history, Ilana's own heritage as a child of refugees and the diaspora beautifully informs the story. . . . [A] wistful and deeply symbolic tale of feeling seen and finding powerful connections to the past."—Shelf Awareness, Starred Review
"Romero's novel in verse combines Judaic tradition with fantasy and is divided into movements like a classical musical piece." —Booklist
"Dreamy verse makes for an organic introduction to ghosts and Jewish folklore but remains rooted in the history of Prague and Ilana's struggles to negotiate her parents' immigrant identities. . . . [A] mix of family drama, Jewish history, and the supernatural."—The Bulletin of the Center for Children's Books
"Creepy though the premise is, the thought-provoking novel is more fable than horror, as its protagonist finds a balance between past and present."—The Horn Book
"A modern Märchen steeped in a century of history. Both the beautiful and the monstrous come to life in gorgeous verse prose and a story that will haunt me for years to come. Absolutely breathtaking." –Kip Wilson, critically acclaimed author of White Rose
"The Ghosts of Rose Hill merges folk tale with reality, examining through haunting, evocative verse how little space there is between mythic monsters and the ones we must face in this world. Completely memorizing." –Joy McCullough, acclaimed author of Blood Water Paint
 
"Filled with lush descriptions and soulful emotion, The Ghosts of Rose Hill doesn't shy away from delving into the darker side of Prague's history and lingered with me long after reaching the final page. Readers will find themselves captivated."–Aden Polydoros, author of The City Beautiful