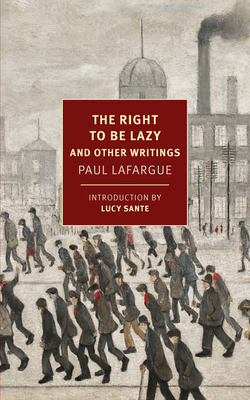 The Right to Be Lazy: And Other Writings
Publication Date:
November 15th, 2022
The MIT Press Bookstore
2 on hand, as of Dec 5 4:07pm
(PHILO)
On Our Shelves Now
Description
Now in a new translation, a classic nineteenth-century defense for the cause of idleness by a revolutionary writer and activist (and Karl Marx's son-in law) that reshaped European ideas of labor and production.
Exuberant, provocative, and as controversial as when it first appeared in 1880, Paul Lafargue's The Right to Be Lazy is a call for the workers of the world to unite—and stop working so much! Lafargue, Karl Marx's son-in-law (about whom Marx once said, "If he is a Marxist, then I am clearly not") wrote his pamphlet on the virtues of laziness while in prison for giving a socialist speech. At once a timely argument for a three-hour workday and a classical defense of leisure, The Right to Be Lazy shifted the course of European thought, going through seventeen editions in Russia during the Revolution of 1905 and helping shape John Maynard Keynes's ideas about overproduction. Published here with a selection of Lafargue's other writings—including an essay on Victor Hugo and a memoir of Marx—The Right to Be Lazy reminds us that the urge to work is not always beneficial, let alone necessary. It can also be a "strange madness" consuming human lives.
Praise for The Right to Be Lazy: And Other Writings
"What makes Lafargue's case for leisure distinctive is that he unapologetically endorses hedonistic idleness." —Matt McManus, Jacobin 
"Lafargue's mordant approach is still effective 140 years later." —Lily Meyer, The Atlantic

"[T]he fact that things didn't turn out as Lafargue hoped. . . . takes nothing away from the cogency, the sparkle, the sheer fun of The Right to Be Lazy." —Mitch Abidor, Jewish Currents
"These piercing essays from socialist Lafargue offer a valuable window into early Marxist thinking. . . . these pieces speak to the present moment, when pandemic-related disruptions have provoked reconsiderations of where, how, and why people work. Readers will relish this incendiary blast from the past." —Publishers Weekly
"The writing is vivid, pointed, hilarious. To paraphrase Elizabeth Bishop, Lafargue is scathing, but cheerful." —Michael Autrey, Booklist
"With scathing wit, Lafargue takes aim at the ideological underpinnings of late-stage capitalism. . . . A sly, irreverent sibling to The Communist Manifesto, Lafargue's argument against our willing servitude to what we'd now call hustle culture and growth-at-all-costs is as trenchant and necessary as the day it was written, if not more so." —David Wright, Library Journal
"The writing is vivid, pointed, hilarious. To paraphrase Elizabeth Bishop, Lafargue is scathing, but cheerful." — Michael Autrey, Booklist
"[Lafargue's] ideas are even more relevant to today's enslaved societies than they were when they were first written." —Tom Hodgkinson, editor of The Idler
"The Right to Be Lazy points explicitly to the ridiculousness of our clamoring to work the hardest; to prove ourselves the best and most tireless." —Garth Miró, Southwest Review