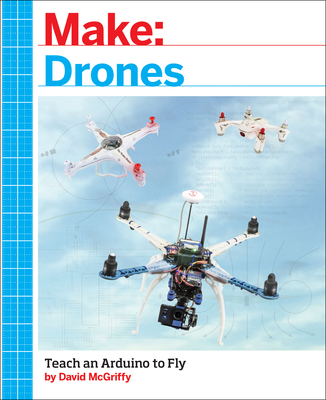 Make: Drones: Teach an Arduino to Fly
Publication Date:
November 22nd, 2016
Publisher:
Make Community, LLC
Usually Ships in 1 to 5 Days
Description
Make: Drones will help the widest possible audience understand how drones work by providing several DIY drone projects based on the world's most popular robot controller--the Arduino. The information imparted in this book will show Makers how to build better drones and be better drone pilots, and incidentally it will have applications in almost any robotics project. Why Arduino? Makers know Arduinos and their accessories, they are widely available and inexpensive, and there is strong community support. Open source flight-control code is available for Arduino, and flying is the hook that makes it exciting, even magical, for so many people. Arduino is not only a powerful board in its own right, but it's used as the controller of most inexpensive 3d printers, many desktop CNCs, and the majority of open source drone platforms.
About the Author
David McGriffy has been a programmer since the earliest days of the personal computer. He has piloted both radio-controlled and human-carrying aircraft, including gliders of both sorts. He worked on GPS systems before they had even finished launching all the satellites. He's written embedded systems code for top computer companies and for fun. He has traveled the world to do failure-mode analyses on the control systems of offshore oil rigs and is an inventor on a patent for a vibration analysis system. He is an expert on website performance and has been published by IEEE on the subject. David runs an audio software company, VVAudio, which produces plugins for surround sound and virtual reality. He has a Ph.D. in Physics from the University of Texas at Austin.