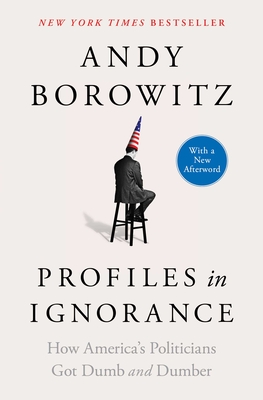 Profiles in Ignorance: How America's Politicians Got Dumb and Dumber
Publication Date:
September 5th, 2023
Publisher:
Avid Reader Press / Simon & Schuster
The MIT Press Bookstore
1 on hand, as of Dec 8 10:45am
(POLSI)
On Our Shelves Now
Description
NEW YORK TIMES BESTSELLER * WALL STREET JOURNAL BESTSELLER *WASHINGTON POST BESTSELLER *
Andy Borowitz, "one of the funniest people in America" (CBS Sunday Morning), brilliantly "chronicles our embrace of anti-intellectualism" (Walter Isaacson) in American politics, from Ronald Reagan to Dan Quayle, from George W. Bush to Sarah Palin, to its apotheosis in Donald J. Trump.
Andy Borowitz has been called a "Swiftian satirist" (The Wall Street Journal) and "one of the country's finest satirists" (The New York Times). Millions of fans and New Yorker readers enjoy his satirical news column "The Borowitz Report." Now, in Profiles in Ignorance, he delivers "a wittily alarming polemic that tracks the evolution of American politics from grounds for gravitas to festival of idiocy" (The New York Times).
Borowitz argues that over the past fifty years, American politicians have grown increasingly allergic to knowledge, and mass media have encouraged the election of ignoramuses by elevating candidates who are better at performing than thinking. Starting with Ronald Reagan's first campaign for governor of California in 1966 and culminating with the election of Donald J. Trump to the White House, Borowitz shows how, during the age of twenty-four-hour news and social media, the US has elected politicians to positions of great power whose lack of the most basic information is terrifying. In addition to Reagan, Quayle, Bush, Palin, and Trump, Borowitz covers a host of congresspersons, senators, and governors who have helped lower the bar over the past five decades.
Profiles in Ignorance aims to make us both laugh and cry: laugh at the idiotic antics of these public figures, and cry at the cataclysms these icons of ignorance have caused. But most importantly, the book delivers a call to action and a cause for optimism: History doesn't move in a straight line, and we can change course if we act now.
Praise for Profiles in Ignorance: How America's Politicians Got Dumb and Dumber
"A wittily alarming polemic that tracks the evolution of American politics from grounds for gravitas to festival of idiocy." —The New York Times
"How did we slide into the abyss of liking our politicians to be—or to act—dumb rather than smart? In this funny but serious book, Andy Borowitz chronicles our embrace of anti-intellectualism." —Walter Isaacson, #1 New York Times bestselling author of The Code Breaker
"This is one of these brilliant books that makes you laugh until you cry. Borowitz masterfully throws light (and shade) on the confederacy of dunces who have fumbled their way into power. His writing has never been smarter, sharper, or more necessary." —Susan Orlean, New York Times bestselling author of The Library Book
"Highly recommended. Can't remember the last time I read something so maddening that was also so hilarious. Also, it is diagnostically astute about the rise of ignorance in American politics." —Kathryn Schulz, winner of the Pulitzer Prize
"In his illuminating and hilarious book, Andy Borowitz not only skewers political stupidity, he identifies its three key phases. . . . Much as the great lampooners of late 18th-century London helped expose ruling class excesses, Borowitz's withering mockery is a weapon against the creeping authoritarianism of early 21st-century America." —Edward Luce, Financial Times
"A devastatingly funny takedown of a veritable Mount Rushmore of incompetents . . . In the hallowed tradition of Will Rogers, Mark Twain, H.L. Mencken, Ambrose Bierce, and other clear-eyed satirists, Borowitz skewers all manner of chronically befuddled, willfully ignorant dolts. . . . Ravaging this seemingly endless rogues' gallery of buffoonery and corruption, Borowitz marshals mind-boggling, breathtaking evidence. . . . While there are countless laughs in the book, they have a rueful edge given that we are all affected by such widespread ignorance." —Kirkus Reviews (starred review)
"Readers may laugh, cry, or swear under their breath (sometimes all at once) with this scathing survey of the seemingly increasing ignorance of American politicians. Borowitz, a writer of page and screen and satirist for The New Yorker, humorously examines the ever-increasing, lowering-of-the-bar expectations of presidential candidates' knowledge and beyond in this book that is perfect for fans of The Daily Show or John Lithgow's 'Dumpty' series. . . . For readers who have ever looked at the political landscape and asked how or why, this is a book that will inform and infuriate." —Library Journal (starred review)
"A stinging indictment of how the Republican Party has, by design, devolved from at least somewhat reasonable or coherent discussions of politics and policy to full-on celebration of idiocy." —Salon
"Andy makes me laugh out loud, that's a given. In this book he has also made me think out loud. Profiles in Ignorance is hilarious, original, scary, prescient and a wake-up call for us all. A must-read." —Susie Essman, HBO's Curb Your Enthusiasm
"Borowitz always hits the target. . . . The book is hilarious and scary . . . because it's TRUE!" —Larry Wilmore, Black on the Air
"[Borowitz] sheds light on the cultural and economic trends that gave intellectualism a bad name and identifies the political operatives . . . who facilitated the rise of ignorance. Fans of The Borowitz Report will gobble this up." —Publishers Weekly
"Is it better to laugh or cry at America's most profoundly stupid politicians? Why not both laugh and cry, as anyone will by reading this new book by Andy Borowitz. He is one of our sharpest satirists, as evidenced by his column The Borowitz Report, but he's wisely made this book nonfiction, skewering the dumbest of the dumb." —Air Mail
"Hilarious and wildly entertaining."—Indiana Capital Chronicle
"Worth every penny . . . Profiles in Ignorance is funny because it's true—and nutty. . . . Borowitz uses his skills to skewer and expose politicians. . . . An equal-opportunity historian, he pulls back the curtain on Democrats as well as Republicans."—Worcester Magazine
"Borowitz details a staggering array of obliviousness, lending his penetrating gibes to the estimable tradition of political mockery championed by Mark Twain, Ambrose Bierce, and H. L. Mencken." —Los Angeles Review of Books
Praise for Andy Borowitz:
"We need a new emoji to signal the uniquely brilliant humor of Andy Borowitz: savage but gentle, hilarious but sad, thought-provoking but never hard to figure out, ironic but without cheap sarcasm, snarky but never cruel. He's a national treasure!" —Laurence Tribe, coauthor of To End a Presidency: The Power of Impeachment
"A witty diagnosis of the political troubles of the US." —Jewish News
"I expected a laugh. . . . How much better to also find a cogent explanation for our current political climate. . . . Borowitz takes us on a well-researched journey of the past 40+ years of American politics, leaving no president un-examined, and he does so with humor and curiosity." —Presbyterian Outlook, Book of the Month
"Literally had me laughing out loud. . . . Profiles in Ignorance is a treasure trove of quotes by elected officials and would-be elected officials who not only enjoy the taste of shoe leather but demonstrate that they either slept through high school civics and American history, or don't care enough to even learn the basic facts that any person taking the examination to become an American citizen must learn." —Cool Cleveland
"Both humorous and frightening as it explains how we got to where we are today in the national political scene." —Boston.com, Favorite Reads of 2022