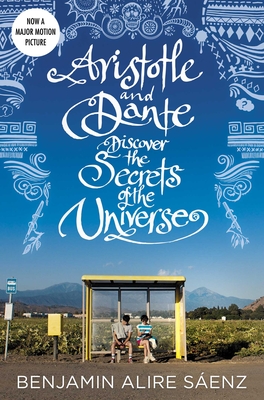 Aristotle and Dante Discover the Secrets of the Universe
Publication Date:
August 29th, 2023
Publisher:
Simon & Schuster Books for Young Readers
Usually Ships in 1 to 5 Days
Description
Now a major motion picture starring Max Pelayo, Reese Gonzales, and Eva Longoria!
A Time Best YA Book of All Time (2021)
Dive into the award-winning, internationally renowned book that is a "tender, honest exploration of identity" (Publishers Weekly) and distills lyrical truths about family and friendship—featuring images from the film!
Aristotle is an angry teen with a brother in prison. Dante is a know-it-all who has an unusual way of looking at the world. When the two meet at the swimming pool, they seem to have nothing in common. But as the loners start spending time together, they discover that they share a special friendship—the kind that changes lives and lasts a lifetime. And it is through this friendship that Ari and Dante will learn the most important truths about themselves and the kind of people they want to be.
Praise for Aristotle and Dante Discover the Secrets of the Universe
* "A tender, honest exploration of identity and sexuality, and a passionate reminder that love—whether romantic or familial—should be open, free, and without shame."
— Publishers Weekly, starred review
* "Authentic teen and Latino dialogue should make it a popular choice."
— School Library Journal, starred review
* "Meticulous pacing and finely nuanced characters underpin the author's gift for affecting prose that illuminates the struggles within relationships."
— Kirkus Reviews, starred review
"Sáenz writes toward the end of the novel that "to be careful with people and words was a rare and beautiful thing." And that's exactly what Sáenz does—he treats his characters carefully, giving them space and time to find their place in the world, and to find each other...those struggling with their own sexuality may find it to be a thought-provoking read."
— Booklist
"Sáenz has written the greater love story, for his is the story of loving one's self, of love between parents and children, and of the love that builds communities, in addition to the deepening love between two friends."
— VOYA
"Ari's first-person narrative—poetic, philosophical, honest—skillfully develops the relationship between the two boys from friendship to romance."
— The Horn Book
"Primarily a character- and relationship-driven novel, written with patient and lyrical prose that explores the boys' emotional lives with butterfly-wing delicacy."--Bulletin of the Center for Children's Books
"Sáenz is a master at capturing the conversation of teens with each other and with the adults in their lives."
— Library Media Connection, Recommended
"This book took my breath away. What gorgeous writing, and what a story! I loved both these boys. And their parents! Don't we all wish we had parents like theirs? The ending - and the way it unfolded - was so satisfying. I could go on and on...suffice it to say I will be highly recommending it to one and all. I'm sure I'll reread it myself at some point. I hated having it end."
— James Howe, Author of Addie on the Inside
"Benjamin Alire Saenz is a writer with a sidewinder punch. Spare sentences connect resonant moments, and then he knocks you down with emotional truth. The story of Ari and Dante's friendship widens and twists like a river, revealing truths about how hard love is, how family supports us, and how painfully deep you have to go to uncover an authentic self."
— Judy Blundell, National Book Award-winning author of What I Saw and How I Lied
"I'm absolutely blown away. This is Saenz's best work by far...It's a beautiful story, so beautifully told and so psychologically acute! Both Ari and Dante are simply great characters who will live on in my memory. Everything about the book is absolutely pitch perfect...It's already my favorite book of the year!"
— Michael Cart, Booklist columnist and YALSA past president