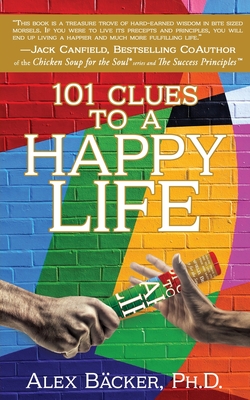 101 Clues to a Happy Life
Publication Date:
May 28th, 2022
Publisher:
Mill City Press, Inc
Usually Ships in 1 to 5 Days
Description
"You have a lot of really good advice here."-Steve HarrisonThe publishing genius behind Chicken Soup for the Soul, Men are From Mars, Women Are From Venus and Rich Dad Poor Dad. Life is a wonderful adventure. If only it came with a guide, so we could avoid the mistakes made by others before us. This is what you are holding.Dr. B cker wrote this book for his children as they left for college. It contains insights he acquired over the years, many of which he wished he had known earlier. Via the dual lens of an objective scientist and loving parent, he shares his keen insights and pearls of wisdom. Beautifully illustrated with 66 brutally clever cartoons that drive the clues home with humor. "Alex B cker says in one perfect phrase things that others take 18 pages to say. It reads very fast. It's well written. Short but funny, profound, it has 1,000 lessons. It's beautiful. To be enjoyed." -Mariano Sigman, cognitive neuroscientist, recipient of the National Prize of Physics, Laureate of the Pontifical Academy of Sciences and author of The Secret Life of the Mind 101Clues.comTwitter.com/101CluesFacebook.com/101Clues Alex B cker is a Caltech Ph.D., Top 100 MIT Technology Alumnus, biologist and neuroscientist, co-founder of QLess, the mobile queueing technology, and Drisit, the drone remote flight platform, CEO whose companies have an uninterrupted track record of growth under his leadership, winner of eleven Gold Stevies, named the world's IT Executive of the Year, composer, multilingual TEDx speaker, inventor with 11 patents, named one of 40 under 40, among the first to publish scientific studies on the role of sunlight and vitamin D in helping protect from COVID-19, featured in TIME, The New York Times, The Wall Street Journal, Nature, ABC, NBC. He lives a remarkably happy life.