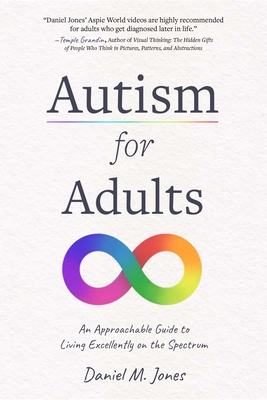 Autism for Adults: An Approachable Guide to Living Excellently on the Spectrum
Publication Date:
September 26th, 2023
Publisher:
Page Street Publishing
Usually Ships in 1 to 5 Days
Description
The Ultimate Handbook for Success on the Spectrum – Written by and for Autistic People!
I feel like everyone else got a handbook with all the answers, and I never got my copy. This is a common thought among autistic people, because society is built with neurotypical people in mind—but that handbook has finally arrived. Even better, it was written by an autism activist who is on the spectrum himself.
Autistic influencer Daniel M. Jones is an expert on living well on the spectrum. No matter what you're going through as someone with autism, Dan gets it—he's been there. He's here to explain everything he learned, and then some, in this instruction manual and memoir about life as an autistic person. Dan's book is packed with actionable advice that readers can immediately start putting into practice. You'll learn how to navigate common challenges, such as dating on the spectrum, holding down a job, or performing well in school. Best of all, you'll learn to improve your life while also empowering yourself.
Dan's honesty, self-awareness, and sheer knowledge of autism make for a down-to-earth and relatable read that anyone will enjoy. No matter where you are on the spectrum, you'll love this hilarious and comprehensive guide to living an excellent life as an autistic adult.
About the Author
Daniel M. Jones is an autistic influencer who has been working in the field of autism education and influence since 2013. He started the YouTube channel The Aspie World to help inform, educate, and entertain people about autism and other commonly co-occurring conditions. Daniel has worked with The National Autistic Society, the UK NHS autism teams, the National Autism Team of Wales, and many other autism advocacy groups. You can find Dan and more of his work at AutismForAdults.com.
Praise for Autism for Adults: An Approachable Guide to Living Excellently on the Spectrum
"Daniel's direct approach and fierce dedication to the education and normalization of the autistic experience is lionhearted."
—Courtney Carter, Founder of Carter Media Group, Manager/Producer and Strategic Brand Consultant
"There is no one better than Daniel to help people understand the world of Autism..."
—Jacqueline Laurita, actress and author of Get It!: The Busy Girl's Guide to Getting Your "It" Together