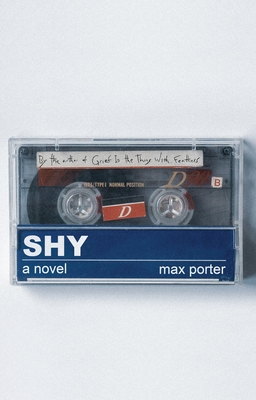 Shy: A Novel
Publication Date:
May 2nd, 2023
Publisher:
Graywolf Press
The MIT Press Bookstore
1 on hand, as of Dec 8 10:45am
(FIC)
On Our Shelves Now
Description
A novel about guilt, rage, imagination, and boyhood, about being lost in the dark and learning you're not alone
This is the story of a few strange hours in the life of a troubled teenage boy.
You mustn't do that to yourself Shy. You mustn't hurt yourself like that.
He is wandering into the night listening to the voices in his head: his teachers, his parents, the people he has hurt and the people who are trying to love him.
Got your special meds, nutcase?
He is escaping Last Chance, a home for "very disturbed young men," and walking into the haunted space between his night terrors, his past, and the heavy question of his future.
The night is huge and it hurts.
In Shy, Max Porter extends the excavation of boyhood that began with Grief Is the Thing with Feathers and continued with Lanny. But here he asks: How does mischievous wonder and anarchic energy curdle into something more disturbing and violent? Shy is a bravura, lyric, music-besotted performance by one of the great writers of his generation.
EditBuild
Praise for Shy: A Novel
"Shy's disordered, multidimensional consciousness careens through Max Porter's brief and brilliant fourth book, a bravura, extended-mix of a novel that skitters, pulses, fractures and coalesces again with all the exhilaration and doom of broken beats and heavy bass lines. . . . [Shy's] both a hapless, hurting child and a dangerous, violent young man, and his author has loved each part of him into being with the same steady attention."—Hermione Hoby, The New York Times Book Review
"Porter's compulsively readable primal scream of a novel offers a compassionate portrait of boy jerked around by uncontrollable mood swings that lead to self-sabotaging decisions."—Heller McAlpin, NPR.org
"[Porter] may be contemporary fiction's bard of ugly beauty and exultant despair. . . . [He] displays an unusual grasp of how consciousness moves, darting and pausing and doubling back, in real time. . . . The only magic is in the language, which makes its surprising interventions into a teenager's life. It frames him hostilely, then with pity. It gooses and taunts him, cheers and parents him, forming him into whatever he is going to be."—Katy Waldman, The New Yorker
"[Porter's] method relies on an original use of typography. . . . Recollections of his rage attacks appear in breathlessly pummeling single-sentence paragraphs, while some phrases loom so large in his imagination they balloon in size and push over into the following page. The effect is to make the reading a conscious, physical process, as cross-grained and obstacle-strewn as Shy's way of existing in the world."—Sam Sacks, The Wall Street Journal

"Shy is worthy fourth novel by a master craftsman and artist."—John Slayton, New York Journal of Books

"[Shy] exists in a fascinating liminal space: a painful and unexplored past and an uncertain future. Porter is at his finest here."—Michael Welch, Chicago Review of Books

"[A] slender burst of Joycean prose. . . . There's an arresting quality to the narrative's frantic breaths of prose poetry and brief, fractured form. As an experiment in character seen from the inside out, [Shy] stands as a singular shoutout to lost boys everywhere."—Publishers Weekly

"Porter does a fine job of inhabiting the mind of a teenager in ways that may remind readers of David Mitchell's novel Black Swan Green, with all the confusion and lack of resolution that come with the territory. . . . Porter gets his bumbling, anomic antihero down to a T."—Kirkus Reviews

"Porter does more in fewer pages than virtually any Anglophone author, with expressionist storms that surge and sigh within a tight frame. . . . There's rage and pain and the glimmer of redemption. Most of all, there is beautiful prose."—Hamilton Cain, The Rumpus

"Shy is . . . written out of love for its bewildered subject. It offers a challenge to recognize the complexity of the difficult road faced by boys like Shy, as well as to understand them complexly—to see both their struggle and their joy, to meet them where they find themselves, and to help lighten the load."—Joel Pinckney, Los Angeles Review of Books
"Max Porter is one of my favorite writers in the world. Why? Because he's always asking the most important questions and then finding ways—through innovative structures and that inimitable voice—of answering those questions soulfully, with his full attention, in ways that make the world seem stranger and more dear (or more dear because stranger). He gives his readers, in other words, bursts of new vision."—George Saunders
"Max Porter has a way of writing unlike anyone else. I loved Shy. I finished it elated and tearful, joyful and terrified, changed by the journey. It moved me and surprised me and that is what I look for in my favorite artists."—PJ Harvey
"I kept thinking of Mrs. Dalloway. The comparison seems utterly inappropriate, and yet where else had I experienced a character lift of the page in this way, with such scattered force? And yet also with such choral beauty. It's a prose-bomb, this book; brief and brilliant."—Samantha Harvey
"With poetic sensibilities and a powerful prose style, Porter's empathetic new novel captures well the angst of adolescence. A snapshot into the frenetic physical/mental/emotional turmoil (and no doubt trauma) of a single youth, Shy lands with the strength of a sucker punch—but resounds with a knowingness of the utter fragility behind the façade."—Jeremy Garber, Powell's Books
"Rattling out a fast snare rhythm above an undertow of bubbling, mournful sub-bass, Shy is full of soul, sweat, and spunk—a sad, wild, beautiful, brave, and funny journey through one struggling teenager's brain."—Will Ashon
"There is no other writer quite like Max, is there? His consistent ability to control the intersection of form and content, his precision, inventiveness, stylistic radiance, and heart. Shy, the boy, is wholly convincing. Brutally, beautifully so. The way he reveals Shy's fragility without so much as a hint of sentimentality is masterful."—Nathan Filer

"A wholly unique, affecting portrait of a troubled teenage mind desperately trying to outpace its own intrusive thoughts. The end result is messy, but that seems to be the point. There's no one writing books quite like Max Porter."—Michael Knapp, The Adroit Journal

"[Porter's] best since his 2015 debut Grief is the Thing with Feathers . . . . Shy is an act of humanity and grace, heightened by its distinctive form and artistry."—Luke Kennard, The Telegraph (UK)
"Stylistically unorthodox, a little mystical, with a big heart and a small page count, the novels of Max Porter are one of the surprise success stories of modern literary publishing."—Anthony Cummins, The Guardian (UK)
"Porter's books offer an object lesson in the importance of loving your characters—compassion being one of the two secret ingredients of successful narrative art—and of allowing them to speak for themselves. . . . Shy's streams of consciousness are fed by tributaries of other people's language. . . . It is virtuoso."—The Guardian (UK)