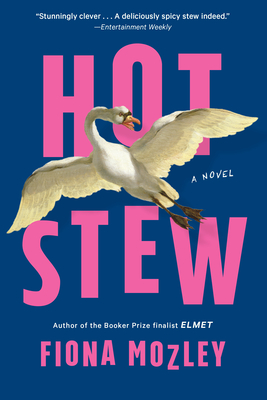 Hot Stew
Publication Date:
April 12th, 2022
Publisher:
Algonquin Books
The MIT Press Bookstore
1 on hand, as of Nov 30 10:32am
(FIC)
On Our Shelves Now
A young millionaire wants to turn an old Soho brothel into luxury condos, but the tenants aren't going to leave without a fight. A riveting tale about wealth, class, gentrification, power, and gender, this story shows readers just how unjust the world can be. A 2021 must-read!
May 2021 Indie Next List
Description
FROM THE AUTHOR OF THE BOOKER PRIZE FINALIST ELMET
"Stunningly clever . . . A deliciously spicy stew indeed." —Entertainment Weekly
"A story about money and power, love and art, sex work and gentrification . . . Enjoyable and impressive on every page." —USA Today
In the middle of the bustle of London's Soho, among the theaters and sex shops and pubs, there sits a building. It isn't particularly assuming, but its location is prime, and Agatha Howard, a millionaire with a fortune of mysterious provenance, has decided it's the perfect spot to put up luxury condos. First, though, she has to kick out all the tenants. And Precious and Tabitha, two of the women who live and work in a brothel housed in the building, are determined not to go quietly. A colorful assortment of other characters also find themselves caught up in the fate of this property: Robert, a one-time member of a far-right group and enforcer for Agatha's father; Bastian, a rich and dissatisfied party boy who pines for an ex-girlfriend; Jackie, a policewoman intent on making London a safer place for all women; and Cheryl, one of the many homeless people who occupy the basement. As their lives converge, surprising hidden connections are revealed, shadowy pasts are uncovered, and the fight over the property boils over into a hot stew.
Entertaining, sharply funny, and dazzlingly accomplished, Hot Stew confronts questions about wealth and inheritance, gender and power, and the things women must do to survive in an unjust world.
Praise for Hot Stew
An Esquire April Book Club Selection
A BuzzFeed May Book Club Selection
"Stunningly clever . . . Mozley's vision of London, simultaneously ancient and deeply modern, is layered with mystery and packed with humanity."
—Mary Sollosi, Entertainment Weekly
 
"Thrilling . . . [Hot Stew] is so precise and granular in its evocation of London that it made me thoroughly homesick while reading it. And Mozley is very good on the degree to which circumstance shapes interior life."
—Emma Brockes, The New York Times Book Review 
"With masterful prose, through over a half-dozen point-of-view characters, [Mozley] tells a story about money and power, love and art, sex work and gentrification—and those are just some of the proteins in this complex stew . . . Mozley writes convincingly about class and gender dynamics . . . Enjoyable and impressive on every page. Mozley brings Soho to clanging life."
—Steph Cha, USA Today
 
"Mozely returns with her sophomore effort in Hot Stew, a sprawling, ambitious work of social realism about Londoners whose messy lives converge in the city's storied neighborhood of Soho."
—Adrienne Westenfeld, Esquire
"Hot Stew is expansive and ribald . . . It's ambitious, clever, brilliant and very funny. If Elmet announced the arrival of a bright new voice in British literature, Hot Stew confirms Mozley as a writer of extraordinary empathic gifts."
—Alex Preston, The Observer (UK)
"A dazzling Dickensian tale . . . [Mozley] has reinvigorated large-scale social realism for our times."
—The Guardian (UK)
 
"Fiona Mozley's hypnotic debut, Elmet, was a standout novel of 2018. Her much-anticipated follow-up takes place in London's Soho, where a young millionaire intent on converting an old building into luxury condos finds out the hard way that its tenants—specifically two sex workers whose brothel is based in the building—won't leave without a fight."
—BuzzFeed
 
"This lively story of class conflict in contemporary London offers more evidence of Mozley's talent and versatility, marking her as a writer whose work promises both thoughtful entertainment and surprises . . . Mozley brings her diverse settings to life, as well as the clashing desires and ambitions of her colorful characters . . . Mozley consistently stirs in tasty ingredients and exciting spices, and keeps raising the temperature all the way to its startling climax."
—BookPage
 
"Compelling, compassionate . . . Mozley's character sketches are delightful and engaging: detailed, complicated, flawed and beautiful . . . An absorbing story of connections and change."
—Shelf Awareness
 
"Riveting . . . A story chronicling the lives of residents in a Soho brothel as they fight back against London's gentrification."
—Refinery29
 
"Before the action even starts, Booker Prize finalist Mozley fills the place with so much gritty, fascinating character that you'll want to move in."
—Jim Kiest, San Antonio Express-News
"Set in present-day London, Mozley's anticipated follow-up to Elmet—her Booker Prize shortlisted debut—follows the struggle between the haves and the have-nots over a building. Mozley's newest novel explores themes like wealth, gentrification, power, and gender dynamics."
—The Millions, "Most Anticipated: The Great First-Half 2021 Book Preview"
 
"[An] absurdly good read . . . A rollicking tale of . . . property and posterity."​
—The Guardian (UK)
 
"A fantastical novel about the city's messy, mutable nature . . .  Mozley's writing often takes on a lyrical, almost fairytale quality."
—Financial Times (UK)
"A passionate and bruising take on the side effects of an increasingly unequal world, in which the rich and the poor function on alarmingly separate if parallel planes."
—Booklist
 
"Mozley leaves the Yorkshire countryside of her Booker-shortlisted Elmet for the gritty streets of London in this lively contemporary Dickensian outing set in a Soho brothel… Mozley's ambition and vision make this a worthy effort."
—Publishers Weekly
 
"[A] loose, witty, soapy story... An empathetic vision of place and people."
—Kirkus Reviews
"Deftly exploring a very real clash of cultures, this is a funny and smart book." 
—The Stylist, "Best New Fiction for 2021"
 
"A complex mosaic of urban life . . . The Soho Mozley captures with such intensity is not a mere locality. It is a microcosm of swarming humanity. Change is, of course, a constant, but Mozley's Hot Stew arrives like a clarion call to take up arms not against change per se, but against the homogenisation that so slowly but steadily suppresses it."
—The Times (UK)
 
"There's no evidence of difficult second-novel syndrome here . . . At one level this rangily plotted romp is a pure nostalgia trip: a portrait of pre-pandemic Soho with all its unlikely cheek-by-jowl conjunctions and heady mixture of pleasure and sleaze. But it's also an exploration of exploitation and desire, privilege and prejudice."
—Daily Mail (UK)
 
"Where the mystical, elemental qualities of Elmet earned it comparisons with Lawrence and Hardy, her second novel is a sprawling urban comedy more likely to recall Ben Jonson or Dickens… [Mozley] moves easily between mordant satire and warmly eccentric character comedy in this invigorating trumpet blast against London's increasing homogenisation."
—Daily Telegraph (UK)
 
"[Elmet] was steeped in the legends of the Yorkshire countryside, but Hot Stew proves Mozley is equally well attuned to the rhythms of urban life. This is a compelling snapshot of a city teeming with vitality, a love letter to, as one character puts it, "the sense of being at the
centre of things," and a reminder of what London stands to lose if its stories are wiped out in pursuit of profit."
–Evening Standard (UK)
 
"At its best, it recalls the kind of capacious, rollicking satires Britain produced in and around the Thatcher era—ambitious, scathing and damn good fun."
—Times Literary Supplement (UK)
 
"Mozley has an incredible gift for writing place . . . Hot Stew reads like a great night out in a city that never sleeps. Her characters have a Dickensian swagger. They are backstreet heroes and villains, trying not to be eaten alive by the city they both love and hate."
—Jan Carson, 2020 winner of the EU Prize for Literature and author of The Fire Starters
 
"Fiona Mozley not only fulfills her promise but surpasses it. Her new stew is such a steaming, fuming mix of life, lust and London that in the end you feel like you've eaten all of Soho."
—Hallgrímur Helgason, author of Woman at 1,000 Degrees
 
"Mozley's Soho is a village populated by a cast of characters as vivid and memorable as any imagined by Dickens. In gorgeously beguiling prose, their pasts and presents are deftly woven into a story that tells uncomfortable truths about power and money and the state of our cities. I loved this book
—Louise Kennedy
 
"The talented Mozley takes on gentrification, Soho and property in a rambunctious, rewarding read."
—i (UK)
 
"Reading Hot Stew felt like a privileged day trip to a place now beyond reach . . . Mozley's prose is precise, controlled, unshowy, deceptively readable . . . But the pleasure of Hot Stew is the company it offers. Our voyeuristic pleasure in the lives of the people we are spending the pages of this novel with."
—Herald (UK)
 
"Hot Stew has a Dickensian feel, as we follow the inhabitants of a Soho brothel in their fight to stop a property developer from kicking them out of their townhouse . . . this bold novel is a confident and engrossing read."
—Gloss Magazine (UK)
 
"There are energy and ambition here, especially in the novel's bravura opening, which telescopes dizzyingly from the bare fields of the 16th century to the Soho of the glittering present by way of a hectic time lapse in which I could almost hear the bricks clinking into place."
—Literary Review (UK)
An Esquire Book Club Selection
A BuzzFeed Book Club Selection
"Stunningly clever . . . Mozley's vision of London, simultaneously ancient and deeply modern, is layered with mystery and packed with humanity."
—Mary Sollosi, Entertainment Weekly
 
"Thrilling . . . [Hot Stew] is so precise and granular in its evocation of London that it made me thoroughly homesick while reading it. And Mozley is very good on the degree to which circumstance shapes interior life."
—Emma Brockes, The New York Times Book Review 
"With masterful prose, through over a half-dozen point-of-view characters, [Mozley] tells a story about money and power, love and art, sex work and gentrification—and those are just some of the proteins in this complex stew . . . Mozley writes convincingly about class and gender dynamics . . . Enjoyable and impressive on every page. Mozley brings Soho to clanging life."
—Steph Cha, USA Today
 
"Mozely returns with her sophomore effort in Hot Stew, a sprawling, ambitious work of social realism about Londoners whose messy lives converge in the city's storied neighborhood of Soho."
—Adrienne Westenfeld, Esquire
"Hot Stew is expansive and ribald . . . It's ambitious, clever, brilliant and very funny. If Elmet announced the arrival of a bright new voice in British literature, Hot Stew confirms Mozley as a writer of extraordinary empathic gifts."
—Alex Preston, The Observer (UK)
"A dazzling Dickensian tale . . . [Mozley] has reinvigorated large-scale social realism for our times."
—The Guardian (UK)
 
"Fiona Mozley's hypnotic debut, Elmet, was a standout novel of 2018. Her much-anticipated follow-up takes place in London's Soho, where a young millionaire intent on converting an old building into luxury condos finds out the hard way that its tenants—specifically two sex workers whose brothel is based in the building—won't leave without a fight."
—BuzzFeed
 
"This lively story of class conflict in contemporary London offers more evidence of Mozley's talent and versatility, marking her as a writer whose work promises both thoughtful entertainment and surprises . . . Mozley brings her diverse settings to life, as well as the clashing desires and ambitions of her colorful characters . . . Mozley consistently stirs in tasty ingredients and exciting spices, and keeps raising the temperature all the way to its startling climax."
—BookPage
 
"Compelling, compassionate . . . Mozley's character sketches are delightful and engaging: detailed, complicated, flawed and beautiful . . . An absorbing story of connections and change."
—Shelf Awareness
 
"Riveting . . . A story chronicling the lives of residents in a Soho brothel as they fight back against London's gentrification."
—Refinery29
 
"Before the action even starts, Booker Prize finalist Mozley fills the place with so much gritty, fascinating character that you'll want to move in."
—Jim Kiest, San Antonio Express-News
"Set in present-day London, Mozley's anticipated follow-up to Elmet—her Booker Prize shortlisted debut—follows the struggle between the haves and the have-nots over a building. Mozley's newest novel explores themes like wealth, gentrification, power, and gender dynamics."
—The Millions, "Most Anticipated: The Great First-Half 2021 Book Preview"
 
"[An] absurdly good read . . . A rollicking tale of . . . property and posterity."​
—The Guardian (UK)
 
"A fantastical novel about the city's messy, mutable nature . . .  Mozley's writing often takes on a lyrical, almost fairytale quality."
—Financial Times (UK)
"A passionate and bruising take on the side effects of an increasingly unequal world, in which the rich and the poor function on alarmingly separate if parallel planes."
—Booklist
 
"Mozley leaves the Yorkshire countryside of her Booker-shortlisted Elmet for the gritty streets of London in this lively contemporary Dickensian outing set in a Soho brothel… Mozley's ambition and vision make this a worthy effort."
—Publishers Weekly
 
"[A] loose, witty, soapy story... An empathetic vision of place and people."
—Kirkus Reviews
"Deftly exploring a very real clash of cultures, this is a funny and smart book." 
—The Stylist, "Best New Fiction for 2021"
 
"A complex mosaic of urban life . . . The Soho Mozley captures with such intensity is not a mere locality. It is a microcosm of swarming humanity. Change is, of course, a constant, but Mozley's Hot Stew arrives like a clarion call to take up arms not against change per se, but against the homogenisation that so slowly but steadily suppresses it."
—The Times (UK)
 
"There's no evidence of difficult second-novel syndrome here . . . At one level this rangily plotted romp is a pure nostalgia trip: a portrait of pre-pandemic Soho with all its unlikely cheek-by-jowl conjunctions and heady mixture of pleasure and sleaze. But it's also an exploration of exploitation and desire, privilege and prejudice."
—Daily Mail (UK)
 
"Where the mystical, elemental qualities of Elmet earned it comparisons with Lawrence and Hardy, her second novel is a sprawling urban comedy more likely to recall Ben Jonson or Dickens… [Mozley] moves easily between mordant satire and warmly eccentric character comedy in this invigorating trumpet blast against London's increasing homogenisation."
—Daily Telegraph (UK)
 
"[Elmet] was steeped in the legends of the Yorkshire countryside, but Hot Stew proves Mozley is equally well attuned to the rhythms of urban life. This is a compelling snapshot of a city teeming with vitality, a love letter to, as one character puts it, "the sense of being at the
centre of things," and a reminder of what London stands to lose if its stories are wiped out in pursuit of profit."
–Evening Standard (UK)
 
"At its best, it recalls the kind of capacious, rollicking satires Britain produced in and around the Thatcher era—ambitious, scathing and damn good fun."
—Times Literary Supplement (UK)
 
"Mozley has an incredible gift for writing place . . . Hot Stew reads like a great night out in a city that never sleeps. Her characters have a Dickensian swagger. They are backstreet heroes and villains, trying not to be eaten alive by the city they both love and hate."
—Jan Carson, 2020 winner of the EU Prize for Literature and author of The Fire Starters
 
"Fiona Mozley not only fulfills her promise but surpasses it. Her new stew is such a steaming, fuming mix of life, lust and London that in the end you feel like you've eaten all of Soho."
—Hallgrímur Helgason, author of Woman at 1,000 Degrees
 
"Mozley's Soho is a village populated by a cast of characters as vivid and memorable as any imagined by Dickens. In gorgeously beguiling prose, their pasts and presents are deftly woven into a story that tells uncomfortable truths about power and money and the state of our cities. I loved this book
—Louise Kennedy
 
"The talented Mozley takes on gentrification, Soho and property in a rambunctious, rewarding read."
—i (UK)
 
"Reading Hot Stew felt like a privileged day trip to a place now beyond reach . . . Mozley's prose is precise, controlled, unshowy, deceptively readable . . . But the pleasure of Hot Stew is the company it offers. Our voyeuristic pleasure in the lives of the people we are spending the pages of this novel with."
—Herald (UK)
 
"Hot Stew has a Dickensian feel, as we follow the inhabitants of a Soho brothel in their fight to stop a property developer from kicking them out of their townhouse . . . this bold novel is a confident and engrossing read."
—Gloss Magazine (UK)
 
"There are energy and ambition here, especially in the novel's bravura opening, which telescopes dizzyingly from the bare fields of the 16th century to the Soho of the glittering present by way of a hectic time lapse in which I could almost hear the bricks clinking into place."
—Literary Review (UK)