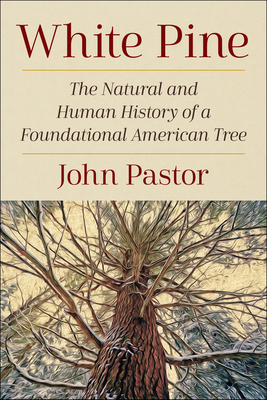 White Pine: The Natural and Human History of a Foundational American Tree
Publication Date:
January 5th, 2023
The MIT Press Bookstore
2 on hand, as of Dec 8 10:45am
(NATUR)
On Our Shelves Now
Description
America was built on white pine. From the 1600s through the Civil War and beyond, it was used to build the nation's ships and houses, barns, and bridges. It became a symbol of independence, adorning the Americans' flag at Bunker Hill, and an economic engine, generating three times more wealth than the California gold rush. Yet this popularity came at a cost: by the end of the 19th century, clear cutting had decimated much of America's white pine forests. In White Pine: The Natural and Human History of a Foundational American Tree, ecologist and writer John Pastor takes readers on walk through history, connecting the white pine forests that remain today to a legacy of destruction and renewal. 
Since the clear-cutting era, naturalists, foresters, and scientists have taken up the quest to restore the great white pine forests. White Pine follows this centuries-long endeavor, illuminating how the efforts shaped Americans' understanding of key scientific ideas, from forest succession to the importance of fire. With his keen naturalist's eye, Pastor shows us why restoring the vitality of these forests has not been simple: a host of other creatures depend on white pine and white pine depends on them. In weaving together cultural and natural history, White Pine celebrates the way humans are connected to the forest—and to the larger natural world.
Today, white pine forests have begun to recover, but face the growing threat of climate change. White Pine shows us that hope for healthy forests lies in understanding the lessons of history, so that iconic species survive as a touchstone for future generations.
Praise for White Pine: The Natural and Human History of a Foundational American Tree
"A slim but quite powerful volume."
— Booklist
"Pastor's book, which combines a charming professorial sensibility with the expertise and keen observations of a veteran scientist, is history for a layperson, an introduction to forest ecology, a cautionary tale of reckless natural resource harvesting and a roadmap for sustainable foresting practices to conserve precious woods and enable their flourishing...White Pine's information and reverence for life, as well as the conditions life requires, endow it with value for the layperson, historian and seasoned scientist alike."
— Shelf Awareness
"This book contains the rich history of a foundational tree species that has helped sustain life and ecosystem health while shaping a nation. Pastor's discussion of the fine historical details, such as the Pine Tree Riots, how mean annual increment was created, how white pine blister rust was important for motivating Congress to pass the Plant Quarantine Act, and transition from Indigenous reverence to European exploitation and utilitarianism to modern conservation and sustainability, makes this a must-read for all forestry professionals, naturalists, and others receptive to the teachings of history in pursuit of conserving a legendary tree species and forest ecosystems."
 
— Plant Science Bulletin
"White Pine celebrates the tree, the bedrock of northern natural history, the economic scaffolding of a fledgling nation.… Pastor's story is excellent and extensive."
 
— Northern Woodlands
"White pine, a cultural icon and source of riches to generations, remains an awe-inspiring and yet enigmatic species in forests across eastern North America. Through engaging history, delightful personal narrative, and wide-ranging research, all accented by his wonderfully detailed pen and ink drawings, John Pastor presents the most insightful book yet on one of America's foundational trees."
— David Foster, Director Emeritus, Harvard Forest, author of "A Meeting of Land and Sea" and editor of "Hemlock"
"In a beautiful blend of cultural and natural history, White Pine takes us on a journey to deeply know one species. From that depth comes the surprising discovery of all the life connected to it and a hopeful guide for our shared future."
— Lauren E. Oakes, author of "In Search of the Canary Tree"
"John Pastor's wonderfully evocative writing about this iconic American tree is rooted in a lifetime of science and scholarship. It's as much a deep history of the relationships between humans and nature as it is the story of a tree and its environment."
— Charles Canham, Cary Institute of Ecosystem Studies, author of "Forests Adrift"