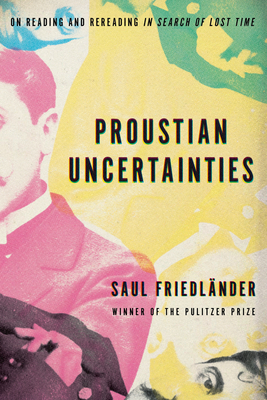 Proustian Uncertainties: On Reading and Rereading In Search of Lost Time
Publication Date:
January 31st, 2023
The MIT Press Bookstore
1 on hand, as of Dec 8 10:45am
(ESSAY)
On Our Shelves Now
Description
Named a Times Literary Supplement Best Book of the Year 
A Pulitzer Prize–winning historian revisits Marcel Proust's masterpiece in this essay on literature and memory, exploring the question of identity—that of the novel's narrator and Proust's own.
 
This engaging reexamination of In Search of Lost Time considers how the narrator defines himself, how this compares to what we know of Proust himself, and what the significance is of these various points of commonality and divergence. We know, for example, that the author did not hide his homosexuality, but the narrator did. Why the difference? We know that the narrator tried to marginalize his part-Jewish background. Does this reflect the author's position, and how does the narrator handle what he tries, but does not manage, to dismiss? These are major questions raised by the text and reflected in the text, to which the author's life doesn't give obvious answers. The narrator's reflections on time, on death, on memory, and on love are as many paths leading to the image of self that he projects.
 
In Proustian Uncertainties, Saul Friedländer draws on his personal experience from a life spent investigating the ties between history and memory to offer a fresh perspective on the seminal work.
Praise for Proustian Uncertainties: On Reading and Rereading In Search of Lost Time
"[A] haunting work…Friedländer has always imbued his scholarship with an acute literary sensibility…incisive and quizzical…[an] intimate and subtle book." —Wall Street Journal
"The pleasure of [Proustian Uncertainties] comes from…the author unspooling thoughts and venturing theories collected over many years about a book he clearly loves…By taking a bird's-eye view of the novel, Friedländer notices continuities and contradictions that are hard to see from within the teeming thickets of Proust's prose." —Harper's
"Refreshingly different…Friedländer reads In Search of Lost Time very much against the grain, alert not only to the pleasures of its prose and its psychological acuities and metaphysical masteries, but even more so to its many contradictions and moral ambiguities." —Bookforum
 
"[A] superb new book…Friedländer, the great historian of Nazi Germany and the Jews and also the author of his own Proustian memoir, When Memory Comes, argues that Proust's narrator is a 'disembodied presence unlike that in any novel before,' and that it's the relation of that presence to Proust himself that makes the Recherche, with its biting social satire, so unique." —Times Literary Supplement, Books of the Year
 
"[A] brilliant extended essay…though richly documented, it maintains a genial, pleasingly conversational tone throughout…refreshing to read…like Proust, [Friedländer] is a navigator of memory." —New Criterion
 
"[An] excellent volume about In Search of Lost Time and Proust himself." —Literary Hub
 
"[Friedländer] explores Proust's questioning of his Jewish identity and his sexuality, the overwhelming presence of the mother in the narrator's imagination, and the complex figure and function of the novel's narrator, beautifully delving into 'the iridescence of all things,' and illuminating 'the evocative power of sensation.' Packed with critical energy and shrewd insights, there is sheer joy in this rereading of Proust's narrative, inviting the reader to discover In Search of Lost Time on their own terms. With Professor Friedländer as a passionate and learned guide, new and returning readers will get to experience Proust's mind-expanding 'sensual mode of remembrance' for themselves." —Jewish Book Council
 
"[Friedländer] meditates on the 'extraordinary pull' and hidden depths of Marcel Proust's À la recherche du temps perdu in this intriguing extended essay…Proust fans will enjoy these appreciative, personal peregrinations through 'one of the most important novels ever written.'" —Publishers Weekly
 
"[A] thought-provoking examination…[Friedländer] is a wise, enthusiastic guide to Proust." —Kirkus Reviews

"Fascinating…a short but very intelligent book for people who cannot get enough of the endless points at which Proust's novel and his life touched one another." —Gay & Lesbian Review

"[Friedländer] patiently and perceptively put[s] the reader into the historical context of Proust's story…readers can only be glad that the powerful analytical eye of a great Jewish historian has been turned to the novelist's immortal masterpiece." —Forward

"[A] personal and idiosyncratic reading of Marcel Proust's In Search of Lost Time…impressive and will certainly draw in a curious literary readership." —Library Journal

"Saul Friedländer, whose work on memory has played a critical role in filling in the lacunae of recorded history, has turned his lens on the uses of memory in Proust's extraordinary record of time in books that remain timeless." —Maryanne Wolf, author of Proust and the Squid: The Story and Science of the Reading Brain and Reader, Come Home: The Reading Brain in a Digital World