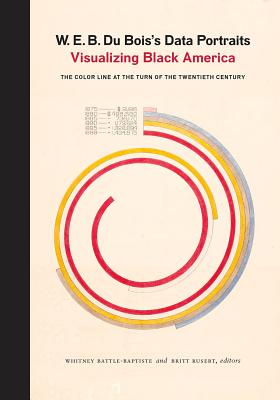 W. E. B. Du Bois's Data Portraits: Visualizing Black America
Publication Date:
October 23rd, 2018
Publisher:
Princeton Architectural Press
The MIT Press Bookstore
1 on hand, as of Nov 30 10:32am
(SS:RI)
On Our Shelves Now
Description
"As visually arresting as it is informative."—The Boston Globe
"Du Bois's bold colors and geometric shapes were decades ahead of modernist graphic design in America."—Fast Company's Co.Design
W.E.B. Du Bois's Data Portraits is the first complete publication of W.E.B. Du Bois's groundbreaking charts, graphs, and maps presented at the 1900 Paris Exposition.
Famed sociologist, writer, and Black rights activist W.E.B. Du Bois fundamentally changed the representation of Black Americans with his exhibition of data visualizations at the 1900 Paris Exposition. Beautiful in design and powerful in content, these data portraits make visible a wide spectrum of African American culture, from advances in education to the lingering effects of slavery. They convey a literal and figurative representation of what he famously referred to as "the color line," collected here in full color for the first time.
A landmark collection for social history, graphic design, and data science.
• Data display, visualizations, and infographics far ahead of their time
• Colorful graphs and charts are mesmerizing pieces of art in their own right
• A valuable companion to W.E. B. Du Bois's The Souls of Black Folk
• Includes contributions from Aldon Morris, Silas Munro, and Mabel O. Wilson
W.E.B. Du Bois's Data Portraits is an informative and provocative history, data, and graphic design book that continues to resonate with audiences today.
Praise for W. E. B. Du Bois's Data Portraits: Visualizing Black America
"These rarely seen and beautifully rendered data visualizations show the promise and creative possibilities of black art and science, more than a century ago, to remak eAmerica in the true image of all her people. Drawn in brilliant and vivid colors in these portraits, Du Bois's color line reminds us that the struggle for justice is also the struggle for truth, then as now."
- Khalil Gibran Muhammad, Harvard University, author of The Condemnation of Blackness: Race, Crime, and the Making of Modern Urban America
"Compiled in a new book from Princeton Architectural Press, the diagrams distill data on everything from land ownership to the value of furniture in black households, and display exquisite stylistic ingenuity; Du Bois's bold colors and geometric shapes were decades ahead of modernist graphic design in America."
- Fast Company's Co.Design
"Collected for the first time in book form on the occasion of Du Bois's 150th birthday, and accompanied by academic essays, the infographics underscore the groundbreaking contributions of this eminent intellect and activist."
- Metropolis
"W.E.B. Du Bois's Data Portraits was published on the sesquicentennial year of the Du Bois' birth, and it further reaffirms the scholar's place as a founding figure in American sociology. The recirculation of Du Bois' data portraits offer a new opportunity to marvel at the forward-thinking work being done at Atlanta University."
- Smithsonian Magazine
"These images are as precise as they are dazzling; sobering and chromatic all at once. They also unleash modernist forms of abstraction and conceptual artistry decades ahead of their time. A graphic rendering of fire."
- Nylon
"At the Paris Exposition in 1900, W.E.B. Du Bois, activist, writer, sociologist, historian, exhibited a number of graphs, charts, and maps that illustrate "the color line" and shined a spotlight into how Black Americans were living. In "W.E.B. Du Bois's Data Portraits: Visualizing Black America: The Color Line at the Turn of the Twentieth Century'' editors Whitney Battle-Baptiste and Britt Rusert collected these images together for the first time. The result is as visually arresting as it is informative."
- The Boston Globe
"W.E.B. Du Bois wasn't just one of the foremost civil rights activists of the late 19th and early 20th centuries. He was also a data visualization whiz who was able to turn his sociological research into innovative infographics that communicated the reality of the African-American experience to the world. Du Bois spent more than 20 years of his life working as a sociologist at Atlanta University studying black communities. In 1900, he was asked to contribute to the American Negro Exhibit, a showcase at the Exposition Universelle in Paris designed to explore the progress of black Americans since Emancipation. In response, he and his students at Atlanta University created 60 different infographics on topics like literacy rates, property ownership, and population growth of black Americans using research from his sociology lab, U.S. government data from the Census, other reports. More than a century later, these innovative infographics have been collected in a new book from Princeton Architectural Press called W.E.B. Du Bois's Data Portraits: Visualizing Black America."
- Mental Floss
"This fascinating reproduction of all the data visualizations prepared by Du Bois and his team for the American Negro Exhibit at the 1900 Paris Exposition is so modern as to be nearly anachronistic. The introduction is also excellent, briefly providing historical and political context to the primary source materials. These plates represent a very contemporary approach to a social problem that still looms large in our country and will interest scholars of African American studies, design, data visualization, sociology, and history. Summing Up: Highly recommended."
-Choice Magazine
"The book is appropriately written by five contributors, each with her their own distinct professional insight and perspective. Section by section, it unravels the steadfastness and creativity that was necessary to birth the American Negro Exhibit."
- Communication Arts
"Refusing the boundaries between art and sociology, abstraction and portraiture, the evident rhythm and the evident incalculability of human action, Du Bois gives data dimension and color, inside and outside the color line, in compositional concert, the black modernism and modernity he prophesies and performs always one step away, two steps ahead."
- Fred Moten, University of California, Riverside, author of In the Break: The Aesthetics of the Black Radical Tradition
"In re-envisioning Du Bois the artist alongside Du Bois the scientist, this magnificent volume demonstrates that race is a visual economy-a system of vision and division that structures who lives and who dies. The contributors remind us that how we see race (or pretend not to) matters as much in our scholarly representations of social life as in our everyday lives."
- Ruha Benjamin, Princeton University, author of Race After Technology
"W. E. B. Du Bois's Data Portraits is an exquisitely designed, highly informative, and eminently teachable study-a testament to Du Bois's seemingly boundless innovation, not only as a theorist of race but as a visual architect and data artist. Battle-Baptiste and Rusert have given us a gift in this volume: a feast for the eyes, a feast for the intellect."
- Leigh Raiford, University of California, Berkeley, author of Imprisoned in a Luminous Glare: Photography and the African American Freedom Struggle
"Du Bois' data visualizations convey the power of information design and "infographic activism."
- Booklist
"You can't know where you're going if you don't know where you come from. W.E.B. Du Bois's Data Portraits offers a comprehensive view of issues Black Americans have faced, from land ownership to education. These infographics were presented at the 1900 Paris Exposition. It's interesting to see how things have--or have not--changed."
- Essence
"The book serves as an immersion into this unique set of infographics, an analysis of their context, and a guide to the design choices that made these visualizations so effective and significant in their original context and today....W. E. B. Du Bois's Data Portraits: Visualizing Black America is a necessary read for designers, researchers, and professors interested in data visualization, because it is time to recognize the historical significance of Du Bois's work. At the same time, it enables modern designers in data visualization to apply the lessons learned from this historical moment to their own work."
- Design and Culture
"For any young designer or graphic artist coming up, it's an inspiring account of how a blend of science and art can call attention to 'invisible struggles.' There is brilliance in truth-telling and sharing stories of real people in design which help us create a deeper sense of empathy for the humanity of others."
- Fast Company