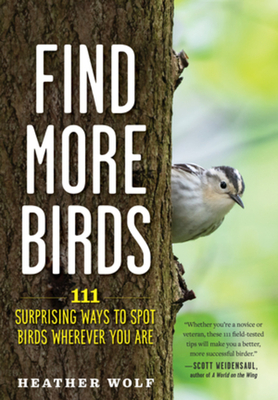 Find More Birds: 111 Surprising Ways to Spot Birds Wherever You Are
Publication Date:
August 8th, 2023
Publisher:
The Experiment
The MIT Press Bookstore
1 on hand, as of Nov 29 10:27am
(NATUR)
On Our Shelves Now
Description
"Packed with excellent photos and tips, deeply relatable anecdotes, and a palpable sense of joy, this gem of a book will make you a better birder."—Rosemary Mosco, author of A Pocket Guide to Pigeon Watching
A gorgeously photographed trove of 111 ingenious tips for seeing more birds wherever you are—from crowd favorites (hummingbirds, owls, eagles) to species you've never spotted before
Seeing more birds than you ever imagined and witnessing exciting avian drama is possible—whether you're on the go or in your own neighborhood, local park, or backyard. As Heather Wolf explains, it all comes down to how you tune in to the show happening around you, the one in which birds—highly skilled at staying under the radar—are the stars. In Find More Birds, Heather shares her very best tactics—and the jaw-dropping photographs they helped her capture.
Look for birds at their favorite "restaurants"— from leaf litter to berry bushes, and ball fields to small patches of mud.
Watch for "tree bark" that moves . . . you may find it has feathers.
Try simply sitting on the ground for a revealing new perspective.
Plus, special tips point the way to crowd favorites such as hummingbirds, owls, and eagles—and can't-miss bird behaviors. As your senses sharpen and "noticing" becomes second nature, Find More Birds will turn your daily routines into bird-finding adventures, too. Whether you're strolling down the block or parking your car, you never know what will surprise you next!
Praise for Find More Birds: 111 Surprising Ways to Spot Birds Wherever You Are
"Wolf's humorous writing and the striking color photographs throughout this guide make it a standout. All birders, from novices to the ones who've been observing and identifying birds their whole lives, can benefit."—Library Journal, starred review
"Heather Wolf shows us how to home in on birds in almost any situation—at a superstore, in the car—and offers sound advice for building a birding community. . . . She passes along morsels that make birding feel accessible, even fail proof."—BookPage
"An enjoyable, helpful resource for enhancing birdwatching experiences, with tips for newcomers and experienced birders alike. Its dozens of beautiful photographs . . .  are memorable in their own right; they will also help when it comes to identifying common species."—Foreword
"An engaging and reassuring guide, whether you're learning birding or you've spent many years behind field glasses . . .  Will inspire new birding excursions and is a reason to keep this book on your coffee table all year long."—Nature Book Guide
"Packed with excellent photos and tips, deeply relatable anecdotes, and a palpable sense of joy, this gem of a book will make you a better birder. If you're new to birding, let Heather welcome you into this hobby with open arms and set you up for success."—Rosemary Mosco, author of A Pocket Guide to Pigeon Watching
"Heather Wolf is the perfect birding buddy: enthusiastic, experienced, and happy to share her hard-won wisdom for getting the most out of a day spent birding (or getting the most birds out of a day doing something else). Whether you're a novice or veteran, her 111 field-tested tips will make you a better, more successful birder."—Scott Weidensaul, author of A World on the Wing 
"Find More Birds is a book I will turn to often for its great tips on finding birds, not in remote forests but right at home, at a melting drip from a snow bank or where mowed grass meets the forest. Look at a quivering bit of bark. Find the local dump, or children's playground. Don't forget to look up. Stay still and stay patient. Help others and ask for help yourself. It could be a guide for life, not just for seeing the birds that are all around us. Heather Wolf will be out birding in the rain but I might stay home and simply enjoy the wonderful photos in this book."—Joan Strassmann, author of Slow Birding
"Let Heather Wolf help you open your heart and your senses to birds in all their glory. Wherever you live, you are surrounded by avian color, song, and drama every day—so pull back the curtain and take it all in!"—David Jeffrey Ringer, birder, naturalist, writer, and former chief network and communications officer, National Audubon Society
Praise for Heather Wolf and Birding at the Bridge
"Her excitement is infectious."—CNN
"Where you may see only pigeons, sparrows, and the occasional sea gull, [Heather Wolf] has recorded 130 species, many of which she has beautifully photographed."—The New York Times
"Part of the pleasure of her book, besides excellent photography . . . is the way [Heather Wolf] shares the circumstances and excitement of particular sightings."—The Wall Street Journal
"In clear and enthusiastic prose, Wolf draws attention to the remarkable variety of urban birds and their ongoing conservation challenges. . . . This beginner's guide is as entertaining as it is informative."—Publishers Weekly
"Exquisite."—am New York
"An informative field diary"—The Atlantic's CityLab
"Partly a bird guide, partly a memoir, and partly a triumph of nature photography."—The New Yorker
"I totally love Heather Wolf's book: great photographs, and delightful, incisive writing."—Marie Winn, author of Red-Tails in Love
"Hey, New York, it's time to meet the neighbors you never knew you had. Heather Wolf's fledgling chronicle of her encounters with the birds of Brooklyn both surprises and mesmerizes. After drinking in her gorgeous photos of more than 100 unsung and unexpected urban species (from abundant house sparrows to an elusive tundra swan and the proverbial yellow-bellied sapsucker), you will forever observe the city with new eyes."—Margaret Mittelbach, author of Wild New York
"Not all New York City birds are pigeons! This book is a colorful and inspiring eye-opener to the marvelous feathered creatures that are all around us, even in the midst of our densest cities. By learning to observe and care for the birds, we can protect them and build stronger communities for ourselves too."—David J. Ringer, Chief Network Officer, National Audubon Society
"Research tells us that connecting with the natural world in our daily lives can help to make us happier, more creative, and less anxious. Heather Wolf's gorgeous images and delightful words are a reminder that the wild surrounds us no matter where we make our homes. This book inspires us to step lightly, with open eyes, minds, and hearts. We will benefit from such exploration to be sure, and so will the birds and all creatures that share our neighborhoods and our earth."—Lyanda Haupt, author of Crow Planet