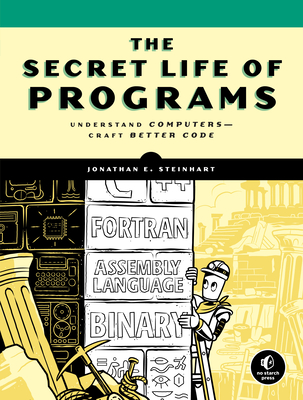 The Secret Life of Programs: Understand Computers -- Craft Better Code
Publication Date:
August 6th, 2019
Publisher:
No Starch Press
The MIT Press Bookstore
1 on hand, as of Dec 8 10:45am
(CS:PR)
On Our Shelves Now
Description
A primer on the underlying technologies that allow computer programs to work. Covers topics like computer hardware, combinatorial logic, sequential logic, computer architecture, computer anatomy, and Input/Output.
Many coders are unfamiliar with the underlying technologies that make their programs run. But why should you care when your code appears to work? Because you want it to run well and not be riddled with hard-to-find bugs. You don't want to be in the news because your code had a security problem.
Lots of technical detail is available online but it's not organized or collected into a convenient place. In The Secret Life of Programs, veteran engineer Jonathan E. Steinhart explores--in depth--the foundational concepts that underlie the machine. Subjects like computer hardware, how software behaves on hardware, as well as how people have solved problems using technology over time.
You'll learn:
How the real world is converted into a form that computers understand, like bits, logic, numbers, text, and colors
The fundamental building blocks that make up a computer including logic gates, adders, decoders, registers, and memory
Why designing programs to match computer hardware, especially memory, improves performance
How programs are converted into machine language that computers understand
How software building blocks are combined to create programs like web browsers
Clever tricks for making programs more efficient, like loop invariance, strength reduction, and recursive subdivision
The fundamentals of computer security and machine intelligence
Project design, documentation, scheduling, portability, maintenance, and other practical programming realities.
Learn what really happens when your code runs on the machine and you'll learn to craft better, more efficient code.
Praise for The Secret Life of Programs: Understand Computers -- Craft Better Code
"Amazing . . . I highly recommend it if you don't have a very 'computer science' background, like me."
—Tony Messias, tonysm.com

"This book was truly a good companion to the start of my CS degree. It gave me background in the computer engineering sphere and a solid foundation in many CS topics, and I am already starting to experience many of the lessons this book gives."
—Ben Miller, Goodreads Reviewer

"This book is amazing. I bought it to refresh my programming basics for courses I teach programming on industrial PLC computers, from beginner to expert. It delves into so much more. Humorous and informative. I highly recommend."
—Gil Cabrera, Amazon Reviewer

"If you are just learning to code, or if you are a developer who wants a deeper understanding of how your code interacts with the machine, highly recommend!"
—Carmen H. Andoh, @carmatrocity

"If you are looking for a wonderfully complete tour through how a computer actually works from first principles all the way through running a piece of software, The Secret Life of Programs from @nostarch is the way to go."
—Nick Maxwell, @CodiferousCoder