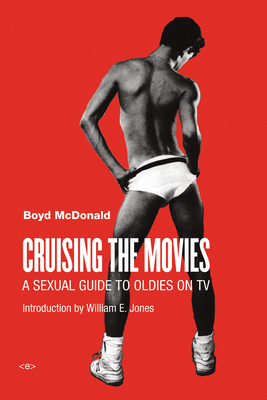 Cruising the Movies: A Sexual Guide to Oldies on TV (Semiotext(e) / Active Agents)
Publication Date:
September 4th, 2015
The MIT Press Bookstore
1 on hand, as of Dec 8 10:45am
(SEMIO)
On Our Shelves Now
Description
A writer casts an acerbic, queer eye on the greats and the not-so-greats of Hollywood's Golden Age.
Ronnie Reagan's bizarre legs are sufficient reason to watch John Loves Mary (1949), a picture so ordinaire it needs this bizarre touch. When the faces in this historic still from the Museum of Modern Art are cropped, Reagan could pass for a butch lez from the Women's Army Corps who is about to put the old make on a fluff (Patricia Neal).
—from Cruising the Movies
Cruising the Movies was Boyd McDonald's "sexual guide" to televised cinema, originally published by the Gay Presses of New York in 1985. The capstone of McDonald's prolific turn as a freelance film columnist for the magazine Christopher Street, Cruising the Movies collects the author's movie reviews of 1983–1985. This new, expanded edition also includes previously uncollected articles and a new introduction by William E. Jones.
Eschewing new theatrical releases for the "oldies" once common as cheap programing on independent television stations, and more interested in starlets and supporting players than leading actors, McDonald casts an acerbic, queer eye on the greats and not-so-greats of Hollywood's Golden Age. Writing against the bleak backdrop of Reagan-era America, McDonald never ceases to find subversive, arousing delights in the comically chaste aesthetics imposed by the censorious Motion Picture Production Code of 1930–1968.
Better known as the editor of the Straight to Hell paperback series—a compendia of real-life sexual stories that is part pornography, part ethnography—McDonald in his film writing reveals both his studious and sardonic sides. Many of the texts in Cruising the Movies were inspired by McDonald's attentive inspection of the now-shuttered MoMA Film Stills Archive, and his columns gloriously capture a bygone era in film fandom. Gay and subcultural, yet never reducible to a zany cult concern or mere camp, McDonald's "reviews" capture a lost art of queer cinephilia, recording a furtive obsession that once animated gay urban life. With lancing wit, Cruising celebrates gay subculture's profound embrace of mass culture, seeing film for what it is—a screen that reflects our fantasies, desires, and dreams.
Praise for Cruising the Movies: A Sexual Guide to Oldies on TV (Semiotext(e) / Active Agents)
As my copious citations of McDonald prove, he honed a kind of cultural criticism—personal but outward-looking, raunchy yet brainy, funny and furious—rare in his era and barely in evidence today, when we are overrun with professional (and paraprofessional) opinionators whose writing rarely rises above plot synopses with some adjectives and adverbs thrown in.—Bookforum—
Cruising the Movies is film writing that delivers that magic with verve, wit, and self-deprecation. It is, against all odds, a piece of film criticism that is as entertaining as the movies that it looks at, and contemporary film writers would do well to take a page from Boyd's book.
—PopMatters—