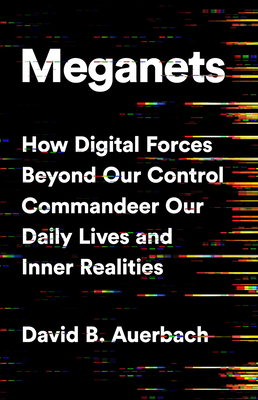 Meganets: How Digital Forces Beyond Our Control Commandeer Our Daily Lives and Inner Realities
Publication Date:
March 14th, 2023
The MIT Press Bookstore
2 on hand, as of Dec 8 10:45am
(DIGST)
On Our Shelves Now
Description
How the autonomous digital forces jolting our lives – as uncontrollable as the weather and plate tectonics – are transforming life, society, culture, and politics.
David Auerbach's exploration of the phenomenon he has identified as the meganet begins with a simple, startling revelation: There is no hand on the tiller of some of the largest global digital forces that influence our daily lives: from corporate sites such as Facebook, Amazon, Google, YouTube, Instagram, and Reddit to the burgeoning metaverse encompassing cryptocurrencies and online gaming to government systems such as China's Social Credit System and India's Aadhaar.
As we increasingly integrate our society, culture and politics within a hyper-networked fabric, Auerbach explains how the interactions of billions of people with unfathomably large online networks have produced a new sort of beast: ever-changing systems that operate beyond the control of the individuals, companies, and governments that created them.
Meganets, Auerbach explains, have a life of their own, actively resisting attempts to control them as they accumulate data and produce spontaneous, unexpected social groups and uprisings that could not have even existed twenty years ago. And they constantly modify themselves in response to user behavior, resulting in collectively authored algorithms none of us intend or control. These enormous invisible organisms exerting great force on our lives are the new minds of the world, increasingly commandeering our daily lives and inner realities.
Auerbach's analysis of these gargantuan opaque digital forces yield important insights such as:
The conventional wisdom that the Googles and Facebook of this world are tightly run algorithmic entities is a myth. No one is really in control.
The efforts at reform - to get lies and misinformation off meganets - run into a brick wall because the companies and executives who run them are trapped by the persistent, evolving, and opaque systems they have created.
Bitcoin and other cryptocurrencies are uncontrollable and their embrace by elite financial institutions threatens the entire economy
We are asking the wrong questions in assuming that if only the Facebooks of this world could be better regulated or broken up that they would be better, more ethical citizens.
Why questions such as making algorithms fair and bias-free and whether AI can be a tool for good or evil are wrong and misinformed
Auerbach then comes full circle, showing that while we cannot ultimately control meganets we can tame them through the counterintuitive measures he describes in detail.
Praise for Meganets: How Digital Forces Beyond Our Control Commandeer Our Daily Lives and Inner Realities
"A disturbing examination of how social media technology spun out of control and what it means for the future."—Kirkus
"A deeply interesting book." —The New York Times
"Meganets will forever change the way you think about the digital world. It is an eye-opening account of the relationships we create––and which are often created for us––online. It is the foundational book explaining the sweeping social changes that created our present and will transform tomorrow. David Auerbach has written both a warning and a blueprint for a better future."—Amy Webb, CEO, the Future Today Institute, and author of The Big Nine and The Genesis Machine
"Auerbach has written a fascinating, mind-expanding book that is not about the future of technology but about the future of society. We are still early in our journey toward understanding how the interaction of data and computing are fundamentally changing our lives. Meganets gets us further down that road. Two important takeaways for me: First, the metaverse is not some future state—it is here now, expanding and evolving daily. And second, algorithms don't run the world—they create a rich, sometimes productive, and sometimes toxic new ecosystem that is an organic interaction of humans and machines already well beyond any person, company, government, or algorithm's control."—Alan Murray, CEO, Fortune Media, and author of Tomorrow's Capitalist
"Auerbach's Meganets warns the networked systems that channel our words, images, and ideas are already too complex for humans to govern, however we might try. A necessary book, bracing in places, but not without hope."—Jordan Ellenberg, author of How Not to be Wrong
"Auerbach is the opposite of a conspiracy theorist: he explains how there's often ultimately no person, institution, or discernable group behind big systems and the events they shape. He's interested in how to deal with that fact—building up responsive structures instead of tearing anything down."—Jonathan Zittrain, George Bemis Professor of International Law and professor of computer science, Harvard University
"Auerbach knows better than anyone that the very act of writing about technology is an assertion of the preeminence of the human. His signature command of conscience and fact make his work that rarest thing: indispensable."—Joshua Cohen, Pulitzer Prize–winning author of The Netanyahus
"How often do we hear people vainly protest—'But I'm not on social media!'—as if the problems we confront in our new technological reality could be solved by individual lifestyle choices alone? In fact, the forces that shape our online experience jumped the fence long ago, and there is now no protective barrier between the digital and the 'real,' between our online experience and our experience of the entirety of social reality. Algorithms and gamification shape our newsfeeds, but they also shape our transportation routes, our credit ratings, our labor, and even our health. This new reality requires a big-picture thinker ready to take on the problem in all its complexity, and Auerbach proves himself more than up to the task. In stunning, lucid prose and with unsparing analytical acumen, Meganets reveals just how profoundly our world has been transformed over the past generation of technological innovation. Auerbach offers no easy answers, yet the depth of his expertise and the far-reaching scope of his vision already provide a model for the sort of thinking we will need if the beast we have summoned is ever to be tamed."—Justin E.H. Smith, Université Paris Cité, author of The Internet Is Not What You Think It Is
"[P]erceptive and searing, and the unorthodox recommendations bring novel insights."—Publishers Weekly
"Meganets is a sobering read, but a deeply important one."—Jeremy Anderberg, Read More Books