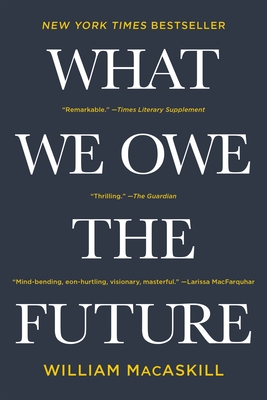 What We Owe the Future
Publication Date:
September 12th, 2023
The MIT Press Bookstore
1 on hand, as of Dec 8 10:45am
(PHILO)
On Our Shelves Now
Description
In this instant New York Times bestseller, a renowned philosopher puts forth the case for longtermism 
The fate of the world – and the future – is in our hands. Now with a new foreword, What We Owe the Future argues for longtermism: that positively influencing the distant future is our time's key moral priority. It's not enough to reverse climate change or avert a pandemic. We must ensure that civilization would rebound if it collapsed; counter the end of moral progress; and prepare for a planet where the smartest beings are digital. 
If we make wise choices now, our grandchildren will thrive, knowing we did everything we could to give them a world full of justice, hope and beauty. 
"To take these ideas seriously is a truly radical endeavor — one with the power to change the world and even your life."—Ezra Klein, New York Times 
"An intellectually thrilling exploration of moral philosophy and human history in the hands of a very skilled thinker and clear writer."—Kevin J. Delaney, The Charter 
Praise for What We Owe the Future
"This book will change your sense of how grand the sweep of human history could be, where you fit into it, and how much you could do to change it for the better. It's as simple, and as ambitious, as that."—Ezra Klein, host of The Ezra Klein Show podcast
"An optimistic look at the future that moved me to tears."
 —Joseph Gordon-Levitt, actor
"What We Owe The Future makes the case for thinking seriously about the very long term. It gives a profoundly new perspective on human civilization and our place in it."
 —Lydia Cacho, journalist and author of The Demons of Eden
"What We Owe the Future is an intellectually thrilling exploration of moral philosophy and human history in the hands of a very skilled thinker and clear writer… Thought provoking."—Charter
"Unapologetically optimistic and bracingly realistic, this is the most inspiring book on 'ethical living' I've ever read."—The Guardian (UK)
"In focusing on the interests of future generations stretching into an indefinitely long future, MacAskill has thrust an important and neglected argument into the spotlight, while making it vivid and fun to read. He hopes this book will change the world, and it might."—Financial Times (UK)
"Touchingly optimistic… With something to ponder on every page, a bracing exhortation to do right by the people of centuries to come."
—Kirkus
"MacAskill delivers a sweeping analysis of contemporary dangers that masterfully probes the intersections of technology, science, and politics, while offering fascinating glimpses into humanity's possible futures. This urgent call to action will inspire and unnerve in equal measure."—Publishers Weekly
"What We Owe the Future is an instructive, intelligent book. It has a lot to teach us about history and the future, about neglected risks and moral myopia."—Boston Review
"No living philosopher has had a greater impact upon my ethics than Will MacAskill. In What We Owe The Future, MacAskillhas transformed my thinking once again, by patiently dismantling the lazy intuitions that rendered me morally blind to the interests of future generations. This is an altogether thrilling and necessary book."
 —Sam Harris, five-time New York Times bestselling author and host of the Making Sense podcast
"An exciting new book."—Tyler Cowen, Marginal Revolution
"An extraordinary book. I've never read something so deep and fundamental, and so accessible at the same time . . . The publication of this book is a monumental event. William MacAskill is one of the most important philosophers alive today, and this is his magnum opus."—Rutger Bregman, Dutch historian and author of Utopia for Realists
"This is a book of great daring, clarity, insight and imagination. To be simultaneously so realistic and so optimistic, and always so damned readable … that is a miracle for which MacAskill should be greatly applauded."
 —Stephen Fry, actor
"There are moments when we can change outcomes easily, but if we don't bend those curves right then, we can lock in enormous long-term damage. This fascinating book makes us think relentlessly and usefully about such pivot points; few prods could be more important."
 —Bill McKibben, environmentalist and author of The End of Nature
"Many books promise a new 'big idea', but few deliver one as brilliant as MacAskill's in What We Owe The Future. A fascinating, profound read."
 —Julia Galef, author of The Scout Mindset
"Warning: This book may radically upgrade your ethics and expand your compassion. What We Owe The Future is an inspiring roadmap to how we can try to improve the lives of the billions and trillions sentient beings yet to come. It's perhaps our greatest moral duty. So please do yourself – and your grandchildren's grandchildren's grandchildren – a favor and read this book."
 —AJ Jacobs, editor at large of Esquire Magazine
"This mind-bending, eon-hurtling, visionary, masterful book raises questions that are among the most crucial we face as a species. MacAskill makes a moral case for the future that is urgent, clear, and utterly convincing."
 —Larissa MacFarquhar, staff writer for The New Yorker and author of Strangers Drowning
"To assess what really matters it always helps to zoom out, and Will MacAskill is probably the world's best zoom-outer. What We Owe The Future brilliantly shows us the biggest picture of all and persuasively reminds us of the vast impact we can all have." 
—Tim Urban, co-founder of Wait but Why
"I expected William MacAskill to write a forceful and persuasive argument for caring more about future people and this book did not disappoint. But it's so much more—What We Owe The Future is an engaged and deeply original exploration of questions ranging from the contingency of moral progress, to the perils of AI, to the very nature of a happy and fulfilled life. It's an important, stimulating, and delightful book."
—Paul Bloom