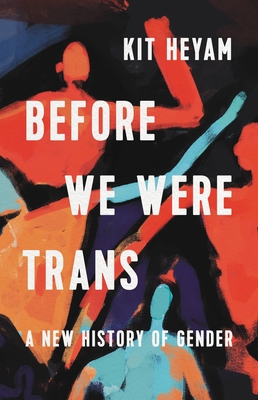 Before We Were Trans: A New History of Gender
Publication Date:
September 13th, 2022
The MIT Press Bookstore
1 on hand, as of Dec 8 10:45am
(SS:GS)
On Our Shelves Now
Description
A groundbreaking global history of gender nonconformity  
Today's narratives about trans people tend to feature individuals with stable gender identities that fit neatly into the categories of male or female. Those stories, while important, fail to account for the complex realities of many trans people's lives.  
 
Before We Were Trans illuminates the stories of people across the globe, from antiquity to the present, whose experiences of gender have defied binary categories. Blending historical analysis with sharp cultural criticism, trans historian and activist Kit Heyam offers a new, radically inclusive trans history, chronicling expressions of trans experience that are often overlooked, like gender-nonconforming fashion and wartime stage performance. Before We Were Trans transports us from Renaissance Venice to seventeenth-century Angola, from Edo Japan to early America, and looks to the past to uncover new horizons for possible trans futures.  
Praise for Before We Were Trans: A New History of Gender
"[An] astute, self-aware and riveting study…Before We Were Trans is a book that moves far beyond mere representation by managing to be both intellectually rigorous and exciting to read. It makes for a vital contribution to our understanding of gender variance and its place in social and political history, all around the world."
 —New York TImes Book Review
"Heyam has assembled an inviting picture of trans, proto-trans, and trans-esque histories, from the king of Ndongo to the Public Universal Friend…a richly studied and trans-inclusive history."
 —Nation
"Kit Heyam shows us what radical inclusivity can really look like in their extraordinary global history of gender nonconformity, focusing on those, trans or not, whose gender identities aren't confined to categories of woman or man."
 —Ms.
"[A]n entire meal with dessert…[a] lively and readable history."
 —Xtra Magazine
"A welcome and significant—and joyful, even—contribution to our cultural conversations on the malleability of gender and on gender nonconformity."
 —Autostraddle
"An eye-opening study of the history of gender nonconformity…[a] highly informative text…the book will fascinate anyone interested in a subject that many readers likely misunderstand…A capable, worthy demonstration of how the history of disrupting the gender binary is as long as human history itself."
 —Kirkus
"Trans activist Heyam debuts with an expansive and illuminating history of gender nonconformity…their desire for more gender nonconforming people to see themselves reflected in history is appealing and persuasive. This is an essential addition to trans history."
 —Publishers Weekly
"Before We Were Trans is a thoughtful, fun, and refreshingly readable romp through the history of gender variance before the invention of contemporary 'transgender' categories and concepts."
 —Susan Stryker, author of Transgender History
"Before We Were Trans provides much needed context, nuance, and breadth to our understanding of human gender diversity throughout history and in different cultures. While people who we might now call transgender or LGBTQIA+ have always existed, Kit Heyam shows how both individuals' and societies' understanding of sex, gender, and sexuality are situational, multifaceted, and constantly evolving."
 —Julia Serano, author of Whipping Girl and Sexed Up
"Before We Were Trans enlarges our understanding of trans histories and highlights the beauty, complexity, and contradictions of doing historical work - all in a voice that invites the reader in, and not only teaches us what to think about trans lives in the past, but how to think about them."
 —Hugh Ryan, author of The Women's House of Detention
"This is such a searing, reflexive read - in conversation with the likes of Shon Faye, Akwaeke Emezi and Leslie Feinberg - that needs to be in everyone's hands expeditiously."
 —Paula Akpan, journalist