Discounted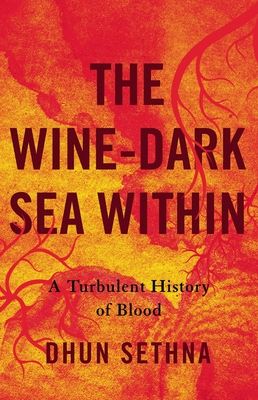 The Wine-Dark Sea Within: A Turbulent History of Blood
Previous price:

$32.00
Current price:

$30.00
Publication Date:
June 7th, 2022
The MIT Press Bookstore
4 on hand, as of Dec 8 10:45am
(BIOMD)
On Our Shelves Now
Description
A revisionist history of medicine, in which blood plays the starring role 
 
Inspired by Homer's description of the ebb and flow of the "wine dark sea," the ancient Greeks conceived a back-and-forth movement of blood. That false notion, perpetuated by the influential Roman physician Galen, prevailed for fifteen hundred years until William Harvey proved that blood circulates: the heart pumps blood in one direction through the arteries and it returns through the veins. Harvey's discovery revolutionized the life sciences by making possible an entirely new quantitative understanding of the cardiovascular system, a way of thinking on which many of our lifesaving medical interventions today depend. 
In The Wine-Dark Sea Within, cardiologist Dhun Sethna argues that Harvey's revelation inaugurated modern medicine and paved the way for groundbreaking advances from intravenous therapy, cardiac imaging, and stent insertions to bypass surgery, dialysis, and heart-lung machines. 
Weaving together three thousand years of global history, following bitter feuds and epic alliances, tragic failures and extraordinary advancements, this is a provocative history by a fresh voice in popular science. 
Praise for The Wine-Dark Sea Within: A Turbulent History of Blood
    —Longlisted for the PEN/E.O. Wilson Literary Science Writing Award
"[The] account of the circulation of the blood took over two millennia to develop…  In The Wine-Dark Sea Within, this process becomes a saga of heroism, villainy and high intellectual adventure, told with great eloquence and verve by Dhun Sethna."—The Wall Street Journal
"An impressive story; devotees of medical history will have plenty to enjoy."—Publishers Weekly
"[An] intriguing work of scientific history and appreciation of the arduous path to cardiac discovery."—Booklist
"… by presenting the story of an idea that we take for granted, but that had such a complex road, in an engaging and readable way, he has done a service to both intellectual historians of medicine and Classics and to more popular audiences…"—Bryn Mawr Classical Review
The Wine-Dark Sea Within is an engrossing look at mankind's understanding of blood that offers even the most jaded expert a restorative transfusion of delightful history.—Lindsey Fitzharris, author of The Butchering Art
The discovery of how blood circulates in the human body was a seminal scientific event. The Wine-Dark Sea Within presents an engaging and incredibly comprehensive history of this paradigm-shifting breakthrough.—Sandeep Jauhar, author of Heart
At once a sweeping history of our love affair with the 'sacred fluid' and an engaging biography of the man who forever changed our understanding of its circulation, The Wine-Dark Sea Within offers an adventurous look at the scientific revolution of blood. In its rapid pace and its varied characters, it might be compared to Richard Holmes's Age of Wonder: encyclopedic but never tarrying too long on the journey from antiquity to the dawn of Enlightenment science.—Brandy Schillace, author of Mr. Humble and Dr. Butcher
A well-researched and masterful expose. . . . A real tour de force.—P.K. Shah, MD, MACC, Shapell and Webb Family Chair, Clinical Cardiology, Cedars Sinai Medical Center