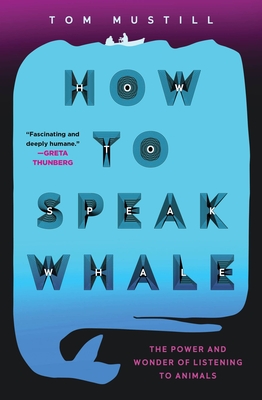 How to Speak Whale: The Power and Wonder of Listening to Animals
Publication Date:
September 6th, 2022
Publisher:
Grand Central Publishing
The MIT Press Bookstore
1 on hand, as of Dec 8 10:45am
(NATUR)
On Our Shelves Now
Description
What if animals and humans could speak to one another? Tom Mustill—the nature documentarian who went viral when a thirty‑ton humpback whale breached onto his kayak—asks this question in his thrilling investigation into whale science and animal communication.
A New Yorker Best Book of 2022 
"When a whale is in the water, it is like an iceberg: you only see a fraction of it and have no conception of its size."
 
On September 12, 2015, Tom Mustill was paddling in a two-person kayak with a friend just off the coast of California. It was cold, but idyllic—until a humpback whale breached, landing on top of them, releasing the energy equivalent of forty hand grenades. He was certain he was about to die, but they both survived, miraculously unscathed. In the interviews that followed the incident, Mustill was left with one question: What could this astonishing encounter teach us?
 
Drawing from his experience as a naturalist and wildlife filmmaker, Mustill started investigating human–whale interactions around the world when he met two tech entrepreneurs who wanted to use artificial intelligence (AI)—originally designed to translate human languages—to discover patterns in the conversations of animals and decode them. As he embarked on a journey into animal eavesdropping technologies, where big data meets big beasts, Mustill discovered that there is a revolution taking place in biology, as the technologies developed to explore our own languages are turned to nature.
 
From seventeenth-century Dutch inventors, to the whaling industry of the nineteenth century, to the cutting edge of Silicon Valley, How to Speak Whale examines how scientists and start-ups around the world are decoding animal communications. Whales, with their giant mammalian brains, virtuoso voices, and long, highly social lives, offer one of the most realistic opportunities for this to happen. But what would the consequences of such human animal interaction be?
We're about to find out.
Praise for How to Speak Whale: The Power and Wonder of Listening to Animals
"We rarely pause to consider what animals think or feel, or question whether their inner lives resemble our own. Tom Mustill's fascinating and deeply humane book shows us why we must do so—and what we, and the planet, could stand to gain by it."—Greta Thunberg
"We are on the verge of a revolution in communicating with these smart, social, otherworldly leviathans. Tom Mustill's riveting reports from the cutting edge of science set my heart pounding! How to Speak Whale is one of the most exciting and hopeful books I have read in ages." —Sy Montgomery, New York Times bestselling author of The Soul of an Octopus
"Through his highly personal journey and discussions with experts, Tom Mustill conveys the richness of whale song and communication. Most of all we gain immense respect for these giants of the ocean."—Frans de Waal, New York Times bestselling author of Mama's Last Hug and Different: Gender Through the Eyes of a Primatologist
"I loved this book. It will really make you think about the relationship between animals and people."—Temple Grandin, New York Times bestselling co-author of Animals in Translation and Thinking in Pictures
"Dr. Doolittle wanted to speak to the animals, and many attempts to communicate with non-humans have involved trying to teach them to speak English. The frontier is in meeting other animals where they are, how they live, and for us to understand them by learning their modes of communication. In How to Speak Whale, Tom Mustill takes us farther, much farther, than Dr. Doolittle ever imagined. And he does it with humility and sensitivity that befits the subject."
—Carl Safina, New York Times bestselling author of Song for the Blue Ocean and Beyond Words
"A rich, fascinating, brilliant book that opens our eyes and ears to worlds we can scarcely imagine."—George Monbiot, Sunday Times bestselling author of Regenesis
"Mustill guides the reader right to the edge of what we know (and don't know) about how whales and other non-human animals talk to one another. A lively and informative read that heralds what could be the golden age of animal communication."—Jonathan C. Slaght, Author of Owls of the Eastern Ice, longlisted for the National Book Award and Winner of the PEN/E.O. Wilson Literary Science Writing Award
"How to Speak Whale begins with a massive splash that pulls you right in. Then, the waves of wonder keep rolling over you page after brilliant page, until you reach the end and realize your view of the world, and the animals we share it with, has changed forever."—Juli Berwald, Author of Spineless and Life on the Rocks
"This is a scary, important and brilliant book. It proposes that whales may be the first species other than ourselves whose complex communications we will soon understand. Tom Mustill's adventures into the inner space occupied by these watery aliens are by turns enthralling and revealing. And he's not afraid to ask, boldly, the crucial question: if we do get to translate 'whale', will we like what they've got to say?"—Philip Hoare, Author of Leviathan and Albert and the Whale
"Mustill has opened a door that takes us into an exciting journey of understanding the other animals on this planet, demystifying their secrets and putting their messages within our grasp. You will actually start to listen to animals after reading this extraordinary book."—Christiana Figueres, Author of The Future We Choose
"How to Speak Whale is borne along by [Mustill's] faith that whales have something intelligible to tell us and his hope that one day soon we'll figure out what that is . . . Think how transformative it would be if we could chat with whales about their love lives or their sorrows or their thoughts on the philosophy of language."—Elizabeth Kolbert, The New Yorker
"Mustill examines why humans always seem to underestimate other animals and what this means for the future and writes of the sheer joy of being in the water with a singing humpback whale."—Booklist, Starred Review
"A thoughtful, wide-ranging, and moving book that combines history, reportage, science, and Mustill's own process around his near-death collision with a mammoth sentient being from another world . . . How to Speak Whale is in many ways a love letter to all the life on this planet besides ours: its beauty, its deep strangeness, its power—and our longing, often unrequited, to understand and connect with it. And, as with any current exploration of the natural world, the book is also filled with grief about how much of that wonderland is gone, or going."—Oprah Daily
"Fascinating characters . . . Thoughtful and curious, this study sings."—Publishers Weekly
"The ultimate question of Mustill's book is whether enabling interspecies communication will make people value other species more. His attention to detail—perhaps from his work as a nature documentary filmmaker—immerses readers in each step of discovery and lends immediacy and personality to the writing. Environmentalists and general science enthusiasts will enjoy joining Mustill on his quest to understand whales."—Library Journal
"A mix of thoughtfully explained hard science and colorfully described hands-on adventures . . . Mustill's findings offer hope that someday a book called How to Speak Whale might be more dictionary than discussion."—BookPage
"Readers will savor this expert exploration of animal communication."—Kirkus
"A travelogue, a history lesson, a critique of the scientific community when it comes to animal studies, and a high-tech conservation game plan all wrapped into one book. Most of all it's a captivating, thought-provoking read, leaving its audience with a greater sense of the complexity and inherent value of these sovereigns of the deep."—Christian Science Monitor
"A whirlwind of stories and scientific studies all pointing to when, exactly, humans might be able to 'speak whale' . . . Projects both a warning of the dangers of human exceptionalism and an optimism for the quest to understand the inner lives of our fellow animals."—Vulture
"This lively book by the British nature documentarian begins with a bang."—The Globe and Mail
"Like a first-class nature film put on paper . . . a reasoned, entertaining, and fact-filled inquiry into the particulars of animal communication and the possibilities of humans ever talking to any animals."—Forbes
"Fascinating . . . Mustill dives into the history of the whaling industry and looks beyond."—BookRiot
"Not only will this book blow your mind, it will instill you with a vision of interspecies peace and progress - and there is nothing more revolutionary than that."—Daniel Kraus, author of The Shape of Water
"Superbly detailed, limpid, uplifting and emotionally arresting, Mustill does not just speak to the whales but for them. The Interspecies age is dawning and Mustill is in the vanguard."
 —J.M. Ledgard, author of Submergence
"How to Speak Whale is a rich exploration of some of the world's most astonishing creatures and the remarkable people that seek to understand them. Mustill weaves a narrative that will expand your concept of language and deepen your understanding of the many ways there are to be alive. This is an extraordinary book that left me inspired."
 —Merlin Sheldrake, New York Times bestselling author of Entangled Life