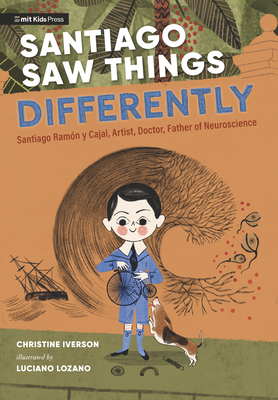 Santiago Saw Things Differently: Santiago Ramón y Cajal, Artist, Doctor, Father of Neuroscience
Publication Date:
November 14th, 2023
Publisher:
MIT Kids Press
The MIT Press Bookstore
3 on hand, as of Nov 30 10:32am
(JR:FI)
On Our Shelves Now
Description
In an exquisitely illustrated nonfiction picture book about the childhood and discoveries of the "father of neuroscience," science and art—together—work wonders.
Santiago Ramón y Cajal's father, the village doctor, wants Santiago to be a doctor. He discourages his willful son's love and aptitude for art. But drawing and painting are as necessary to Santiago as breathing, so when his father confiscates his art supplies, the boy finds a way to draw in secret. He draws on doors, gates, and walls, and to the neighbors, his drawings are a nuisance. But Santiago sees things differently. He's an artist and always will be, even after he grows up and becomes a doctor. And art helps him discover what no one else could: branching connections within the nervous system. Debut author Christine Iverson's vivid text evokes Santiago's pioneering nature, while Luciano Lozano's stunning visual narrative incorporates Santiago's actual art, including remarkable drawings of neural pathways. A self-portrait, facts about neurons, and the science behind Santiago Ramón y Cajal's 1906 Nobel Prize for Medicine round out this brilliant account of a boy who shaped his scientific fate as an artist.
About the Author
Christine Iverson is a physical therapist with a strong interest in neural pathways. She holds a BS in history from the United States Military Academy at West Point, a doctoral degree in physical therapy from Baylor University, and an M.Ed. with a focus in children's literature from Pennsylvania State University. She lives in Alexandria, Virginia.
Luciano Lozano is a Spanish author, illustrator, and graphic artist. He is the creator of several picture books, including Mayhem at the Museum: A Book in Pictures, and the illustrator of many others, including I (Don't) Like Snakes by Nicola Davies. He lives in Spain.
Praise for Santiago Saw Things Differently: Santiago Ramón y Cajal, Artist, Doctor, Father of Neuroscience
Reproductions of Ramón y Cajal's drawings appear on relevant pages of the book, alongside Lozano's handsome digital illustrations, which feature expressive line drawings brightened with solid colors and occasional patterns. A picture book showing the value of the A in the STEAM field.
—Booklist
An introduction to Santiago Ramón y Cajal, an artist and medical researcher who made a crucial discovery about how our nervous systems work. . . . Brightly illuminates a brilliant and multitalented yet unjustly obscure scientist.
—Kirkus Reviews
Iverson writes with delicacy, evoking childhood moments that were formative for Santiago.
—Publishers Weekly