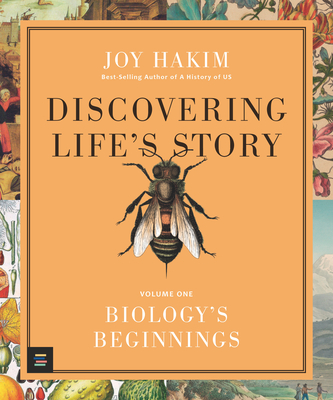 Discovering Life's Story: Biology's Beginnings (Discovering Life's Story)
Publication Date:
September 12th, 2023
The MIT Press Bookstore
3 on hand, as of Dec 5 4:07pm
(JR:EF)
On Our Shelves Now
Description
Trace the history of life science in the first of a four-part MITeen series by mega-best-selling author Joy Hakim, who brought us The History of US.
When did we start learning the scientific secrets of life? Step back to the Islamic Golden Age, when scholars ask questions about life science and medicine that will establish those fields. Chart a path through the Renaissance, as Leonardo da Vinci dissects cadavers by candlelight to learn human anatomy firsthand. In this first of four volumes spanning hundreds of years of scientific innovation and discovery, follow the evolution of life science up to the late 1800s, when a baffled Dutch biologist finds a tiny infectious particle destroying tobacco crops and gives this particle a new name: virus. With Biology's Beginnings: Discovering Life's Story, best-selling author Joy Hakim begins a quartet of volumes mapping the path of human discovery as we unlock the biological secrets of our own existence. Richly illustrated with archival source materials and fine art, this STEM treasure trove features a wealth of back matter certain to kindle the appetite of science lovers.
Praise for Discovering Life's Story: Biology's Beginnings (Discovering Life's Story)
In this well-researched, well-designed, and informatively written book, the fascinating story of life science as it was discovered throughout the ages is explored. . . . Written for teens, this book delivers an engaging and accessible history of life science. . . . Many photos, contemporaneous drawings, and portraits enhance the sparkling narrative. Thoroughly engrossing and highly recommended.
—Kirkus Reviews (starred review)
This fascinating first volume in the Discovering Life's Story series is an enjoyable overview of the history of life sciences in the Western world. . . . The lively text is enhanced by historical maps, photos, portraits, drawings, artwork, sidebars and charts, and quotes by scientists or other notable people at the beginning of each chapter. Readers with an interest in the history of life sciences will find this engaging book to be richly rewarding.
—Booklist (starred review)
Nonfiction books for children about the natural sciences tend (naturally, we might say) to deal with particulars: the life cycle of the honeybee, say. In 'Biology's Beginnings,' Joy Hakim takes a fresh approach. . . . Ms. Hakim, author of the series 'A History of Us,' ranges with brio and assurance across time and across the globe as she describes the push-and-pull of armies and microbes, of popes and stargazers, of philosophers and doctors and explorers in the long and erratic acquisition of knowledge. . . . Great quantities of illustration—maps and portraits and engravings—establish a swift visual pace for this engrossing chronicle for readers ages 12 and older.
—The Wall Street Journal
Providing a readable and compelling overview of the history of life sciences, primarily in the Western World, this wonderfully written and exquisitely illustrated book . . . is the first volume in a planned four volume series. . . Every page of this fascinating book is adorned by sumptuous full-color reproductions of drawings, engravings, paintings, portraits, photographs and maps from history. . . Targeted to teens between 13 and 18 years old, adults will also find much in these pages to interest them. The author skillfully uses storytelling — narrative nonfiction — to teach her readers about the life sciences and the people who made these discoveries, placing these stories into their historical context, thereby drawing her readers into the story instead of keeping them at arms-length. . . This book, and the series, would make a great gift (the holidays are coming!) for a young person who is interested in the life sciences, and would be a welcome addition to a local library or classroom.
—Forbes
A curious teen, developing an interest in the sciences, will find Discovering Life's Story: Volume 1, Biology's Beginnings hard to resist. The text is engaging, and the illustrations are plentiful, attractive and directly tied to the text.
—The Denton Record-Chronicle