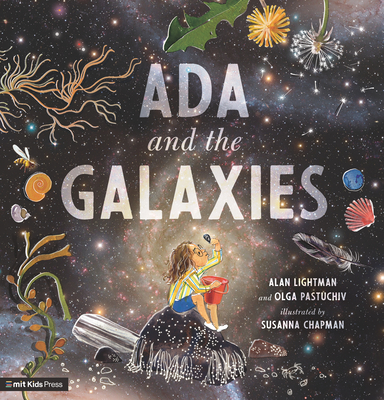 Ada and the Galaxies
Publication Date:
September 7th, 2021
Publisher:
MIT Kids Press
Usually Ships in 1 to 5 Days
Description
Stargazers rejoice! In his first book for children, renowned physicist Alan Lightman and collaborators, with help from the Hubble telescope, light up the night sky.
New York Times best-selling author Alan Lightman, in collaboration with Olga Pastuchiv, brings galaxies close in a stunning picture-book tribute to the interconnectedness of the natural world. Layering photographs taken from the Hubble telescope into charming and expressive art, illustrator Susanna Chapman zooms in on one child's experiences: Ada knows that the best place for star-gazing is on the island in Maine where she vacations with her grandparents. By day, she tracks osprey in the trees, paddles a kayak, and hunts for shells. But she's most in her element when the sun goes down and the stars blink to life. Will the fog this year foil her plans, or will her grandfather find a way to shine a spotlight on the vast puzzle of the universe . . . until the weather turns?
Praise for Ada and the Galaxies
New Yorker Ada, who has brown skin and curly hair, is delighted to arrive at her grandparents' Maine island house, where clear skies make it possible to view the stars she can't see in the city. . . . Chapman (Elizabeth Warren's Big, Bold Plans) has refined a loose-lined wash style that draws power from glowing light sources, creating night skies that glitter and seawater that sparkles.
—Publishers Weekly (starred review)
Lively, masterful watercolor illustrations capture Maine's exhilarating currents of wind and water, its spiky evergreen needles, knobby seaweed, and bristly bird feathers. . . . Young readers will delight in seeing our universe's interconnectedness, and, later, when Ada's family dashes outside to spin in starlight, they will recognize the inextricable bonds among loved ones.
—Kirkus Reviews (starred review)
This sparkling story spins small experiences into something grand. . . . The arresting watercolor illustrations are exquisitely rendered, brimming with detail and warmth. . . . A joyful and dazzling exploration of our universe, on every scale.
—Booklist (starred review)
Chapman uses vivid watercolor and layered photographs taken from the Hubble Space Telescope to visualize the text, showing the wildlife of the island and the wonders of the heavens. . . . Children will enjoy looking at the colorful images and learning about low and high tide, coastal creatures, and the different objects in the sky.
—School Library Connection
Susanna Chapman's lush watercolors perfectly complement the story. . . Plenty of details on each page—shells, nebula, a fog-obscured cabin—will entice young readers to linger.
—Air & Space Magazine
Ada and the Galaxies echoes Robert McCloskey's classic picture book, One Morning in Maine, both in its setting and in its attentiveness to the ways in which epiphanies can strike without us even realizing. Alan Lightman (himself an astronomer) and Olga Pastuchiv tell their big-small story delicately, without a trace of condescension or unearned sentiment.
—American Scientist
Renowned physicist Alan Lightman collaborates with with author Olga Pastuchiv, illustrator Susanna Chapman, and the Hubble telescope itself to create a tribute to a loving grandparent relationship and to the beauty of the night sky.
—A Mighty Girl